2018 Polaris 800 TITAN Adventure 155 ES 1.5 Cobra SOLD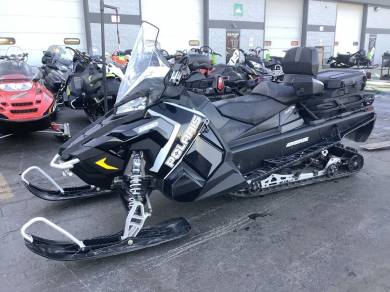 Year : 2018
Color : BLACK
Mileage : 1,842 Miles
Location : Big Bend, WI, US
Price : $ 10,999
Product Description
LOW MILES, ELECTRIC START, REVERSE, P.I.D.D. NAVIGATION, MIRRORS, TALL WINDSHIELD, REAR HARD CASE LUGGAGE, PASSENGER HEATED GRIPS, WALKER EVANS RESERVOIR SHOCKS, AND MORE!! LOADED 2-UP TOURING!!

2018 Polaris 800 TITAN Adventure 155 ES 1.5 CobraEXTREME CROSSOVER, UNMATCHED CAPABILITIES.


The 800 Polaris TITAN Adventure is fully featured and is the true do-it-all sled. It comes with a Lock & Ride Versa Touring Passenger Seat with heated passenger grips and passenger footrests, cargo rack, cargo box, tow hitch, mirrors, Polaris Interactive Digital Display, premium FOX Shocks, Cobra track with 1.5 inch lugs, PRO-FLOAT skis, and a 24 inch high windshield that provides outstanding rider protection.
Features may include:
AXYS Rider-Balanced Control
The AXYS TITAN Chassis positions the rider for Rider-Balanced Control in all riding situations solo, 2-up, with cargo on-board, or towing a load. This platform delivers unmatched ride & handling on- and off-trail. Balanced handling on all terrain, Superior mobility, agility and performance in deep snow, Ride & handling are not compromised when hauling or towing cargo
The Power Boosting Regulator is a new, innovative electical power technology adapted from the automotive industry and available exclusively in Polaris TITAN snowmobiles. Delivers maximum electrical power at idle and low RPMs, Ensures electrical power for rider comfort and convenience features, such as heated seats, handwarmers, battery charging and other accessories, Easy starting
Polaris TITAN Articulated Rear Suspension
The Articulated Rear Suspension provides outstanding ride & handling in all conditions, on- and off-trail. Delivers a smooth ride on trails and can absorb the bumps off-trail. Superior ride & handling, 16.5 of rear travel ensures a smooth ride on the trail & outstanding off-trail capabilities, Suspension geometry is optimized for a great ride & sure towing, No adjustments required to switch between solo & 2-up riding, or when hitching on a large load, Rear section of skid tips up for easy backing over obstacles, Enhances the sleds outstanding flotation
Polaris TITAN Cooling System with Radiator & Brake System
his durable, efficient cooling system and radiator ensures consistently reliable engine operation in even the most extreme conditions. Worlds most robust performance snowmobile cooling system, Ensures reliable engine operation when sled is being ridden in extreme or low-snow conditions, Cooling system includes an efficient radiator with fan, Radiator is mounted in strategic position for ultimate cooling airflow and minimal snow or debris build-up, Add the accessory Wheel Kit for maximum low snow capabilities, Brake system features 4 piston caliper and radial master cylinder
Polaris TITAN PowderTrac Running Boards
The PowderTrac Running Boards offer an optimized design for maximum snow clean out while maintaining extreme strength. Engineered for optimal strength, Expanded cut-outs minimize snow & ice build-up, Designed to provide comfortable ergonomics for seated & stand-up riding, Top surface designed for outstanding boot grip the entire length of the running boards, Accessory closeouts available
20 x 155 x 1.55 Cobra Track
Proven, versatile Cobra track provides excellent off-trail flotation and aggressive traction on-trail. Lugs have a cupped design for outstanding off-trail performance and flotation, 1.5 Lugs height offers balance between off trail deep snow and on trial handling performance, Strong, stiff lugs wont fold over like some deep snow tracks softer, more pliant lugs
Image Gallery
Company Profile
Road Track and Trail
Contact Name Sales Department
Tel 262-662-1500
Fax 262-662-2009
Address W228 - S6932 Enterprise Drive
City Big Bend
State Wisconsin
Country United States
ZIP/Postal Code 53103