2019 Polaris 600 RMK 144 ES SOLD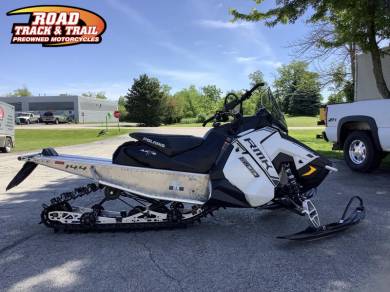 Year : 2019
Color : White
Mileage : 1,936 Miles
Location : Big Bend, WI, US
Price : $ 6,999
Product Description
ELECTRIC START, REVERSE,BAR HOOKS, TUNNEL BAG, CLEAN SLED!

WWW.ROADTRACKANDTRAIL.COM Give us a call toll free at 877=870-6297 or locally at 262-662-1500. Used There will be more pictures available upon request. We also offer great financing terms for qualifying credit. Call us for buying or trading your motorcycle, atv, or snowmobile

2019 Polaris 600 RMK 144 ESAll-Purpose Deep Snow Tough
Seek Something Even Deeper Than Powder
The RMK 144 is a great 50/50 crossover snowmobile for riders looking for deep snow maneuverability with Rider Balanced on-trail confidence.
Features may include:
The combination of the raised and lightweight AXYS chassis, a powerful Polaris engine, and the Polaris-exclusive track designs pop the RMK on top of the snow.
The AXYS RMK features Rider Balanced positioning that delivers ultimate control for the rider for precise, effortless sidehilling.
The world's best mountain sled is built to be the lightest and most rigid, making it incredibly responsive to rider inputs. This allows you to change direction and manuever confidently in all conditions.
The AXYS Chassis for the 144 platform is light and strong - critical for the 50/50 rider. The rider is moved into a balanced position on the sled so it rides flat through the corners. When the rider jumps off into the powder, Ride Balance enables the rider to move back and make the front end light to climb up on top of the snow or the moguls.
Stiff lug base for hard-pack performance plus soft and flexible tips for superior deep snow traction.
The liquid-cooled Cleanfire engine delivers outstanding throttle response and instant acceleration. It starts easily and reliably and calibrates automatically as the temperature and elevation change.
The 600 RMK 144 is for riders who want deep snow maneuverability and on-trail confidence - plus the reliable performance, easy starting, instant acceleration, and great response of the 600 Cleanfire engine.
PowderTrac Hybrid Running Boards
Image Gallery
Company Profile
Road Track and Trail
Contact Name Sales Department
Tel 262-662-1500
Fax 262-662-2009
Address W228 - S6932 Enterprise Drive
City Big Bend
State Wisconsin
Country United States
ZIP/Postal Code 53103