2019 Polaris 850 SKS 155 SC Select SOLD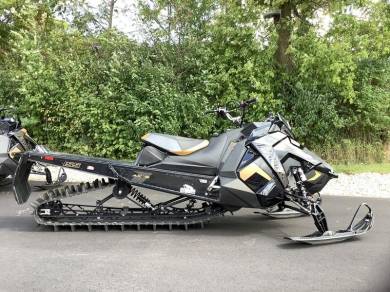 Year : 2019
Color : Black/Gold
Mileage : 2,150 Miles
Location : Big Bend, WI, US
Price : $ 9,899
Product Description
FOUNDERS EDITION! SNOW CHECK SELECT! ELECTRIC START, REVERSE, TUNNEL BAG, WALKER EVANS RESERVOIR SHOCKS, BAR HOOKS! 850! FACTORY WARRANTY EXPIRES 12-3-19

2019 Polaris 850 SKS 155 SC SelectMost Versatile Deep Snow Sled
Seek Something Even Deeper Than Powder
The SKS 155 is the most versatile deep snow crossover sled. Featuring the legendary RMK Rider Balanced agility plus bogey wheels and bulkhead cooler to maintain proper engine temperature for mixed-use riding in all snow conditions. Perfect for riders who use trails to get to deep snow.
Features may include:
The combination of the raised and lightweight AXYS chassis, a powerful Polaris engine, and the Polaris-exclusive track designs pop the SKS on top of the snow.
The AXYS platform features Rider Balanced positioning that delivers ultimate control for the rider for precise, effortless sidehilling.
The world's best mountain sled is built to be the lightest and most rigid, making it incredibly responsive to rider inputs. This allows you to change direction and maneuver confidently in all conditions.
The raised AXYS chassis increases clearance and reduces drag to keep you on top of the snow. It is purpose-built for mountain riding and allows for improved sidehilling, faster and easier climbing, and instantaneous lift allowing the sled to pop onto the snow faster. The aluminum over structure is lightweight and durable for all types of riding. Taller spindles increase clearance to reduce drag.
Liberty Engine Choices for Every Rider
Built to integrate seamlessly with the lightweight and agile Polaris chassis, Liberty engines feature class-leading power-to-weight ratios and set a new benchmark for ultimate performance with our complete line-up of powerful options.
The lightweight, rigid rear suspension design features revised geometry to control pitch. This improves weight transfer, delivering better control and a more compliant ride. The rigid suspension delivers power directly to the snow. Off-trail, riders will notice improved weight transfer while maintaining the approach angle. On-trail, riders will notice a more compliant and comfortable ride. The rear suspension features a rail design that helps lift the rear skid while driving it forward.
The SnowCheck-Exclusive 850 SKS 146 - powered by the all-new Polaris 850 Patriot engine - is perfect for riders who use trails to get to deep snow. The 850 Patriot engine offers class-leading durability, responsiveness, unrivaled acceleration, and industry best power-to-weight. The most powerful snowmobile engine ever built by Polaris.
SnowCheck-Exclusive 850 Patriot Engine
Walker Evans Impact-Extruded Monotube Shocks
Narrow Ski Stance (39" - 41")
Track Options: 2.25" Peak, 2.6" Series 6, 2.4" Series 5.1
Image Gallery
Company Profile
Road Track and Trail
Contact Name Sales Department
Tel 262-662-1500
Fax 262-662-2009
Address W228 - S6932 Enterprise Drive
City Big Bend
State Wisconsin
Country United States
ZIP/Postal Code 53103