2020 Polaris 850 Indy XC 137 SOLD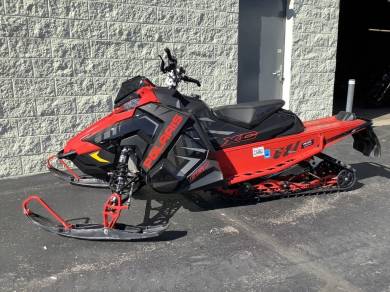 Year : 2020
Color : Red
Mileage : 4,682 Miles
Location : Big Bend, WI, US
VIN : SN1EDP8R2LC719000
Price : $ 10,399
Product Description
1-OWNER, STUDS, ELECTRIC START, REVERSE, PIDD NAVIGATION, ROX ADJUSTABLE HANDLEBAR RISERS, TUNNEL BAG, WALKER EVANS RESERVOIR SHOCKS, 137 AND MORE! CLEAN SLED!

2020 Polaris 850 Indy XC 137


Ultra Performance Trail Versatility
Legendary INDY Performance - Reborn
The INDY XC 137 is for riders seeking a pure, high-performance experience and escape on the trail through quick acceleration and a smooth ride.
Features may include:
By placing the rider in the right location on the sled, we've built a sled that corners flat without sacrificing the fun factor.
The AXYS chassis design is the key to delivering rider balanced control through the right rider positioning and centralized vehicle mass. The rider's hand position is moved 4.5" forward, the feet position is 2" forward, the knee position is 4.5" forward, and the seat is 4.5" forward. This means more bite for flatter cornering when in the neutral riding position and a lighter front end for climbing on top of the snow or the moguls when the rider shifts to the back of the sled.
The PRO-CC Rear Suspension is the next generation rear suspension from Polaris and provides the industry's best acceleration, handling, and consistently smooth ride. The rear ski's coupled design controls pitch through geometry without reducing the fun factor. The front torque arm is calibrated for trail compliance without bottoming.
Ultimate Trail Versatility
A day of riding is measured by miles and smiles. With comfortable seats, confidence-inspiring skis, and integrated storage options - you'll be posting both all ride long.
Storage comes standard on all INDY 137 models with additional accessory storage options available for greater versatility. The standard integrated under seat storage bag provides 1024 cubic inches of secure, weather-tight storage space. Accessory storage solutions are available that install quickly, easily, and securely and can be used with or without the 2-up passenger seat.
When developing the AXYS platform, our engineers minimized weight throughout the sled without compromising strength. Combined with powerful engines and class-leading power-to-weight ratios, the INDY XC 137 provides the ultimate in handling and versatility.
Polaris offers the lightest weight 137" sleds on the market and with the all-new PRO-CC Rear Suspension and AXYS chassis, this family of sleds features industry-leading acceleration.
Liberty Engine Choices for Every Rider
Built to integrate seamlessly with the lightweight and agile Polaris chassis, Liberty engines feature class-leading power-to-weight ratios and set a new benchmark for ultimate performance with our complete line-up of powerful options.
With ergonomic controls, integrated storage, enhanced wind protection, and industry-first LED headlights and gauge packages, comfort is woven directly into the AXYS platform's design.
PowderTrac TR Running Boards
The PowderTrac TR Running Boards feature an optimized design for maximum snow clean out while minimizing snow kick-up and maintaining extreme strength. Includes integrated snow skirt.
The SnowCheck-Exclusive 850 INDY XC 137 - powered by the Polaris 850 Patriot engine - is for riders seeking a pure, high-performance trail experience.
SnowCheck-Exclusive 850 Patriot Engine
Walker Evans Piggyback Needle Shocks
Track Options: 15 x 137 x 1.25" Ice Ripper XT / 15 x 137 x 1.35" Cobra / 15 x 137 x 1.5" Storm 150
Image Gallery
Company Profile
Road Track and Trail
Contact Name Sales Department
Tel 262-662-1500
Fax 262-662-2009
Address W228 - S6932 Enterprise Drive
City Big Bend
State Wisconsin
Country United States
ZIP/Postal Code 53103