2009 Ski-Doo Skandic WT Rotax 600 SOLD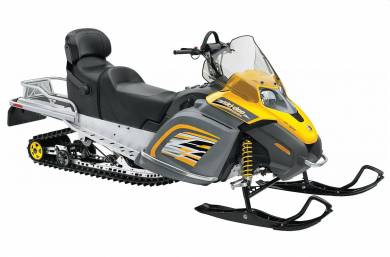 Year : 2009
Location : Maumee, OH, US
Price : $ 8,949
Product Description
Utility vehicle delivering maximum off-trail performance and great touring capabilities. Offered on Yeti II platform.
Yeti™ II platform
20 x 156 x 1.25-inch track
NEW TRA™ III primary clutch
Synchromesh transmission w/ reverse
Electric start
High windshield
2-up seat w/ backrest, underseat storage
Cargo rack
Hitch
Mountain strap
12V power outlet
Windshield mirrors
COLORYellow/Black
ENGINEEngine: Rotax 600
Engine details: Liquid-cooled, R.A.V.E.™
Cylinders: 2
Displacement: 597 cc / 36.4 in
Bore: 76 mm / 3 in
Stroke: 65.8 mm / 2.6 in
Maximum engine speed: 7100 RPM
Carburetion: 2X VM-38
Recommended fuel type: Regular unleaded
Minimum octane: 87
Fuel tank: 42 liters / 11.1 gallons
Exhaust system: Tune-muffler
POWERTRAINDrive clutch type: TRA III
Driven clutch type: NDT 6K VSA
Engagement: 2800 RPM
Clutches center distance: 303 mm / 11.9 in
Drive sprocket number of teeth: 8
Drive sprocket diameter: 158.7 mm / 6.2 in
Brake system: Hydraulic
SUSPENSIONFront suspension: LTS
Front shock: Hydraulic
Front suspension max. travel: 150 mm / 6 in
Rear suspension: Easy ride WLS
Rear arm shock: Hydraulic
Rear suspension max. travel: 215 mm / 8.5 in
DIMENSIONSVehicle overall length: 3070 mm / 120.9 in
Vehicle overall width: 1155 mm / 45.5 in
Vehicle overall height: 1370 mm / 53.9 in
Official dry weight: 297 kg / 653 lb
Ski stance: 900 mm / 35.4 in
Ski overall length: 1112 mm / 43.8 in
Ski width: 250 mm / 9.8 in
Track nominal width: 500 mm / 20 in
Track nominal length: 3968 mm / 156 in
Track profile height: 31.8 mm / 1.25 in
ADDITIONAL FEATURESSeating: 2-up modular w/ box
Electric start: Standard
Reverse: Mechanical
Heated throttle lever: Standard
Heated grips: Standard
Speedometer: Standard
Tachometer: Optional
Windshield: Extra high
Hitch: Standard
NOTES:
BRP reserves the right at anytime to discontinue or change specifications, price, design, features, models or equipment without incurring any obligation.
Image Gallery
Company Profile
Honda East Toledo
Contact Name Gabe Miller
Tel 419-891-1230
Fax 419-891-1218
Address 1230 Conant Street
City Maumee
State Ohio
Country United States
ZIP/Postal Code 43537
Company Description
As a family owned and operated business, our philosophy is to treat each customer like a family member, every visit. Our award-winning sales staff will strive to meet and exceed your expectations, whether you are purchasing a new vehicle, calling with a question, picking up a part, or just looking in our shop.

Since the inception of Honda East in 1986, we've developed an unbeatable local selection of 12 powersports vehicle manufacturers. If you take a look at our history, you can see that our dealership has gained some serious momentum over the years. We don't forget our history either. Our Honda franchise started it all, and Honda East has been the largest volume Honda dealership in the state of Ohio for 3 years running.

To complement our great vehicle selection, Honda East boasts a service department full of certified technicians. These techs have more than 160 years of collective experience among them, and each one has their own forte in the shop.

In addition to these 12 vehicle manufacturers, and knowledgeable staff in our parts shop, we supply riding gear and casual apparel from brands like Fox Racing, Shift, Joe Rocket, Arai, Scorpion, Teknic, Shoei, and many, many more. This dealership also recently became the number one distributor of Fox Racing gear and apparel in northern Ohio! Our selection is constantly growing. In addition to our catalog and in-store selection, we place custom orders daily - so if you aren't finding what you are looking for, just ask! Drop by our retail shop and browse, or visit one of our online marketplaces to get a taste of our stock and quality service.

What does all of this mean for you? It means that we want to help you get the right vehicle, part, or gear by making an informed decision. We want to make each experience at Honda East easy on our customers, and our skilled staff will be here to help every step of the way.