2017 Ski-Doo Summit SP Electric Starter ROTAX 800R E-TEC 146 Bla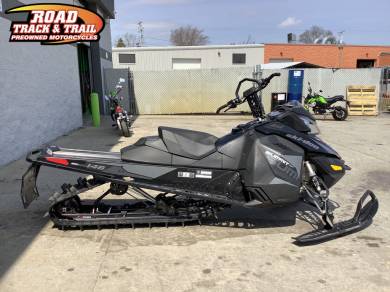 Year : 2017
Color : Black
Mileage : 736 Miles
Location : Big Bend, WI, US
Price : $ 6,799
Product Description
ONLY 736 MILES! ELECTRIC START, REVERSE, SSI SILENCER, CLEAN SLED!

2017 Ski-Doo Summit SP Electric Starter ROTAX 800R E-TEC 146 Black PowderMax 2.5 REV-XMDESIGNED TO RESPOND TO EVERY MOVE


With signature mountain technologies like REV-XM platform, tMotion rear suspension, and FlexEdge tracks, the Summit SP can carve lines you never thought possible. It's even more capable when you choose 3 in./7.6 cm track lugs.
REV-XM PLATFORM
DESIGNED FOR THE MOUNTAINS
Summit-specific side panels are powder dynamically designed to glide smoothly through snow in any position, easing roll-up and sidehilling.
TMOTION REAR SUSPENSION
CARVES WITH YOU
The tMotion flexes laterally, reducing the effort to initiate a roll, due to a ball joint at the center hinge between the rear arm and drop link and split flat-tube front arms. Very progressive motion ratio makes the ride on trails even more comfortable.
FLEXEDGE TRACKS
WIDE TRACK PERFORMANCE, NARROW AGILITY
By shortening the fiberglass reinforcing rods inside, the tracks edges flex when you carve the sled, making boondocking and sidehilling easier. Provides the flotation of a 16-in. (41 cm) wide track with the agility of a 12-in. (30 cm) track.
ROTAX 800R E-TEC ENGINE
POWER WITH CONTROL
Direct-injection technology mill pumps out big power while delivering up to 19 mpg (12.3 L/100 km) fuel economy. Excellent oil consumption, plus easy throttle pull, linear power delivery and virtually no smoke or smell. Proven and recognized by riders for reliability.* Preparing for the off-season is easy with built-in automatic summerization function.
RAS 2 FRONT SUSPENSION
ULTIMATE PRECISION
Ultimate geometry and lighter components deliver excellent precision and stability especially in extreme bumps and reduces roll in corners. Sharp styling, too.
PILOT DS 3 SKIS
DEEP SNOW CONTROL
Designed to work in tandem with the deeper and longer 3 in. track lugs. It has a .47 in (12mm) deeper keel. Holds a sidehill better and offers great control. Narrow ski tip cuts through crusty shallow snow; wide easy-to-install extension widens the tip for added flotation in deeper powder. Pilot DS 2 Skis with Summit SP 146 sleds
REV-XM RUNNING BOARDS
ALL CLEAR
Massive, strategically shaped openings keep the boards clear. A tall extruded edge adds stiffness and has aggressive boot grips.
MULTIFUNCTION ANALOG / DIGITAL GAUGE
INFORMATION HUB
Sharply-styled analog speedometer and tachometer are complemented by a multifunction three-zone LCD screen packed with data.
REV-XM COCKPIT
DESIGNED AROUND YOU
We designed the cockpit around mountain riders: the gauge is mounted flat, switches are moved to the console, buttons are shielded from accidental activation and the grab handle is rigid and shaped to your hand. Every surface of the seat is sculpted for powder riding gymnastics.
Features may include:
REV-XM PLATFORM
TMOTION REAR SUSPENSION
FLEXEDGE TRACK
RAS 2 FRONT SUSPENSION
Image Gallery
Company Profile
Road Track and Trail
Contact Name Sales Department
Tel 262-662-1500
Fax 262-662-2009
Address W228 - S6932 Enterprise Drive
City Big Bend
State Wisconsin
Country United States
ZIP/Postal Code 53103