2020 Ski-Doo Renegade Adrenaline Rotax 600R E-TEC Manta Green / SOLD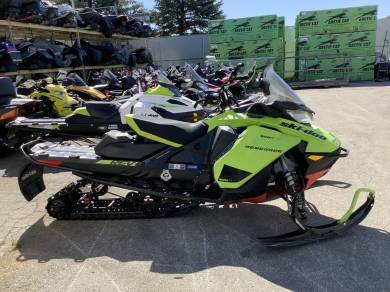 Year : 2020
Color : YELLOW
Mileage : 1,767 Miles
Location : Big Bend, WI, US
VIN : 2BPSBXLAOLV000100
Price : $ 10,999
Product Description
HAND GUARDS, MIRRORS, ELECTRIC START, REVERSE, ADJUSTABLE BARS, WIND DEFLECTOR, ETEC

2020 Ski-Doo Renegade Adrenaline Rotax 600R E-TEC Manta Green / Black


CHANGE YOUR ROUTINE
The 2020 Ski-Doo Renegade Adrenaline is the ideal sled for any snowmobiler who likes variety in their ride. Equally suited for hammering down the trails or a rip in the powder, the Renegade Adrenaline lets you establish your new winter "normal".
Features may include:
ROTAX 600R E-TEC ENGINE
INSTANT POWER. IMMEDIATE RESPONSE.
Following its big brother Rotax 850 E-TEC engine's lead with second generation E-TEC technology, the Rotax 600R E-TEC engine offers a 30% improvement in throttle response**, crisp acceleration and sets a new 600cc class standard with 125 horsepower* while continuing to set the bar for reliability, and 2-stroke oil and fuel economy.
REV Gen4 PLATFORM
NEXT GENERATION OF A LEGEND
The 4th generation of the REV platform is designed around aggressive trail riders with a narrow, compact package giving the rider more freedom to move and influence the sled. More centralized masses (especially side-to-side), light weight and industry-leading suspensions make the vehicle ultra responsive.
RMOTION REAR SUSPENSION
CAPABILITY, CONTROL AND COMFORT
Provides more capability, more comfort and more adjustability. Separate spring and shock dynamics combine with the most rising-rate/progressive motion ratio in the industry to give the rMotion suspension a supple ride in small bumps with added capability in large ones. And theres no need to be a suspension guru to enjoy the ride with its broad sweet spot, you can set it up once and it will perform impressively in nearly every condition.
RAS 3 FRONT SUSPENSION
Similar geometry and design to the stable and precise RAS 2, optimized for the Gen4 REV platform with 1 in./25mm added suspension stroke and .7 lbs (3,2 kg) reduced weight vs. RAS 2.
4.5" DIGITAL DISPLAY
All-digital LCD gauge cluster with flatter viewing angle for an easy-to-read info whether standing or sitting.
Image Gallery
Company Profile
Road Track and Trail
Contact Name Sales Department
Tel 262-662-1500
Fax 262-662-2009
Address W228 - S6932 Enterprise Drive
City Big Bend
State Wisconsin
Country United States
ZIP/Postal Code 53103