2021 Ski-Doo Backcountry Sport Rotax 600 EFI SOLD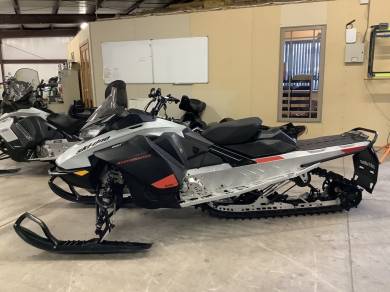 Year : 2021
Color : GRAY
Mileage : 1,763 Miles
Location : Big Bend, WI, US
VIN : 2BPSUBMA8MV000343
Price : $ 8,499
Product Description
ELECTRIC START, REVERSE, 2 STROKE EFI , BACKCOUNTRY, HOOKS,

2021 Ski-Doo Backcountry Sport Rotax 600 EFIANY RIDE YOU CAN DREAM UP


Ideally suited to highlight the very best of winter, the 2021 Ski-Doo Backcountry mixes precision trail handling with deep snow features that let a rider explore beyond the banks of the trail.
Features may include:
ROTAX 600 EFI ENGINE
MODERN 2-STROKE EFFICIENCY
600cc-class fuel injected engine delivering 85 horsepower and outstanding economy at an incredible value. Designed based on the 600R E-TEC with proven reliability and ease of ownership at its core with an outsized fun factor.
REV Gen4 PLATFORM
NEXT GENERATION OF A LEGEND
Youll realize the benefits of our trail and mountain teams close cooperation in developing this sled because it has all the right features for both types of riding. Its incredibly responsive and agile in cornering and boondocking, thanks to its centralized masses and light weight. Not to mention the power and instant response of the 850 E-TEC engine is ideal for hammering out of corners and powering out of a hole.
CMOTION REAR SUSPENSION
CROSSOVER CONTROL AND CARVING
Crossover-specific suspension uses best principles of the rMotion trail and tMotion mountain skids for confident cornering and agile boondocking such as rigid front and rear arms with excellent weight transfer. It also features a rising-rate motion ratio, like the latest generation of Ski-Doo rear suspensions, to provide superior control and comfort. Tipped rails enable better cornering, boost top-end speed and fuel efficiency.
RAS 3 CROSSOVER FRONT SUSPENSION
Similar geometry and steering to the RAS 3 mountain front end for capability and light steering feel on- and off-trail. Optimized for crossover usage, two ski stance positions dial in handling: 40.2 in. (102 cm) or 38.4 in. (97.5 cm).
4.5" DIGITAL DISPLAY
All-digital LCD gauge cluster with flatter viewing angle for an easy-to-read info whether standing or sitting.
15 X 146 X 1.6 COBRA
EXCELLENT TRACTION ANYWHERE
This track features combination of flexible cupped lugs for superior off-trail performance and more rigid lugs for added traction on hard-packed snow.
PILOT DS 2 SKIS
Single-keel with excellent sidehilling bite, thanks to thin outer edges. Narrow and thin, yet stiff. Shorter behind its complementary spindle with flat tail for easier counter-steering and sidehilling.
Image Gallery
Company Profile
Road Track and Trail
Contact Name Sales Department
Tel 262-662-1500
Fax 262-662-2009
Address W228 - S6932 Enterprise Drive
City Big Bend
State Wisconsin
Country United States
ZIP/Postal Code 53103