2013 Yamaha RS Viking Professional SOLD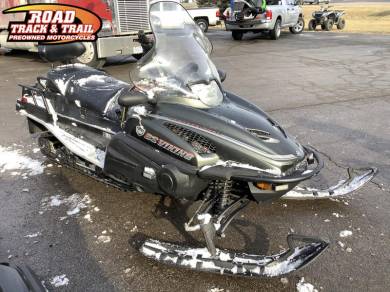 Year : 2013
Mileage : 5,665 Miles
Location : Big Bend, WI, US
Price : $ 4,999
Product Description
ELECTRIC START, REVERSE, LOW RANGE, RACK, 4 STROKE, 2 UP TOURING WORKHORSE.

2013 Yamaha RS Viking Professional


The 2013 Yamaha RS Viking Professional is a Utility Style Snowmobile equipped with an 973cc, Liquid Cooled, Horizontal In-line, DOHC, 4-Stroke Engine and a Continuously Variable (CVT) Transmission.
It has a Independent Double Wishbone Front Suspension with 6.3 inches of travel. The ProComfort Rear Suspension has 13.4 inches of travel with a -70113-. The RS Viking Professional has Rear Hydraulic Disc Brakes.
The RS Viking Professional was introduced in 2006 and is Upgraded for 2013. It includes a 12 month Limited warranty.
Image Gallery
Company Profile
Road Track and Trail
Contact Name Sales Department
Tel 262-662-1500
Fax 262-662-2009
Address W228 - S6932 Enterprise Drive
City Big Bend
State Wisconsin
Country United States
ZIP/Postal Code 53103