2014 Yamaha RS Viking Professional SOLD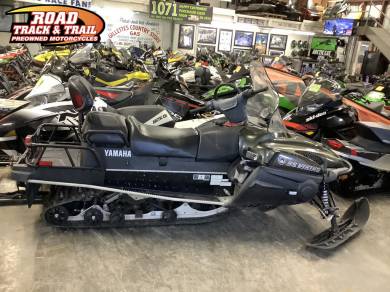 Year : 2014
Color : Gray
Mileage : 7,169 Miles
Location : Big Bend, WI, US
Price : $ 4,999
Product Description
ELECTRIC START, REVERSE, HIGH-LOW RANGE, RACK, HITCH, 4-STROKE 2-UP WORKHORSE!

2014 Yamaha RS Viking ProfessionalTHE WORLD'S FAVORITE MULTI-PURPOSE SLED GETS A SERIOUS REDO





Standard Features May Include:
Performance
3-cyl inder Mid Performance 4-stroke engine
The dependable, durable and fuel efficient Mid Performance engine has been the foundation of snowmobilings 4-stroke revolution. The carbureted classic engines 3-cylinder design is silky smooth and very trail-friendly.
Direct-to-crankshaft clutching
Instead of using a gear reduction, the Mid Performance engine has the primary clutch directly attached to the crankshaft. It allows the engine to be mounted deeper in the chassis to deliver a lower center of gravity, further improving the sleds cornering stability. The YVXC primary spins at 8500 RPM to transfer power from the engine to the secondary and on to the track.
20 x 156 x 1.375-inch Camoplast Rip Saw track
The RS Viking Professional boasts a huge 20x156-inch Camoplast Rip Saw track with 1.375-inch lugs. The deeper lug height delivers improved deep snow acceleration and handling for off-trail usage. The VK Pros extra-large version of the Rip Saw gives it excellent flotation in fresh snow. Its open-window design accepts extrovert drivers.
Handling
Wide blow molded plastic skis
The RS Viking Professionals super-wide plastic skis give it excellent flotation over fresh snow, while also giving it good trail cornering ability.
Ultra-rigid Deltabox chassis
The Deltabox chassis is designed specifically to house the Mid Performance engine. It supports the engine and utilizes it in forming one of the most rigid chassis on the market. The more rigid the chassis, the more consistent the sled will handle.
Second generation front suspension geometry
The geometry of the second generation front suspension features short spindles and long, curved A-arms. The suspension was engineered to deliver excellent cornering stability and consistent turning effort throughout its travel stroke. It delivers 9 inches of vertical travel and sets the skis at 42.7 inches. Steering is consistent, because the spindle caster is maintained at a constant 23 degrees. The curved A-arms help avoid under-snow obstacles.
Comfort
Dual Shock rear suspension
The RS Viking Professional uses the 40mm rear shock package is comfort calibrated with an emphasis on anti-bottoming. The larger diameter allows for greater fade resistance under load as well. The articulation setup delivers improved soft snow reverse performance, allowing you to back up off trail with greater confidence that you won't dig in.
Cavernous under-seat storage
The seat on the RS Viking Professional flips up to open a large storage area beneath it. The space has a tool kit integrated into it. Consumers can carry extra spare parts, a full collection of tools, and even lunch under the seat.
The RS Viking Professional has a new tube-construction cargo rack. The simple design is lighter than previous without sacrificing any capacity.
Image Gallery
Company Profile
Road Track and Trail
Contact Name Sales Department
Tel 262-662-1500
Fax 262-662-2009
Address W228 - S6932 Enterprise Drive
City Big Bend
State Wisconsin
Country United States
ZIP/Postal Code 53103