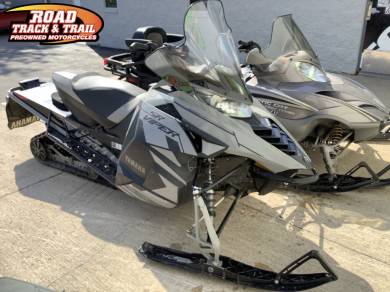 Year : 2019
Color : GRAY
Mileage : 5,450 Miles
Location : Big Bend, WI, US
Price : $ 8,499
Product Description
ELECTRIC START, REVERSE, REAR BAG , SHIPPING IS AVAILABLE

2019 Yamaha SRViper L-TXDEPENDABILITY MATCHED BY COMFORT AND HANDLING.


Low end torque and instant throttle response provide smooth power for all day outings.
Features may include:Hayes Performance Brakes
A dual-piston brake caliper applies braking forces directly to the drive shaft and is mated to an oversized rotor. The unique radial brake master cylinder helps to deliver consistent feel in a wide variety of conditions while the oversized lever delivers greater braking force and feel with reduced effort.
High Flow Intake and Exhaust
The forward facing design of the air-box and engine intake system on the Genesis 1049cc engine results in the most efficient airflow to the engine and no starvation. This ensures maximum power and throttle response. In addition, a high-flow, stainless steel exhaust header is cooled by snow for optimum performance without excessive heat and noise.
YVXC Clutching
Featuring Yamaha drive and driven clutching, the YVXC system delivers smooth engagement, instant acceleration, fast reacting backshift, and cool operating temperatures for a long belt life. The YVXC clutch system delivers Yamahas hallmark smooth power delivery, responsive engine feel and unmatched quality.
Lightweight SRV Front Suspension
The over-structure design of the SRV chassis creates a rigid mounting point for the unique 30-degree swept design of the SRV front suspension. The angled mounting design directs impacts back to the strongest points of the chassis, creating a more stable and predictable ride. Tall, lightweight forged spindles help to deliver an incredibly strong front suspension with controlled camber geometry for stability and light steering effort.
SRV Chassis
Sophisticated aluminum extrusions are joined with precision castings to create an incredibly strong, lightweight and rider intuitive chassis. The over-structure design provides rigidity and is designed to disperse severe impacts throughout the chassis making it exceptionally resilient.
Digital Gauge Package
The deluxe gauge package touts large, easy to read black on white digits, making it easy to keep track of vehicle and engine diagnostics even when navigating a drifted ditch-line or mogul littered trail. The easy to operate, technology packed display includes coolant temperature, exhaust temperature, intake air temperature, voltage, along with speed, rpm, altimeter, clock, fuel level, trip meters, and much more.
Push Button Reverse
Standard push button reverse actuates a servo-controlled reverse gear providing both comfort and convenience.
Image Gallery
Company Profile
Road Track and Trail
Contact Name Sales Department
Tel 262-662-1500
Fax 262-662-2009
Address W228 - S6932 Enterprise Drive
City Big Bend
State Wisconsin
Country United States
ZIP/Postal Code 53103