Hibbert golden again at X Games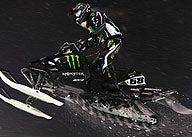 Parsons tops freestyle, LaVallee attempts double back flip
Team Arctic's Tucker Hibbert delivered the most dominating Snocross performance in Winter X Games history, while BRP/Ski-Doo X-Team rider Joe Parsons took home a pair of gold medals in Freestyle and Speed & Style.
As he has done all season long, Hibbert nailed the holeshot in the 15-racer, 20-lap final on Saturday, Jan. 24 in Aspen, Colo. and threw down a dozen fierce laps that no other rider could match. By the time he took the checkered flag, the 25-year-old racer had a 36-second lead and lapped all but the top-five racers.
"Things couldn't have gone any better," says Hibbert. "I knew I could win but to win by 36 seconds is overwhelming. I went out there and raced my own race and didn't worry about anyone else and it worked.
Parsons was golden again on Sunday, Jan. 25 in Snowmobile Freestyle. He edged Heath Frisby in the semis and outdid Justin Hoyer in the final.
LaVallee Makes History
Though he didn't win gold, the defining moment of the Winter X Games went to LaVallee. In the inaugural Snowmobile Next Trick competition, LaVallee attempted to pull off the first double back flip on a snowmobile. The Polaris rider managed both rotations with no trouble, but he landed hard and was thrown off his sled, disqualifying him from the competition.
Dane Ferguson, who was the only rider to successfully complete his trick in the final, took home the gold.