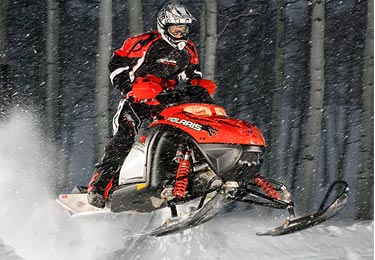 At Duluth SnoCross
Racing for Judnick Motorsports aboard a Polaris 440 IQ racer, Ross Martin earned victories in the Pro Open and Pro Stock classes in the WPSA PowerSports Snowmobile Tour National over the US Thanksgiving weekend at Duluth, Minn.
"It was a great start for me, for Polaris and for our Judnick team," Martin says. 'We've got the sled and the determination. Now we want to win consistently."
In just his second pro season Martin defied any trace of a sophomore jinx as he took first in Pro Stock ahead of fellow Polaris racer Mike Schultz (Avalanche Racing), and totally dominated the Pro Open class—finishing first in every round—to earn first place ahead of Polaris racer Levi LaVallee (Hentges Racing).
Along with the Pro-class Polaris sweep, Hentges Racing's Brett Bender took both Semi-Pro classes. Polaris racers also won the weekend's Pro Women and Sport Open classes. In Pro Open, Pro Stock, Semi-Pro Stock and Sport Open, Polaris racers finished 1-2.
"It was a great way to start the season. You always want to get out of the gate strong, and our racers and teams really showed they were ready to race," says Polaris Racing Manager Tom Rager, Sr. "To place so many racers in the pro finals demonstrates our racers are in great shape and even more importantly, the Polaris 440 IQ is the sled to beat this season."
Martin tops 15 Racer Pro Finals
Martin finished first in all three rounds of Pro Open qualifying, adjusting to changing track conditions caused by unseasonably warm weather. Martin's Polaris 440 IQ led the way for the five Polaris racers in the 15-man final. Along with runner-up LaVallee, the other Polaris finalists and their finishes in Pro Open were: TJ Gulla (Hentges Racing) fourth, Mike Schultz in sixth and 11th place finisher Shaun Crapo (Scheuring Speedsports).
Winter X Games Qualifiers
Four Polaris racers were among the 10 WPSA snocross racers to earn invitations to the ESPN-hosted Winter X Games 11, which will be held Jan. 25 to 27, 2007, at Buttermilk Mountain in Aspen/Snowmass, Colorado. The Polaris racers headed to the high-profile X Games include: Shaun Crapo, Ross Martin, TJ Gulla and Brett Bender. Fellow Polaris racer Levi LaVallee pre-qualified for Winter X by way of a media selected representative. Additional racers will be eligible to earn sports in the X Games or may be invited by the promoter.