Polaris' Martin wins Pro Open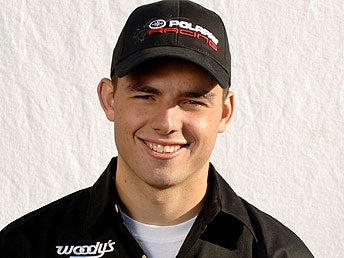 Dislocated shoulder doesn't prevent him from winning Ski-Doo Grand Prix de Valcourt in Quebec
What started out looking like a long, painful weekend for Ross Martin at the Ski-Doo Grand Prix de Valcourt ended up with him on top of the podium.
"On Saturday morning (Feb. 16) I dislocated my shoulder and it made for a little bit of a rough day," Martin told Snowmobile.com. "I dislocated it twice on Saturday, once in the heat race."
Despite his injury, Martin decided to race in the Valcourt, Que. event, the fourth stop on the 2008 World PowerSports Accociation (WPSA) snocross tour. Martin was back on his sled in time for the Pro SuperStock final on Saturday night.
Dennis Eckstrom managed to pick up the win, holding off TJ Gulla to claim top spot, but Martin toughed it out for third, to give Polaris a podium sweep.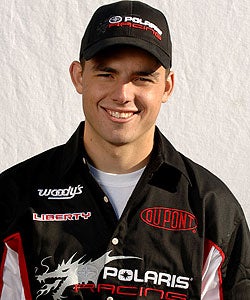 "I think he (Dennis) came out of the gate in either first or second. I came out sixth or seventh," says Martin. "He started in the front row, I started in the back. It just took some time to work my way up. I think he was either leading or in second most of the race."
Shaun Crapo, Polaris, crossed the finish line in fourth, followed by a trio of Ski-Doo riders—Mathieu Morin, Zach Pattyn and Dave Allard
By the time Sunday morning rolled around, Martin was far from feeling his best, but he still had to race in the Pro Open.
"I was really sore when I woke up. Just real tight and I had to stretch a lot and use a lot of tape," says Martin.
Though his shoulder was still bothering him, it didn't show on the track. Martin dominated in the heats and ultimately went on to win the Pro Open final.
Polaris teammate Levi LaVallee, fresh off a pair of X-Games gold medals, followed Martin in second, while Ski-Doo's Robbie Malinoski was third. Ryan Simons, Arctic Cat, and Gulla finished fourth and fifth.
Since poor snow making conditions forced the WPSA to cancel the Sarnia, Ont. snocross event, Martin will have a little time to heal up before the BIR National in Brainerd, Minn. in March.
Martin says he plans to take it easy for a couple of days and visit his therapist before doing exercises to try and strengthen his shoulder.
Related Reading WPSA pulls out of Ontario