How to Install Custom Handlebars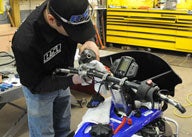 New bars can make a world of difference
Why spend time and money to replace something that already works? If you've never ridden a sled with really nice handlebars you've been missing out.
You'll be surprised how things like seats, footwells and handlebars can make a huge impact on a rider's impression of a snowmobile. It's what we media types call "ergonomics" and handlebars are one of the most important aspects of a sled's ergonomics.
Yamaha has pretty nice handlebars, but the Phazer in this story was being set up for cross-country racing and needed some bars its rider could live with for 500 miles of the roughest riding most people would ever do. The sled was taken to RSI Racing where RSI's Rob Schatzle installed a set of RSI's carbon fiber tapered race bend handlebars, an RSI riser, RSI hi-power grip heaters, RSI gel grips and an RSI braided brake line. Follow along as we walk you through the install.
Do It Yourself — If you want to do a similar custom setup, here's a parts list with pricing:
• RSI Carbon Fiber Tapered Handlebars, Race Bend: $119.95 • RSI Handlebar Riser: $69.95 • RSI Hi Power Grip Heater Elements: $49.95 • RSI Extended Length Braided Brake Line: $49.95 • RSI Grip Wrap Gel Grips: $19.95
All parts can be purchased via RSIRacing.com.