2017 Arctic Cat XF 6000 High Country 141 Review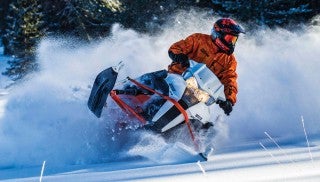 A crossover sled with serious off-trail chops
If we had to pick a serious off-trail "flatland" kitty from Arctic Cat's 2017 line, we'd grab the XF 6000 High Country with its 141-inch Power Claw track. This sled represents the best of Cat's thinking for on-off trail powder performance and draws features from both its racy ZR Sno Pro side as well as deep snow prowess from its M-series heritage. It even retains a couple of fancy features removed from some current deep snow models.
Fast Facts
Engine: 599cc twin
Power: 125 horsepower
Track: 15 x 141 x 2.25 Power Claw
MSRP: US$11,799
View Full Spec
Fitted with Cat's own C-TEC2 600cc two-stroke creation, this specific High Country sled fits the needs of high plains drift breakers rather than deep powder riders. Cat offers those serious bust out types two more powerful options powered with either Suzuki's proven 800cc two-stroke twin or a 180-hp turbocharged Yamaha four-stroke triple. Either of these easily best the C-TEC2's 125-hp output.
For us Midwesterners who fancy an annual trip to the Rockies, the Black Hills or the high plains of Montana or Wyoming, the XF 6000 High Country suffices quite well, especially since it can pound lake effect powder with aplomb. That's where this sled will be most at home. At sea level to about mile-high elevations, the C-TEC2 proves strong with ample low end, stout midrange and decent top end that runs up to maximum speed on stock gearing of 19/50, the same as used on the M 6000 with the same 2.25 Power Claw track. By comparison, the shorter tracked ZR 6000 Sno Pro 129 comes with a gear set of 22/48, better suited to groomed trail sport.
Make no mistake, while you will enjoy this sled for breaking trail, it proves agreeable on the trail. Still, it is a compromise hybrid of sorts with more emphasis on off-trail than on. In its niche, it fights for sales against Ski-Doo's Backcountry and the Polaris Assault. As a 600cc boondocking model, you'll find it borrows the ProClimb chassis of the M-series, making it very comfortable in areas affected by the lake effect snow storms around the Great Lakes.
The ProClimb chassis has evolved into a very rigid design with "neutral" rider positioning, which is the rage in current sled design. This works well when flitting through unbroken snow in forests or breaking a route in hilly sections. The open-style runningboards evacuate snow easily, keeping down the weight from snow build-up.
Moving through weeks of snow built up from previous storms, you can easily manage your riding attack with the unique-to-Arctic Cat telescopic steering. The feature is a bit of a holdover from when sled makers felt that quick-adjust handlebar positioning was important. Polaris fitted its Fusion designs with multi-position steering, but has since done away with it. Ski-Doo introduced a quick-adjust handlebar movement on select versions of its GEN-4 850 models. Arctic Cat retains a design that had more prominence on its powder models than now.
The quick-adjust Telescoping Steering system is currently only available on the 2017 XF 6000 and 8000 High Country models. For the back country and on-off trail enthusiasts, the telescopic steering uses a simple hand-operated locking collar to make handlebar adjustments within a nine-position, three-inch range. Cat engineers revised the design last season to include a one-inch lower lowest position, tighter tolerances and a drop of a half-pound in weight reduction.
The special short bun mountain saddle suits more off-trail than on as it allows more side-to-side "hop" for tight maneuvers, but it is comfortable enough for trail miles.
What you'll find is that the 6000 High Country puts the emphasis on off-trail. The front end is Cat's Arctic Mountain Suspension, featuring more mountain than trail geometry with its A-arms and spindles tipped inward for improved deep snow running and sidehilling. The use of Fox Float 3 shocks controls the nine inches of front travel.
Cat added its powder-running ProClimb-7 skis to enhance the High Country's deep snow performance. The skis are tapered from seven inches at the tip to a width of 6.5 inches in the middle. To keep the ski tips up and help prevent them from knifing into the snow, you'll find a redesigned rubber dampener. A new deeper keel is claimed to offer improved cornering off-trail.
As you'll note from the specifications, the ski stance is variable from 38.5 to 42.5 inches, giving you a wide range of adjustability and letting you customize your setup for a narrower or wider stance.
The High Country's rear suspension borrows from off-trail powder designs. The Cat-engineered Float-Action was redesigned for model year 2017. Featuring revised rails that cut 1.25 pounds, the High Country is designed for 14.5 inches of rear travel with ride quality suitable for a variety of on or off trail conditions. Float-Action has mountain-specific geometry with a longer rear-arm pull-rod and revised rail profile for more consistent track tension over the full range of travel. The front arm shock is longer for increased front arm travel to improve ride performance, especially in big bumps. Cat specifies its own IFP 1.5 shock on the front arm with a Fox Float 3 controlling the rear suspension arm.
For grip and go, the High Country features a 141-inch overall length Power Claw track with aggressive 2.25-inch lugs. Getting the C-TEC2's power to the track is the job of Cat's hook up with Team Industries, which partnered with Cat engineers to create the Team drive and driven clutches. There's the Team Rapid Response driver paired with a Team Rapid Reaction BOSS driven. The end-result is lower belt temperatures for longer belt life and improved durability.
If the standard High Country seemed a bit tame, Cat offered an early edition Limited ES version in black and green with more features: standard electric start, Fox Float 3 Evol shock package, goggle holder and tunnel bag.
For the serious high plains or back country fresh snow rider looking for adventure, the 2017 XF 6000 High Country should be one off-trail kitty taken very seriously. It's a well-rounded off-trail mount with good enough on-trail credibility that makes it a very versatile and fun-to-ride sled for places that get frequent and deep snow.