2017 Yamaha Viper S-TX 146 DX Review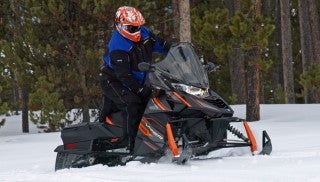 Yamaha's long haul option for serious destination riders
Yamaha's SR Viper S-TX 146 DX sits in dealerships where it tends to get overlooked against its flashier siblings, especially the all-new series of turbocharged Sidewinders. Suited up in basic black with flashes of hot orange hoping to attract attention, the S-TX 146 is a "sleeper" sled in the 2017 Yamaha line as it's one of the most versatile of Yamaha's Viper models.
Fast Facts
Engine: 1,049cc triple
Power: 130 horsepower
Track: 15 x 146 x 1.25 Ripsaw
MSRP: US$13,599
View Full Spec
In-the-know veteran destination trail riders who spend their weekends and vacation weeks riding from point-to-point recognize the S-TX as a star. This should be a popular sled with the high mileage snowmobiler. Its powertrain is proven as durable, reliable and extremely efficient with good fuel economy from its Yamaha-engineered four-stroke triple. The sled's power delivery offers consistently smooth drive-off combined with strong mid-range torque characteristics. All the things that a point-to-point rider demands.
The chassis may be from its partnership with Arctic Cat, but Yamaha engineers fine-tuned it to suit its cadre of Yamaha loyalists who prefer the "Yamaha" brand. Perhaps the S-TX lacks appeal for high performance hot rod types, but this crossover model is a high-performance star depending on your definition of high performance. These buyers view saddle time by days, not hours. They plan journeys by the hundreds of miles, not quick spurts of mileage. They tend to take along necessary gear to last them a minimum of a weekend. Not an afternoon of big air pounding, where a couple bottles of water and a candy bar will suffice.
The Viper S-TX 146 may be for the most serious destination riders, but it still offers a sense of sport with its high mile character. The chassis is a version of Cat's on/trail XF design that combines groomed trail excellence with the ability to easily traverse long sections of rough trail or miles of unattended forest roads. The S-TX draws its versatility from this chassis, but its extra-long 146-inch Ripsaw track keeps the sled grounded to push through the unexpected and deep overnight snows of places like Michigan's Upper Peninsula or lake effect areas of Ontario. The advantages of the 146-inch length come when riding sections of sharp stutter bumps. While noting that its Dual Shock SR 146 design is lighter than previous rear suspensions, Yamaha points out that this S-TX specific slide rail system is primarily designed for on-trail action where there's a need to maximize the 1.25-inch lug height of the Camoplast-sourced Ripsaw track for exceptional acceleration and braking performance. On or off trail, the S-TX 146 handles a wide variety of conditions from freshly groomed to totally unpredictable terrain where Yamaha's Dual Shock SR 146 suspension settles in to provide up to 14.5 inches of high pressure gas shock control.
Complementing this rear suspension, the performance-matched Yamaha-exclusive tall spindle dual wishbone front suspension complete with rebuildable aluminum gas shocks and coil spring assist keep its Tuner III plastic skis planted. The S-TX's High Pressure Gas (HPG) shocks feature 40mm bodies with S-TX-specific calibration that minimizes fade while ensuring consistent performance and comfort.
We found the S-TX 146 extremely responsive on or off trail, which was a bit of a surprise as the sled's somewhat dowdy, utility-like styling belies its sporty character. We figure this comes from the strength of the Yamaha four-stroke, which is renowned for its easy pass through of torque from bottom end to midrange. Top end, as expected, is adequate but not exciting. Of course, what destination riders want in this type of sled is smooth and steady mile-making, which it provides.
Powering both Yamaha "Heritage" RS and Cat-partnership "SR" models, this Yamaha Genesis triple relies on a sophisticated closed-loop 41mm Mikuni fuel injection system. To draw and exhale air comes from the triple's four valves per cylinder design that allows its 1049cc displacement to offer class-leading horsepower, instant throttle response and that renowned torque curve we've mentioned.
While the S-TX has a distant cousin in the Arctic Cat line, the two brands have their differences. One is significant as Yamaha specifies its own YVXC drive and driven clutching. Yamaha feels that its proprietary drive and driven works best with the 1049cc triple for smooth engagement, fast reacting backshift, and maintaining cool operating temperatures for long belt life. Keep in mind that Yamaha views its S-TX as a high mileage model for its loyal customer base who insist on the Yamaha reputation for smooth power delivery, responsive feel and nonpareil durability and reliability stemming from expected Yamaha quality.
While Yamaha insists on some specific differentiation, as the S-TX is a partner-build with Arctic Cat, you gain advantages. There is a heated seat that comes standard, very much an Arctic Cat nice-to-have feature. And, then, for the long-haul rider, there is the advantage of adding an optional 4.3- gallon auxiliary fuel tank. It fits nicely into the standard rear storage. With the add-on tank, your total onboard fuel supply will be 15 US Gallons of regular fuel. Point-to-point destination riders should only have to stop once (if that) during a high mileage day.
Did we mention that the trail seat is heated? Simply flick a dash-mounted switch for added comfort. Fitted with an extra-tall windshield to direct cold air away, the S-TX's base features also include rearview mirrors, a high intensity LED tail light, a deluxe digital gauge package and push button reverse to go along with the engine's key start.
In addition to the Viper S-TX 146 DX, there are similar, but different S-TX options – the S-TX DX with 137-inch track and if you are a destination rider in a hurry, Yamaha does offer a 180-plus horsepower Sidewinder version of the S-TX DX with the 137-inch track. While you gain a turbo boost, you lose the added flotation and bump-bridging effect of the 146 as well as any auxiliary fuel tank option. If we were serious destination riding snowmobilers, we'd look past the turbo and flashier short trackers and take a long look at this long-haul "sleeper" Yamaha.