2015 Polaris 800 Switchback Pro-X + Video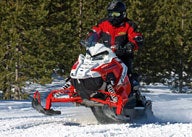 Polaris' Big Bump Theory
Modern Polaris engineers have a bit of an edge to them. The ones we know ride the sleds they build and have very definite ideas about how they want their sleds to perform. At the top of the Polaris food chain for high performance sleds that go fast through rough and rugged terrain in model year 2015 is the 800cc Switchback Pro-X. Interestingly, this limited build model will not be the race sled of choice for top line terrain racing. That honor goes to the subtly softer and two-inch lower Switchback and Rush Pro-S models, which aren't quite as aggressive in the biggest and dirtiest bumps but are designed to corner and handle tight twisties a bit better.
Rather than compromise its Switchback Pro-X, Polaris gave it all the straight ahead big bump nasty-absorption the company's engineers could come up with. Remember, these guys like to ride, too. But, they recognized that to maximize big bump control, the ride height would be taller and decided to let the Pro-S be the all-around on-off trail sport sled. The Pro-X is for the rider who wants to truly pound the trails, hit those off trail berms head-on and power full throttle through wide open play fields. Since the Pro-X rider sits taller, the sled has slightly, but noticeably, more roll in corners. The Switchback Pro-X fits Polaris engineering's big bump theory. The Pro-S compromises the mogul attack, but sitting lower it devours corners more effectively.
Get the Flash Player to see this player.
Of the two — Pro-X or Pro-S — we are unabashedly in the Pro-S camp. The suspension set up feels more relaxed, not tuned as aggressively as the Pro-X. And you will feel the X's desire to roll, where simply hunkering forward and leaning a bit outboard into the corner gives you better cornering confidence with the Pro-S. When shooting video and still action shots for this review, we could see the difference when a Pro-X rider followed a Pro-S rider through a cornering sequence. The reverse was true when setting up long straightaway big bump video footage.
Big bump riders will appreciate the shared work between Polaris engineering and Walker Evans shock designers. The Pro-X shock package may share operational features with the Pro-S model, but the application is noticeably different. These Walker Evans Clicker shocks are valved stiffer, up to 30 percent more aggressive. That's okay, because the X package's front shocks are 1.5-inches longer, giving you more big bump absorption and a taller ride height to fit it in. The X offers 9.9-inches of total travel versus the 9.3-inches of the Pro-S.
The new Pro-XC suspension gives you up to 13.4-inches of travel from a Walker Evans Piggyback compression adjustable rear arm shock. Polaris suspension designers have evolved the older "Rush-style" progressive action to work with the new AXYS rider-balanced platform. This new set up brings a lighter weight forged aluminum crank, which is redesigned to assure vastly improved front to rear weight transfer.
While the 2015 Switchbacks share a familiarity with the past designs, don't be fooled. These are new sleds in function and fun quotient. The Pro-X is meant to be ridden hard. The Pro-XC rear suspension has been coordinated with the total ride experience, which includes a taller handlebar to accommodate an aggressive big bump stand up riding style. The new AXYS seat helps the rider slide ahead or rearward to utilize the new center-balanced riding position, which Polaris calls "rider balanced" control. It is real. The seat lets you pop up to stand upright in bumps or move side to side to throw in-air body language to nail a landing.
When entering a mogul field of deep dirty ruts or hitting a berm, you'll appreciate the instant-on response of the re-worked Cleanfire 795cc electronically fuel injected two-stroke twin. These modern big bore, 160-plus horsepower motors are simply amazing. They can "granny" for a few miles if need be, but Switchback Pro-X riders won't be riding with tourists. These riders tend to ride in packs of like-minded performance snowmobilers who view a 200-mile day trip as a bad day of riding, unless it's all moguls or totally ungroomed, rough back roads. This is the sled for that crowd.
The 800cc Cleanfire twin was redesigned to complement the AXYS platform, meaning it fits perfectly where Polaris engineers think it should fit — central in the chassis and lowered to maximize the overall center of gravity. Mated with Polaris' famed P-85 drive and a Team driven, the liquid-cooled Polaris designed and built two-stroke ramps up more quickly, thanks to a 2.5-pound lighter crankshaft, a freer air flowing intake system complete with Cleanfire-specific V Force reeds and higher efficiency three-stage electronically controlled exhaust. Big air players will immediately notice these aspects. The new 800 Cleanfire is quicker and much more responsive than the previous version.
This top-of-the-line 2015 power sled makes an impression, but the Pro-X is not for every rider and Polaris knows that. That's why the Pro-S exists. The Pro-X is civilized, but don't be misled, it is a true "muscle sled" in every sense. To extract its intended performance you need to push it. Don't baby it. The shocks expect, no, demand hard hits. The drivetrain works aggressively to provide ample and instant off the berm power lifts.
The 137-inch track expects to be spinning off trail. To emphasis that, Polaris fitted a Backcountry X track to this sled, which means you get a 15-inch wide by 137-inch footprint with deep 1.75-inch lug grip.
Of course, you expect to go get lost, sort of, as you seek out unbroken, untraveled trails. But Polaris engineers know that getting lost isn't a good thing. Check out the Pro-X dash and prepare to push the buttons and commands on the interactive color display. The digital screen measures 4.3-inches with high-res, LCD in full color. You may wander off trail, but you'll have access to an amazing array of information to include:
Your sled's trail speed, engine speed and miles covered;
Polaris engineers redesigned the left-hand controls to improve ergonomics, update the styling and make the controls easier easy to operate with gloved fingers.Your sled's operating parameters and diagnostics;
Polaris engineers redesigned the left-hand controls to improve ergonomics, update the styling and make the controls easier easy to operate with gloved fingers.If you want it there's Bluetooth compatibility with your cell phone;
Polaris engineers redesigned the left-hand controls to improve ergonomics, update the styling and make the controls easier easy to operate with gloved fingers.A mapping feature based on GPS is available;
Polaris engineers redesigned the left-hand controls to improve ergonomics, update the styling and make the controls easier easy to operate with gloved fingers.And, even, customizable screen preferences.
We were impressed with how this familiar looking Switchback utilized design elements like the channeling in the cowl to divert and direct airflow away from the rider but direct some flow to the engine compartment to help cool the engine, clutches and brake. There is little wasted thinking in this Pro-X. Ducting moves cooling air in and underhood venting pushes the warmed air out. When to comes to accessorizing, Polaris designers updated onboard storage options and created special AXYS storage pieces to handle gear you might want for off trail excursions.
The more we looked at the top line Polaris big bump sled, the more we realized that Polaris engineers created this sled as much for themselves as for us. Not that there's anything wrong with that!
| | | |
| --- | --- | --- |
| | 2015 Polaris 800 Switchback Pro-X Specs | 2015 Polaris 800 Switchback Pro-S Specs |
| Engine | NEW for 2015 — Polaris Liberty 795cc twin cylinder 2-stroke; liquid-cooled; Polaris Cleanfire electronic fuel injection; two-into-one exhaust with 3-stage variable exhaust valve; CD ignition | NEW for 2015 – Polaris Liberty 795cc twin cylinder 2-stroke; liquid-cooled; Polaris Cleanfire electronic fuel injection; two-into-one exhaust with 3-stage variable exhaust valve; CD ignition |
| Horsepower | 160+ | 160+ |
| Drive | Polaris P85 drive with Team LWT driven clutch | Polaris P85 drive with Team LWT driven clutch |
| Front Suspension | AXYS dual A-arm with Walker Evans compression adjustable piggyback "clicker" shocks; 9.9-inches of travel; Pro-Steer plastic skis | AXYS dual A-arm with Walker Evans adjustable piggyback competition-type shocks; 9.3-inches of travel |
| Rear Suspension | Pro-XC parallel rail slide suspension with external Walker Evans adjustable piggyback compression-adjustable shock on rear; up to13.4-inches of travel | Pro-XC parallel rail slide suspension with external Walker Evans piggyback shock on rear; 13.4-inches of travel |
| Length | 121.0 in | 121.0 in |
| Width | 47.0 in | 47.0 in |
| Height | 48.0 in | 46.0 in |
| Ski Stance | 42.5 in | 42.5 in |
| Track | 15 x 137 x 1.75 Backcountry X | 15 x 137 x 1.25 Ripsaw II |
| Features | STANDARD: Pro-Steer skis; electronic reverse; AXYS performance seat; multifunction interactive gauge/display; OPTION: electric start, AXYS storage | STANDARD: Pro-Steer skis; electronic reverse; AXYS performance seat; multifunction gauge/display; OPTION: electric start, Lock & Ride storage |
| Weight | 450 (claimed) | 446 (claimed) |
| Fuel Capacity | 12.0 US Gal | 12.0 US Gal |
| MSRP | $13,199 | $12,799 |