Freestyle show and longer track at Duluth

ACSS opener kicks off Nov. 30
For the 17th consecutive season, Duluth's Spirit Mountain is host to the biggest professional snocross racing event on the planet, The AMSOIL Duluth National Snocross, Nov. 28-30, 2008.
This year's event features several edgy new twists, including freestyle and a longer racetrack, for the much-anticipated start to winter.
The new AMSOIL Championship Snocross Series event is the kickoff to world's leading professional racing circuit. The series is snowmobiling's top form of racing with its high-flying aerial displays, jumps, jolts and high-speed runs. The festivities are organized and promoted by Visit Duluth and Spirit Mountain. This year marks a new level of snocross with the arrival of premier sanctioning body International Series of Champions (ISOC).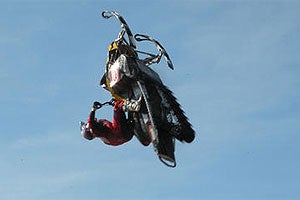 This is also the first time riders will compete for the prestigious C.J. Ramstad Memorial Cup honoring the legacy of 'Mr. Snowmobiling'.
Also brand new for 2008 is Friday night's 7 p.m. Monster Energy Slednecks Invasion Tour showcasing jaw dropping backflips and other acrobatic talents of Slednecks team riders Chris Burandt, Sam Rogers, Cody Borchers, Paul Thacker, Steve Martin, Kourtney Hungerford and Aleksander Nordgaard along with special guest DJ Soulman rocking the venue. The 50-minute extreme freestyle performance is followed by fireworks at 8 p.m.  Fans can grab free Monster Energy drinks; score free Slednecks and Monster swag and after the show get autographs from the athletes.
Of course, this year's event will bring the top racers in the world of Snocross: 2007 Pro Open champion Tucker Hibbert and Pro Stock Champion Ross Martin will be returning to defend their titles. Other top pro and Semi-pro racers returning include local favorites D J Eckstrom, Bobby LePage, Carl Schubitzke and Matt Judnick. Also returning are Robbie Malinoski, Steve Taylor, Shaun Crapo and Levi LaValle.