Team Sportech Racing opens season with a bang

Multiple podiums at ISOC Minnesota Regional
The opening round of the ISOC Minnesota Regional series and the 2009-2010 snocross season started with a bang for Team Sportech Racing during the ISOC Minnesota Regional event at Quadna Mountain in Hill City. Both pro rider Paul Bauerly and semi-pro Andrew Carlson looked to be in mid-season form with convincing qualifying efforts and podium finishes in their respective classes. Pro-Women's rider Taylor Carlson is still on the mend from knee surgery and is expected to return to competition in 3-4 weeks.
Bauerly dominated in qualifying with three heat wins in National Pro Stock and a 1-3-1 performance in National Pro Open. In the stock final, traffic battered the first year pro early on, but he battled through to earn a second place finish behind Tim Tremblay at the checkered. In Pro Open, a first turn melee shuffled Paul back in the pack but he hung tough for a fourth place finish.
Meanwhile in Semi-Pro action, Andrew Carlson competed in all three Semi-Pro classes and qualified first in Semi-Pro Stock #2 with three heat wins; was the second qualifier in Semi-Pro Stock #1 with a 1-3-3 performance; and was the number four qualifier in Semi-Pro Open.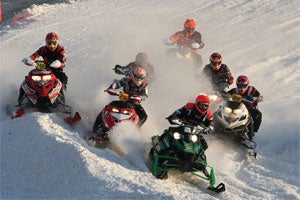 The short track was challenging, funneling riders into a tight turn one, and it was here where Andrew was caught up in a first lap incident in Semi-Pro Stock #1, forcing the young rider to battle back for a second place finish behind winner Jacob Muller. In Semi-Pro Stock #2, Andrew pulled a massive holeshot and cleared the first turn and led for several laps before an over-aggressive second place rider pushed Andrew off the track and off his sled. The crash also gave Carlson a severely cut finger, but the injury did little to hamper Andrew's push in the Semi-Pro Open final where he finished second behind winner David Joanis.
Quadna proved to be an excellent start to the season for Team Sportech, as they got their first tastes of competition on the season and prepared them for the first national race of the season in Duluth, Minn., December 11-13.
TEAMMATES
With the excitement associated with Team Sportech Racing's first year endeavors in the ISOC National Pro series, both new and returning team partners have pledged greater commitment to this season's efforts. Two such partners will be clearly visible at every national and regional event Team Sportech participates in. Transport Graphics and 3M have illustrated their commitment to Team Sportech this winter through the development of new branding for both race sleds and the prestine Team Sportech race hauler.
The eye-catching graphics were designed and produced by Transport Graphics using high quality 3M materials. Watch for them this winter at a track near you!
ERX MOTOR PARK NEWS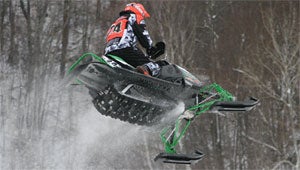 Snow has arrived and open practice is here! Gates are set to open for the first open track session of the season, Monday, December 7th at 12:00pm (noon).
Get prepared for the first national snocross race of the season in Duluth, Minnesota December 11-13th, at ERX. Open practice will kick-off Monday and continue Tuesday, Wednesday and Thursday (December 8-10) as well as Saturday, December 12th.
New this season you can practice under the lights on Wednesday nights with special twilight pricing ($75) from 4:00pm to 8:00pm. Visit ERXmotorpark.com for complete details, open track dates and times.