Christian Brothers Racing Report: USXC I-500 and Seneca Snocross

The USXC Seven Clans I-500 is one of the most grueling and prestigious races in snowmobiling. Run in and around Thief River Falls, Minn., the hometown of Arctic Cat snowmobiles, the race is the modern version of the famed Winnipeg to St. Paul race that dates back to 1966. The three-day race features roughly 160 miles of racing each day in ditches, woods, river and fields of Northern Minnesota.
Christian Brothers Racing rider Brian Dick won the race for the second time in his career this past Saturday with teammate Zach Herfindahl finishing about two minutes behind him in second place. Christian Brothers Racing has won the past three runnings of the event with Brian winning in 2011 and Ryan Simons winning in 2013 (2012 was cancelled due to weather).
After claiming almost a minute lead on Day 1 thanks to a solid 157-mile run and taking the option to skip the maintenance session in favor of a three-minute time credit, Dick entered Day 3 with just over three minutes on second place Herfindahl. With clear skies and near perfect conditions for racing, Dick was able to navigate the rough course and hold the time gap on his way to the win.
"I knew Zach was catching me on the third day, but I just tried to be patient and bumped up my pace as the race went on," says Dick. "The second leg was really rough and technical and I tried not to make any mistakes. It feels really good to win this thing!"
Herfindahl looked to be a favorite after setting fast time of the day on Day 1 but, just 40 yards from the finish line on day 2, his sled suffered a clutch problem that cost him valuable time. On Day 3 Herfindahl closed the three minute gap between his sled and the leader to just under three minutes but couldn't catch his teammate and backed him up on the podium in second place.
Last year's race winner, Ryan Simons crashed hard on the first day and was unable to continue. After clearing a road approach his sled hit a wall of snow and he was thrown off the machine. He went to the hospital for a CT scan and was given the all-clear and released.
The snocross arm of Christian Brothers Racing was on hand in Salamanca, New York, to compete in the ISOC Seneca Allegany Snocross. A small, tight track greeted the racers and competition was fast, technical and unforgiving.
Racing on a small, tight track, starts are critical and DRIFT Racing/Troy Lee Designs/Arctic Cat rider Logan Christian used quick reflexes and a spot-on sled setup to finish near the front all weekend. After riding in a podium spot for several laps on Friday he crossed the line in fifth place and on Saturday took a hard-fought seventh place finish.
Fresh off a double-podium weekend at Deadwood, SD, Royal Distributing/Arctic Cat rider Dave Joanis was looking to back up that stellar performance. But, like Christian, Joanis fought sled traffic, snow dust and a tight track to get a best finish of sixth on Saturday.
Polarbear Boots/Arctic Cat rider Marica Renheim logged another perfect weekend in the Pro Am Women class. She went unbeaten, taking her fifth win of the season and stretching her points lead in the class.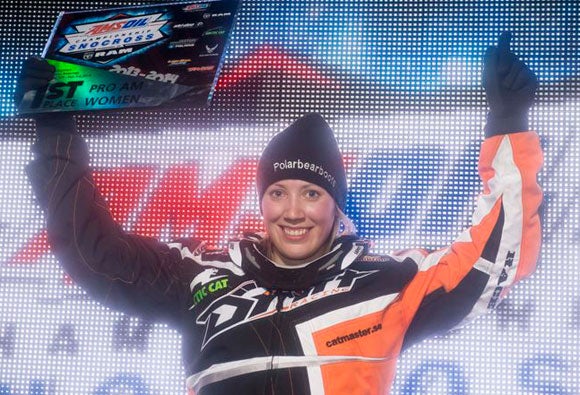 "This has been a dream season for me so far," says Renheim. "I am just going to keep pushing hard to stay at the front. I have to thank the Christian Brothers Racing team for all their hard work to keep me at the front.
Like his Pro Open teammates, Tyler Adams did his best to fight through other riders and tough conditions on the tight Salamanca track. Adams breezed through his heats but had a tough go in finals crashing hard in one. He still sits just out of first place in points with three events left this season.
Evan Christian continues to be a factor in the Junior Novice 10-13 class. The Finley Motors/Arctic Cat rider scored two podiums in Regional racing then cruised through qualifying and finished just off the podium in fourth place in the National final.