Be Bold, Not Basic with Deviant Ink Sled Wraps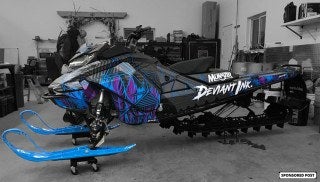 Stand out on the mountain with a fully customizable wrap
We've all seen them — those bright, badass sleds that seem to crest across fresh pow so effortlessly. The customized, multi-color sled wrap reflecting off the white snow, while all that sparkling powder compliments wrap, sled, gear and overall look like they were made for one another. And actually, now that we think about it, they kind of were…
As the pioneers of the sled wrap, Deviant Ink has been an industry leader in the custom snowmobile wraps and graphics game ever since the company was founded in 2004. Their motto – "Wrap it before you ride it" – is widely known among sled junkies. In fact, chances are, you already have one of their stickers on your sled, trailer or truck.
But just in case you don't, here's all you need to know: Deviant Ink takes pride in making basic sleds look… well, whatever adjective you're after, really. Sick? Sexy? Edgy? Yup. They can do all of that – and more. Envision yourself catching some air, or playing in powder out on the mountains. Who's the guy with the blue and yellow Ski-Doo sled wrap? That's Steve, killin' it and loving life more and more with each jump. What about the pink and blue Polaris sled wrap with stars? That's Megan, encompassing everything a sled girl is made of.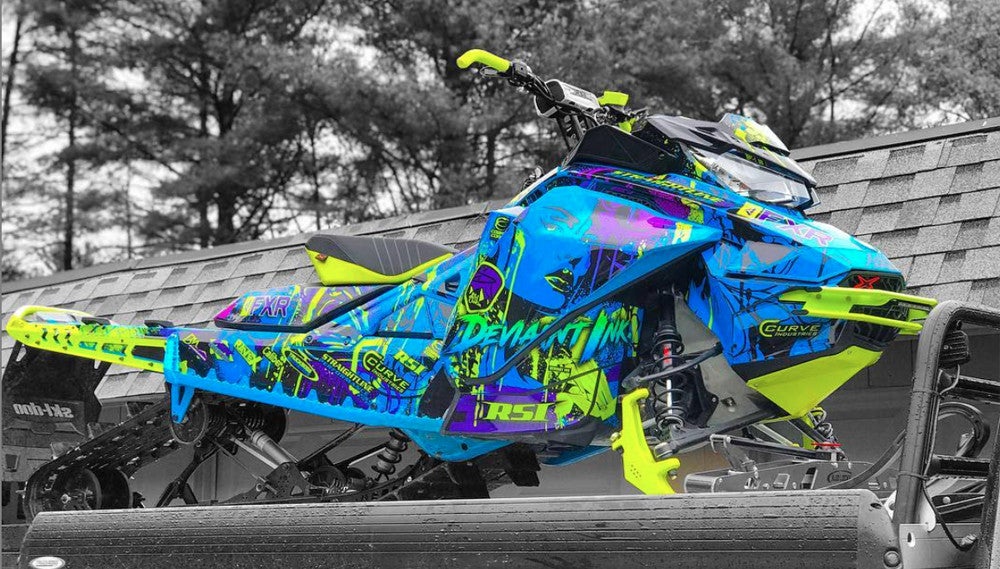 Add in custom wraps for snowbikes, dirt bikes and side-by-sides, and you've got a whole plethora of toys covered. (…Santa? Am I too old to make a wish list?)
So if you're an adventure lover, risk taker and sled head to the core, then why not explore the over 70+ wrap designs available on Deviant Ink's website? We're talking designs that suit nearly every model of sled from 2004 to present, whether you're looking for Yamaha sled wraps or Arctic Cat sled wraps. (And yes, they also do custom wraps starting at $500, plus shipping.)
Refresh your older sled with a fresh new wrap, or switch up colors each season to match your new gear. The possibilities are endless, and the process is simple.
Here's How it Works
Step 1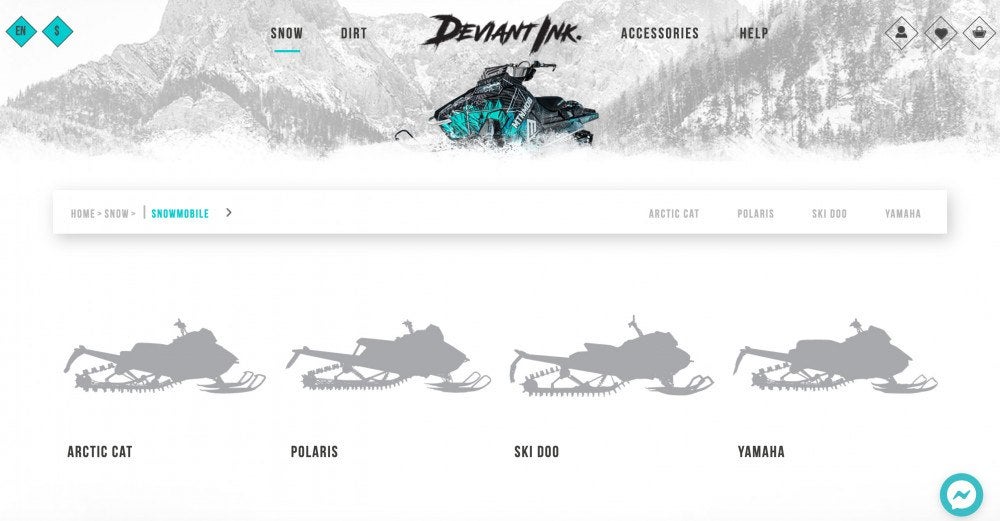 Head to deviantink.com and select the appropriate sled make.
Step 2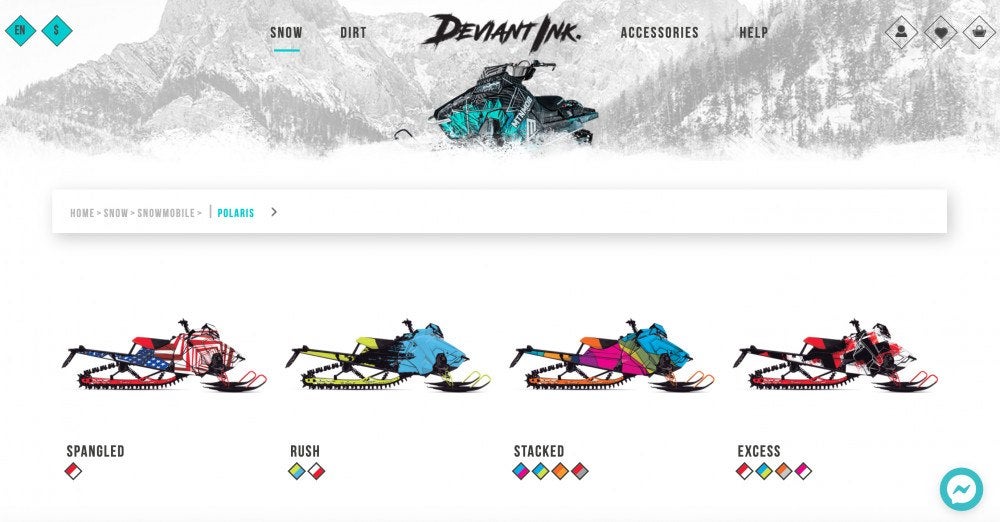 Choose a design from one of the 70+ on offer.
Step 3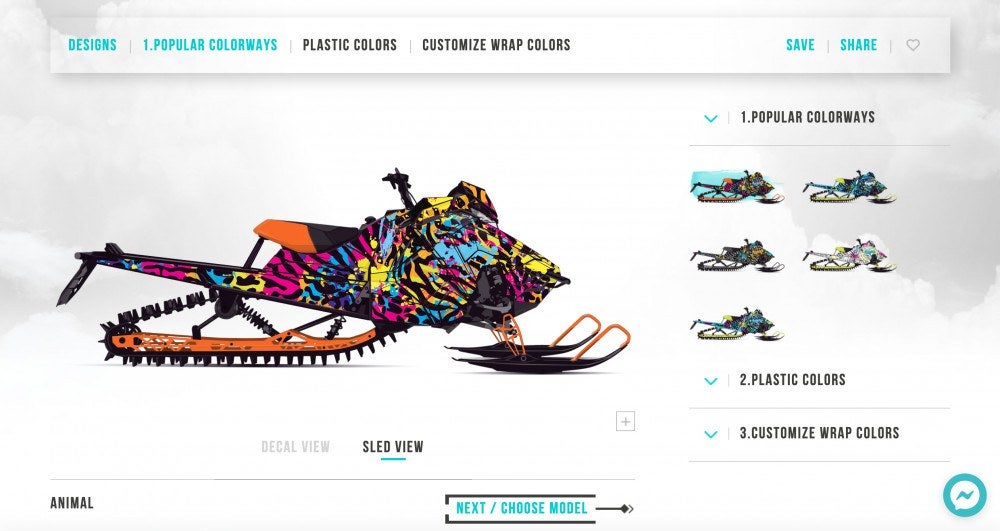 Either pick from one of Deviant Ink's most popular colorways OR unleash your inner individualist by using the company's innovative new color customizer tool. First, select the plastic and accent colors that best match your machine, then customize the rest of your chosen design with the colors of your choosing.
Step 4
Enter your sled's year, model and track length, and choose the areas you're looking to cover – just hood and side panels, or the whole shebang? – plus a gloss or matte finish. There's also the option to include personalized add-ons for even further customization, like your name, number and/or logos.
Having trouble deciding? Not to worry, you can save your design to come back to it later, or share it with a friend to get a second opinion –  or if you just can't wait to show off your new pride and joy.
Step 5
From there, it's pretty simple: add that bad boy to your cart and checkout. (We're pretty sure we don't have to explain this part to you, right?) Orders typically print and ship within a week, schedule allowing.
The Install
Once it arrives, you don't need to be a professional when it comes to installing the wrap. Simple, easy-to-follow instructions plus a decal placement guide are provided.
So stop being basic and boring, and refresh your sled now at www.deviantink.com. But don't delay; snowmobile season is already here!