Ski-Doo Race Report: Eagle River World Championship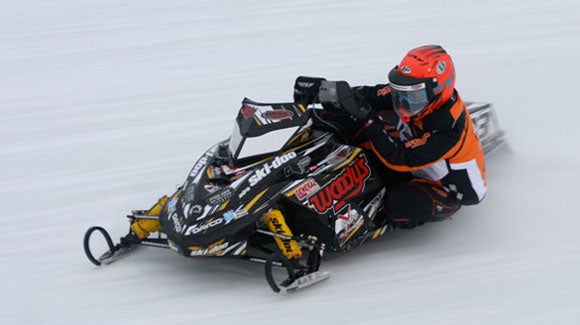 The prestigious Eagle River Snowmobile World Championship Snowmobile Derby was thoroughly dominated by Ski-Doo snowmobiles.
Malcolm Chartier led every lap of the final en route to winning his second championship in a row. He was joined on the podium by fellow X-Team racers Matt Schulz and Travis MacDonald.
Chartier and his Rotax-powered sled set the tone for the event on Friday night at the Friday Night Thunder event. His impressive victories in the heat races and final earned him the pole position for Sunday's World Championship and enabled him to bypass Saturday qualifying. He still put his sled into action in the time trials – and easily put down not just the fastest lap, but the second-fastest as well.
The Cottrellville, Mich.-native is just the eighth racer to win the Derby back-to-back in its illustrious 51 year history. One of the others is Ski-Doo legend Mike Houle – who builds the chassis of Chartier's race sleds.
The East Coast Snocross series hosted an event at Airborne Speedway in Plattsburgh, New York and the Pro Open and Pro Lite classes were all Ski-Doo. On Saturday, Ski-Doo racers took the four top spots in Pro Open with Lincoln Lemieux winning, followed by Danny Poirier and Dave Allard. Leo Paternaude won the Pro Lite class and was followed by three more MX Zx 600RS racers. It was a similar story on Sunday – Danny Poirier led the way in Pro Open, heading a contingent of Ski-Doo sleds, as 6 of the top 7 finishers were X-Team racers. Paternaude also won Sunday's Pro Lite race, another podium sweep for Ski-Doo.