Hoonigans & Boarders Love Sledding Too + Video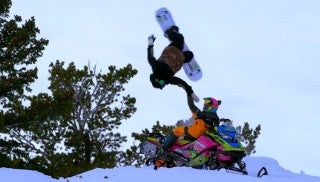 Ski-Doo has assembled a team of Ken Block, Sage Kotsenburg, Ashley Chaffin, Bode Merrill and Carl Kuster to create Sled Shred.
Tow-ins of Gold medal snowboarders, high fives, tandem face shots, taco lunch, some blue bird, sweet artistic hits, and of course laughs. Did we hear Bode say "All me & Sage are doing is dreaming of the day that we can be like them"?
Mad props to the film crew as well. We recommend a bigger screen and speakers for Ski-Doo's Sled Shred Video. Enjoy!