Polaris Pro Racers Dominate Stock Classes at Afton Hillclimb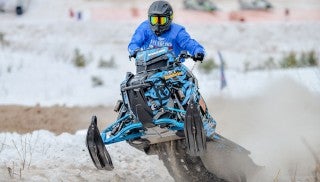 Polaris AXYS RMK racers win three King of the Hill titles and Queen of the Hill
Hillclimbers on Polaris AXYS RMK snowmobiles won three King of the Hill titles, Queen of the Hill and eight Pro classes – including all four Stock classes – at the RMSHA's Afton Hillclimb in Wyoming on Feb. 18-19. Polaris Hillclimbers earned 20 Pro podium spots, led by Erin Beukelman, who had three podium finishes and won 1000 Improved Stock and Improved Stock King of the Hill. Polaris dominated the Stock classes, claiming all 15 spots in the 600 Stock final and first through seventh in 700 Stock. Polaris wins for the weekend also included:
Keith Curtis won 600 Stock, 1000 Stock and the Stock King of the Hill title.
Shelley Heap took the Women's Stock and Women's 600 Stock classes as well as claiming the Women's Queen of the Hill title.
Luke Rainey won the 800 Stock and 800 Improved Stock classes. He also won the Snow Bikes class on a bike with a Polaris Timbersled conversion system.
Toby Shepherd took the 700 Stock class and had three podium finishes.
Brandon Titensor won 600 Improved Stock.
Andy Thomas won the 700 Mod class.
Polaris Racer Bart Butcher took top honors in the Pro Seniors Mod and was second in Pro Seniors Stock.
Sam Peterson won the Semi-Pro Mod class before winning Semi-Pro King of the Hill.
The next RMSHA event is the Cherry Peak Resort Hillclimb, March 10-11, in Logan, Utah.