Ski-Doo Announces Free 2019 Avalanche Awareness Seminar Schedule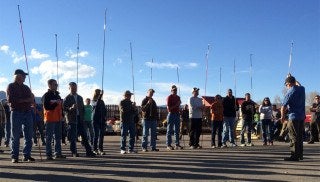 Ski-Doo marks a decade of free avalanche awareness seminars
Ski-Doo snowmobiles continues support for backcountry rider education with free avalanche awareness and avoidance seminars for snowmobilers – to riders of all brands – for the ninth year in the US and tenth in Canada. Backcountry Access (BCA), a widely respected avalanche safety equipment manufacturer, will be supporting these seminars with equipment and their in-depth knowledge of recreation in the backcountry for the fourth consecutive season.
As the largest manufacturer of snowmobiles, Ski-Doo recognizes the importance of continuing their leadership role in in advancing responsible backcountry use. With more than 20,000 snowmobilers attending Ski-Doo-sponsored avalanche awareness seminars since 2009, the community reaction to the effort has been extremely positive. The seminars use both interactive and classroom style content that is geared for riders of all skill levels, and attendees are encouraged to bring their friends along no matter what brand they ride. The incentive is clear – bring those you ride with and care about to ensure you can all track the groups' well-being and help if a situation ever occurs.
Along with sponsoring seminars, Ski-Doo and BCA also encourage riders to use Backcountry Ascender, an online backcountry education platform. This free, self-directed program provides basic avalanche education and encourages traditional course attendance to advance to higher levels. Much of the course content can be completed online, and where needed, the program directs users to relevant in-person courses like the Ski-Doo/BCA-sponsored seminars. Backcountry Ascender is supported by the International Snowmobile Manufacturer's Association (ISMA), of which SkiDoo is an active member.
"With a decade of experience in facilitating these seminars, Ski-Doo continues to demonstrate our belief in the importance of backcountry safety and keeping it at top of mind for riders, which is why we continue to support avalanche training," said Marc R. Lacroix, Global Ski-Doo and Sea-Doo Marketing Director. "Working with experts like our trainers, BCA and Backcountry Ascender we're bringing snowmobile specific content that's educational and entertaining to our riders. We have a unique style for accessing terrain and recognize the need to be authentic with a fast paced, fun seminar that raises the levels of awareness and education.
About the Seminars Seminars in Canada are led by Marshall Dempster, a recognized avalanche forecaster, a Lead Instructor (AST1 and 2) and Backcountry Guide. Dempster is a Professional Member of the Canadian Avalanche Association, professional avalanche forecaster and retired Canadian Avalanche Association Rescue dog handler. He has 18 years of mountain experience focused on safe travel as well as mountain rescue and a passion to share his knowledge.
Mike Duffy of Avalanche1.com is one of the most recognized snowmobile trainers in North America, he's a certified instructor and professional member of the American Avalanche Association and leads the seminars in the United States. Duffy instructs at American Avalanche Institute, Alaska Avalanche School and Silverton Avalanche School, and has been giving snowmobile-specific avalanche classes since 1996. As rescue team leader in the Vail Mountain Rescue Group, Duffy has more than 27 years of mountain riding and mountain rescue experience. He is also a Backcountry Guide/riding instructor.
Seminars are open to owners of all brands of sleds. For up-to-date information on locations and times, or to register for an avalanche awareness seminar, visit the Ski-Doo website, the Ski-Doo Blog and be sure to follow Ski-Doo on Facebook.
Most seminars are combined with an open house or mountain-riding event. Participants are encouraged to register with the host dealer so they can plan meeting space accordingly and ensure a spot.
2019 Ski-Doo US Avalanche Safety Seminar Schedule
| | | | |
| --- | --- | --- | --- |
| Date | Time | Location | City, State |
| Oct 8 | 6 pm | Frank May Ski-Doo | Honeyville, UT |
| Oct 9 | 6 pm | High Adventure Powersports | Salt Lake City, UT |
| Oct 10 | 6 pm | Weller Recreation | Kamas, UT |
| Oct 11 | 6 pm | Rexburg Motorsports | Rexburg, ID |
| Oct 15 | 6 pm | Rice's Rapid Motorsports | Rapid City, SD |
| Oct 16 | 6 pm | Moritz Sport and Marine | Mandan, ND |
| Oct 17 | 6 pm | G Force Powersports | Lakewood, CO |
| Oct 18 | 6 pm | Dennis Dillon RV and Marine | Boise, ID |
| Oct 22 | 6 pm | Marquette Powersports | Marquette, MI |
| Oct 23 | 6 pm | Ecklund Motorsports | Appleton, WI |
| Oct 26 | Hourly | Centre Powersports | Sauk Centre, MN |
| Oct 29 | 6 pm | Paulsen's Powersports | Great Falls, MT |
| Oct 30 | 6 pm | Gull Boats and RV | Missoula, MT |
| Nov 1 | 6 pm | Specialty Recreation | Coeur d'Alene, ID |
| Nov 2 | 5 pm | Power World | Granby, CO |
| Nov 6 | 6 pm | Vern Eide Motoplex | Sioux Falls, SD |
| Nov 7 | 6 pm | Roelofsen's | Toronto, SD |
| Nov 8 | 6 pm | Jaycox Powersports | Worthington, MN |
| Nov 9 | 4 pm | Dockside Marine | Wilmington, IL |
| Nov 12 | 6 pm | MotoBreck | Breckenridge, CO |
| Nov 13 | 6 pm | Wenatchee Honda BRP | Wenatchee, WA |
| Nov 14 | 6 pm | I-90 Motorsports | Issaquah, WA |
| Nov 15 | 5 pm | Rob's Performance Motorsports | Johnson Creek, WI |
2019 Ski-Doo Canadian Avalanche Safety Seminar Schedule
| | | | |
| --- | --- | --- | --- |
| Date | Time | Location | City, Province |
| Oct 15 | 6:30 pm | Rec-Tech Power Products | Lloydminster, AB |
| Oct 16 | 7 pm | Regina Powersports | Regina, SK |
| Oct 18 | 6:30 pm | Robertson Motorsports | Swift Current, SK |
| Oct 22 | 6 pm | Martin Motor Sports | Edmonton, AB |
| Oct 23 | 6 pm | Martin Motor Sports | Edmonton, AB |
| Oct 26 | 3 pm | A&E Racing | Brooks, AB |
| Oct 29 | 6:30 pm | Basecamp Motor Sports | Calgary, AB |
| Oct 30 | 6:30 pm | Turple Bros, LTD | Red Deer, AB |
| Nov 1 | 6:30 pm | Riderz | Edson, AB |
| Nov 4 | 6:30 pm | Stojan Power sports & Marine | Grand Prairie, AB |
| Nov 5 | 6 pm | Trail Blazin Power | Dawson Creek, BC |
| Nov 7 | 6:30 pm | Forest Power Sports | Prince George, BC |
| Nov 13 | 6:30 pm | No Limits Motor Sports | Squamish, BC |
| Nov 14 | 7 pm | Greater Vancouver Powersports | Langley, BC |
| Nov 16 | 5 pm | Courtenay motorsports | Courtenay, BC |
| Nov 19 | 6:30 pm | RTR Performance | Kamloops, BC |
| Nov 21 | 6:30 pm | Banner Recreation | Vernon, BC |
| Nov 22 | 6:30 pm | Banner Recreation | Kelowna, BC |
| Nov 26 | 6:30 pm | Enns Brothers | Winnepeg, MB |