Ski-Doo Launches Free Avalanche Awareness Seminars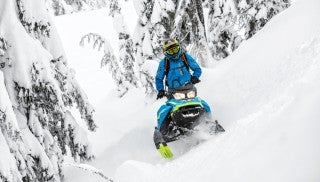 Ski-Doo trying to help snowmobilers stay safe
Avalanches are a part of backcountry life. We're all experienced and feel we know how to read conditions and weather, but we could always learn more and stay safer in the mountains. For seven years Ski-Doo has been promoting avalanche awareness and avoidance. It has just announced free avalanche education in partnership with Backcountry Access (BCA), a manufacturer of avalanche safety equipment, and Backcountry Ascender, an online education platform. Whether you're experienced or new to mountain riding, considering a trip or even dreaming of riding the mountains, here is an opportunity to learn and stay safer.
Click this link to find a seminar near you.
Here is what Ski-Doo had to say about its Free Avalanche Awareness Seminars:
Ski-Doo has been a leader in promoting avalanche awareness and avoidance for snowmobilers the past seven years and will continue to promote the well-received seminars again for 2017.  Ski-Doo will sponsor more than 40 free – to riders of all brands – seminars throughout North America and two strong partners will return to enhance the effort with Backcountry Access (BCA), one of most well-known and respected manufacturers of avalanche safety equipment and Backcountry Ascender an online education platform.
More than 16,000 snowmobilers have taken part in Ski-Doo-sponsored avalanche awareness seminars since 2009. The in-person seminars offer engaging content for riders of all skill levels, and riders of all brands are welcome and encouraged to attend. Those attending are also encouraged to bring their friends and riding buddies to ensure people they ride with are also well informed.
In addition to sponsoring seminars, Ski-Doo and BCA also team up with Backcountry Ascender, an online backcountry education platform. It is a free, self-directed program that provides basic avalanche education and encourages traditional courses to advance to higher levels. Much of the course content can be completed online, and it will direct users to relevant in-person courses like the Ski-Doo/BCA-sponsored seminars. Backcountry Ascender is supported by the International Snowmobile Manufacturer's Association (ISMA), of which Ski-Doo is an active member.
"Backcountry safety awareness and education is a priority for Ski-Doo, and this is why we are so involved in the promotion of avalanche training," said Marc R. Lacroix, Global Ski-Doo and Sea-Doo Marketing Director. "We've partnered with experts to design snowmobile-specific seminars that are educational and entertaining for participants.  With endorsement from Backcountry Ascender and BCA again this year, we continue in our commitment to raising the level of awareness and education even further."
About the Seminars
Seminars in Canada are led by Marshall Dempster, a recognized avalanche forecaster, a Lead Instructor (AST1 and 2) and Backcountry Guide. Dempster is a Professional Member of the Canadian Avalanche Association, professional forecaster and certified Canadian Avalanche Rescue dog handler. He has 16 years of mountain experience focused on safe travel as well as mountain rescue and a passion to share his knowledge.
Mike Duffy of Avalanche1.com, a certified instructor and professional member of the American Avalanche Association leads the seminars in the United States.  Duffy instructs at American Avalanche Institute, Colorado Mountain College and Silverton Avalanche School, and has been giving snowmobile-specific avalanche classes since 1996. As rescue team leader Vail Mountain Rescue Group, Duffy has more than 25 years of mountain riding and mountain rescue experience.   He is also a Backcountry Guide/riding instructor.
Seminars are open to owners of all brands of sleds. For up-to-date information on locations and times, or to register for an avalanche awareness seminar, visit the Ski-Doo website, the Ski-Doo Blog and be sure to follow Ski-Doo on Facebook.
Most seminars are combined with an open house or mountain-riding event. Participants are encouraged to register with the host dealer so they can plan meeting space accordingly and ensure a spot.
About Backcountry Ascender
Backcountry Ascender is a free and simple backcountry and avalanche educator. The platform uses educational gamification and good-natured competition to encourage rider awareness and improve their backcountry knowledge, skills and practical experience.
The engaging and competitive platform is comprised of industry- and peer-reviewed curriculum of self-directed lessons and in-person courses. Riders earn points for completing lessons and courses to increase their rank as well as their associated club, state/provincial association, dealer and snowmobile brand.
Backcountry Ascender is endorsed and promoted by ISMA, its member OEM manufacturers, top pro riders, Avalanche Canada and the American Avalanche Association.
For information on the Backcountry Ascender program visit: http://backcountryascender.com.