Most Popular Snowmobile Video on YouTube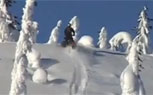 As we began to prepare for the Snowmobile.com blog, it was only natural that we turn to YouTube for some inspiration.
The following clip (available after the break) is the most popular snowmobile video available on YouTube. Running four minutes and 25 seconds, the video shows a snowmobilers plowing through deep powder and having what must be an epic day. The backdrop of the ride is so striking it doesn't even seem real.
Originally posted in August of 2007, the clip has attracted nearly 1.3 million views so far. If you haven't seen it yet, it's worth taking a look at. Fair warning – if you don't have snow like this where you ride you're probably going to be a little jealous…maybe a lot.
Get the Flash Player to see this player.