2013 Polaris 600 IQ Race Sled Unveiled

With the 2012-13 snowmobile racing season quickly approaching, Polaris has unveiled its 2013 600 IQ Race Sled. According to Polaris, the sled features a new engine package that delivers improved performance across the power range.
The 2013 version of the 600 IQ Race Sled also features a redesigned track, enhanced shock adjustability, improved brakes and other changes designed to increase Polaris racers' competitive advantage.
New Engine Package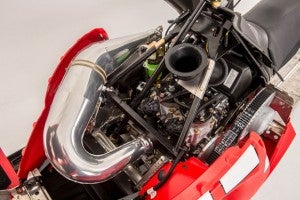 The new Polaris Liberty 600 engine package in the 600 IQ Race Sled features a re-engineered cylinder head and cylinders that result in significantly increased horsepower. Polaris did not provide specific numbers.
"Our new engine package was developed with a focus on improving both snocross and cross-country performance," says Matt Prusak, race program leader in the Polaris Snowmobile Division. "We're seeing this engine produce increased horsepower across the entire RPM range. Polaris racers will experience crisper throttle response, improved holeshots, and stronger performance all the way across the powerband. There's a significant increase in power over the 2012 race sled."
Chassis Improvements
To match the improved power, Polaris also make changes to the chassis for 2013. Chief among the improvements are the Walker Evans 16-click compression-adjustable shocks all around – in the IFS front end and the front and rear track shocks.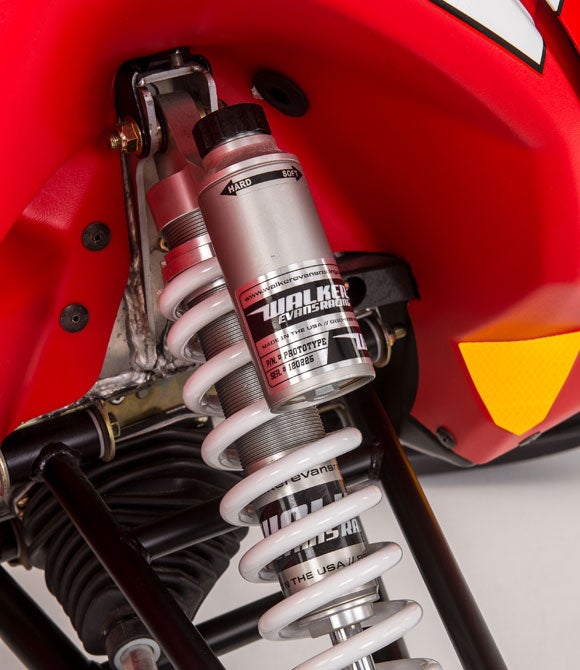 In addition, rebound adjustability was added to the rear track shock to give racers easier on-track tuning. Terrain racers will be able to adjust all four shocks with a clicker to fine-tune their sleds' performance for each day's unique track conditions.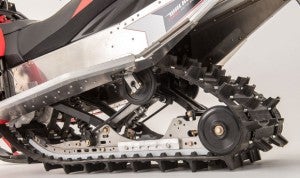 A new track that has been in development for several years is being introduced on the 2013 race sled. According to Polaris, it provides racers with improved performance in all snow conditions, from sugary snow on bitter cold winter days to wetter, softer snow on early spring race days.
The new 15″-wide track is .25″ wider than on previous race sleds and features a revised lug profile and pattern for improved traction.
The 2013 race sled is also equipped with DP Brakes brake pads. According to Polaris, these pads deliver consistently outstanding performance in all situations, including high-heat conditions that develop in racing. The DP brake pads were developed with extensive input from Polaris factory racers, and they are designed to deliver excellent performance with no brake fade when the action heats up.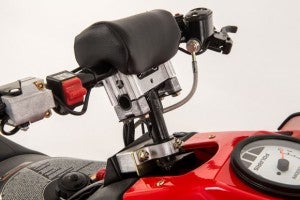 In response to requests from Polaris racers, the new race sled has a 2″ handlebar riser, down from the 2.5″ riser height of previous race sleds. Prusak said racers asked for a slightly lower bar position to enhance their leverage in corners and position them over the handlebars more than before.
The 2013 Polaris 600 IQ Race Sled was developed as a snocross sled, but it also underwent extensive testing to determine the best setups for cross-country racing. The Polaris Racing Department will provide cross-country racers who compete on this sled with information about recommended setups and shock tuning for the most competitive terrain performance.
More 600 IQ Race Sled Details
The 2013 IQ Race Sled is built on Polaris' IQ Chassis. It is built using advanced assembly techniques that minimize the chassis' part count and optimize strength and reliability.
The IFS has Walker Evans Aluminum IFP (Internal Floating Piston) 16-position compression-adjustable shocks with piggyback reservoirs. The front end has 10.3″ (26.1 cm) of travel.
This same IFS design is available to recreational riders on Polaris RUSH models built on the PRO-RIDE Chassis, and on Switchback models.
The IQ Rear Suspension has a Walker Evans Coil Over Shock as the front track shock, and the rear track shock is a Walker Evans Aluminum IFP 16-position compression- and rebound-adjustable large body shock. The rear suspension has 13.9″ (35.3 cm) of travel.
The new liquid-cooled Polaris Liberty 600 twin features a redesigned cylinder head and cylinders for increased horsepower output. It has twin Mikuni Rack TM 40 carburetors, NiCaSil-lined cylinders for optimized heat dispersion and the Polaris VES (Variable Exhaust System) for outstanding power and instant throttle response.
The power delivery is managed by the Polaris P-85 drive clutch paired with a Lightweight TEAM Roller driven clutch.
The liquid-cooled brake package includes a Cyclone master cylinder and lever, Phantom dual-piston caliper and new DP Brakes brake pads.