Arctic Cat Riders Dominate USXC J&K Marine Beach Bar 200

Arctic Cat racers, led by Brian Dick, ran roughshod over the field at the USXC J&K Marine Beach Bar 200 in Detroit Lakes, Minn. this past weekend. The second stop on the eight-race USXC schedule, the one-day event took place on Big Detroit Lake in the heart of the popular resort destination town in Central Minnesota.
The USXC laid out a 10-mile ice lemans course on the lake that featured a mix of tight and sweeper turns mixed in with blazing fast straightaways. Brakes, handling, traction and skill played huge in the race.
Dick claimed his first win in the four-lap Speedwerx Pro Open race setting a time of 37:48.593 edging his teammate and fellow Arctic Cat rider Ryan Simons (37:49.618) out by one second. Arctic Cat riders Wes Selby (37:53.195) and Zach Herfindahl (37:58.686) finished third and fourth and Polaris rider Ryan Faust (38:07.492) finished fifth.
Riders left in flights of four for the 10-lap, 100-mile DRIFT Racing Pro Stock race and Dick lined up in the last flight. Two laps in he had caught the flight in front of him and was slicing his way through riders and setting fast lap times. At the end of 10 laps Dick had logged a time of 1:25:09.549, some 14-seconds ahead of the second place sled of Selby (1:25:23.498) and nearly 15-seconds ahead of Herfindahl (1:26:06.582). It is Dick's first weekend sweep since a year ago when he swept the event held at Pine Lake.
Arctic Cat rider Jon Arneson fought through a talented field of 25 riders to claim the win in the Polaris Semi-Pro 600 class setting a four-lap time of 38:44.242, over 12-seconds faster than second place finisher and fellow Arctic Cat rider Cole Nymann and nearly 18-seconds faster than third place finisher, Polaris rider Travis Faust. Arneson also won the two-lap AMSOIL Semi-Pro Improved race besting the Yamaha of Ben Lindbom by over a second and the Yamaha of Jacob Muller by over 31-seconds.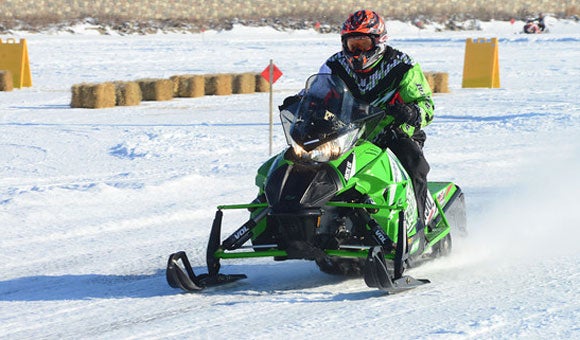 "Our second event went as well as our first," says USXC owner Brian Nelson. "We learned a lot at Pine Lake and brought that into the J&K Marine Beach Bar 200. I would like to extend a thank you to all the racers who have come out to compete on the USXC circuit so far this season. There is a lot of racing left and I see great things happening for everyone involved."
The next USXC event is the Willmar Area Lakes 100 in Willmar, Minn., January 12, 2013.
Other class winners from the J&K Marine Beach Bar 200 include: Brothers Motorsports Expert 85: Chad Dyrdahl (Arctic Cat); FOX Expert 85 Improved: Chad Dyrdahl (Arctic Cat); Sport 600 Improved: Erik Nymann (Arctic Cat); Ski-Doo Masters 50+: Jim Sobeck (Ski-Doo); Mattracks Masters 40: Corey Davidson (Polaris); Carver Performance Sport 85: Kevin Tinjum (Arctic Cat); Woody's Sport 600 Stock: Garrett Johnson (Arctic Cat); Sport 600 Improved: Mayson Croaker (Arctic Cat); C&A Pro Trail: Gunnar Arlaud (Polaris); FLY Racing Vintage: Brett Lessman (Yamaha); Stud Boy Vintage Legends 50+: Gary Tintes (Arctic Cat); TEAM Classic IFS 18-50: Matt Schaumberg (Arctic Cat); On Snow Magazine Women's: Jolene Bute (Arctic Cat); Yamaha Junior 10-13: Blair Herfindahl (Arctic Cat); Junior 14-17: Nels Eide (Arctic Cat); Arctic Cat Junior Girls 10-15: Marissa Kallock (Arctic Cat); Junior Girls 16-17: Kelsey Pladson (Arctic Cat).