Elliot Lake Rocks for March Sledding!
Some of Ontario's best spring riding is right here
Story by Craig Nicholson, The Intrepid Snowmobiler, Feb 19, 2010
The later in the season it gets, the more snowmobilers search for places that still have decent snow for their final rides. Elliot Lake, Ontario is typically one of the most popular destinations for March riding. Lots of snow. Long lasting snow. Trails that are primarily on land, so deteriorating ice conditions on waterways don't matter. Access to over 2,200 kilometers (1,400 miles) of OFSC District 13 trails. What's more, March temperatures are usually moderate. And of course, the riding days are much longer, especially with the onset of Daylight Savings Time starting March 14, so you can really rack on the klicks. With the Elliot Lake Snowbirds Snowmobile Club adding a new groomer to their fleet this winter, their 560 kilometers (350 miles) of local trails are better than ever — and will be, even well in to March!
Best of all, Elliot Lake isn't far away…about two hours east of an easy border crossing at Sault Ste. Marie and less of a drive than that west of Sudbury. Snowmobilers trailering north from the GTA can get to Elliot Lake in five or six hours on four lane highway most of the way. That's a pretty minimal investment of trailering time to discover what may be Ontario's best spring riding!
With good snow conditions, one option for your last ride of the season can be the North Shore Scenic Loop from Elliot Lake through Spanish, Blind River and Iron Bridge. If this is your choice, be sure to take in the awesome lookout on TOP Trail D near Spragge.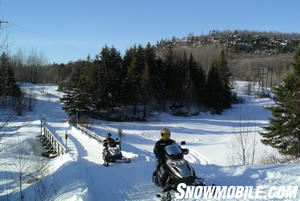 Another good touring choice is the Deer Trail loop, which extends even farther west to include Thessalon and Wharncliffe. Or you can pile up more miles yet by circling north through Aubrey Falls and back to Elliot Lake.
Elliot Lake itself is also an excellent staging gateway for northern trails in OFSC District 13, Algoma Country. To find good snow conditions, even when they are poor elsewhere, head north on TOP Trail F from Elliot Lake to Aubrey Falls and Chapleau. On the way, be sure to admire the fabulous view from Boland Hill on TOP Trail F just north of Laurentian Lodge, at the deg of the boreal forest. TOP F heads into the higher elevation of the Canadian Shield, which attracts more snow and holds it longer. From Chapleau, you can head to destinations farther north or loop south on the new Jeep Lake detour trail to TOP Trail D and return to Elliot Lake via Searchmont and TOP Trail D106 to Aubrey Falls. This is the southern portion of what is called the Northern Experience Trail.
In and around Elliot Lake proper, check out Beaver Mountain overlooking the town, as well as the magnificent cliff at the intersection of TOP Trail F and local trail EL 1, just south of town. At the very end of Elliot Lake (the actual lake, not the town) Quimby Falls is a popular scenic stop on local trail EL 2.
Elliot Lake is totally set up to welcome snowmobilers, with snowmobile trails right into the downtown area, where services, amenities and local nightlife are within walking distance. The town's new crown jewel of lodgings is the Hampton Inn by Hilton, a full service, 52-room hotel with direct trail access that also offers complimentary breakfast. Another good choice is the Algo Inn, with its on site restaurant and secure sled parking, it's situated on the Algo Centre Mall complex, which features over 40 stores and services. Other area choices include Laurentian Lodge, Dunlop Lake Lodge, and Denison House.
Many people are familiar with Elliot Lake as one of Ontario's premier retirement communities. Recently, the town also began attracting its fair share of outdoor enthusiasts as new recreational property owners. Its Lakeshore Properties Program buys waterfront property from the crown and so far has developed 250 lots for sale on two lakes, with many more to come. And with 1,200 lakes and a third of the world's lake trout population within the city limits, that's no idle promise.
As you can see, Elliot Lake has it all as a winter playground. As one of the best snowmobile tour operators in the business, Decker Tours, says: "this area is nothing short of 'WOW', the best-kept secret of places to ride snowmobiles" — and then gave it a "Decker Double Thumbs Up." So come to Elliot Lake this winter and you will too!
Craig Nicholson is the author of "Canada's Best Snowmobiling — Your Ultimate Ride Guide". His syndicated column "The Intrepid Snowmobiler" appears in newspapers throughout North America. He also hosts "The Intrepid Snowmobiler on Radio" and appears regularly on Snowmobiler Television. For more info, visit IntrepidSnowmobiler.com.
Related Reading
Elliot Lake is My Kinda Snowmobiling Town!
The Rides of March
Planning Your Ontario Tour