Elliot Lake is My Kinda Snowmobiling Town!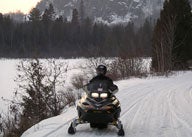 This Ontario city is a premier Stay 'n' Ride destination
To invest your valuable getaway time in a destination, especially in the early part of winter when conditions can be variable, you want the best possible snowmobiling experience in return. That means smooth, well-marked trails, oodles of snow, plenty of riding choices, great scenery and access to services. You'll find all this plus exceptional hospitality, at Elliot Lake, Ontario, where winter starts early and ends late.
The first time I rode through the wilderness regions of Algoma Country, located on the north shore area of Lake Huron, I was impressed by the variety of trails and terrain…everything from utility corridors and logging roads to panoramic lake overlooks, old growth forests and rugged Canadian Shield vistas. But what struck me as most extraordinary was discovering a bustling little city named Elliot Lake smack dab in the heart of all this vast backcountry.
One moment, it's as if you're snowmobiling in the middle of nowhere; the next, you arrive – surprise, surprise – at this full service hub with a population of about 12,000 and all the amenities you could ask for. I should have known something special was happening; rarely have I approached a town whose trails actually got better and better, the closer I got. It was as if Elliot Lake was deliberately raising the bar over other destinations with a giant welcome mat of smooth trails into town! And that's not all making Elliot Lake so special…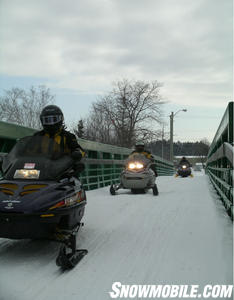 This is a city committed to outdoor recreation. In winter, that means snowmobiling! So Elliot Lake welcomes visiting riders with open arms. It provides local access trails to required services and amenities, and encourages a network of recreational trails for all seasons. The city also supports its local snowmobile club, the Elliot Lake Snowbirds, who operate 288 kilometres of amazing snowmobile trails. Their trails are part of, and connected to, the more than 2,200 kilometres provided across the larger region by the clubs of the Algoma Sno-Plan Affiliation (ASPA). You can see it all online or in a hard copy of their 2010 OFSC District 13 Trail Guide.
And guess what? Most of the snowmobile trails around Elliot Lake are land based with bridged water crossings, so riding can start without waiting for ice to freeze – and that means early opening trails! What's more, most of their trails are on Crown Land, which makes for wide, open and unlimited riding. In fact, with about 1,200 lakes in the area and numerous old mining and logging roads to play on, Elliot Lake offers some mighty fine powder riding too!
Located in the heart of this Algoma winter playground, Elliot Lake ranks as one of Ontario's most snowmobile-friendly towns and as a premier stay 'n' ride destination; it's also very family and couples-friendly thanks to its small city atmosphere. With trail accessible hotels like the Algo Inn, Laurentian Lodge, Dunlop Lake Lodge, the incredible Denison House, and the brand new Hampton Inn, snowmobilers have lots of choice about where to stay…and downtown, everything is within walking distance.
Your choice of day-trip awaits from Elliot Lake, with loops including points as near as Spanish or as far as Aubrey Falls or Thessalon. For a real treat, follow the stake line to Manitoulin Island for lunch! Whatever your riding choice, there's definite peace of mind in knowing that at day's end, the hospitality, comfort, services and attractions of Elliot Lake are ready and waiting, just for you.
And that's not all…Elliot Lake is closer than you may think. It's about two hours east of an easy border crossing at Sault Ste. Marie and less of a drive than that west of Sudbury. Snowmobilers trailering north from the GTA can get to Elliot Lake in five or six hours on four lane highway much of the way.
So what are you waiting for? No more same old, same old…this is your winter to discover Elliot Lake. Like me, you'll soon want to make it a regular part of every winter's snowmobiling experience. After all, it doesn't get any better than this!
Craig Nicholson is the author of "Canada's Best Snowmobiling — Your Ultimate Ride Guide". His syndicated column "The Intrepid Snowmobiler" appears in newspapers throughout North America. He also hosts "The Intrepid Snowmobiler on Radio" and appears regularly on Snowmobiler Television. For more info, click IntrepidSnowmobiler.com.