Snowmobiling in Algoma Country – Video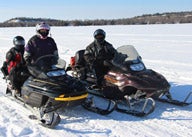 Wide open trails and varied terrain welcome snow-hungry sledders
So what does the national security of North America and snowmobiling have in common? Well for many decades it was a small town in the Algoma region of Ontario called Elliot Lake.  Found on the north shore of Lake Huron, halfway between Sault Ste. Marie and Sudbury – Elliot Lake was the site of one of the largest uranium mining operations in this hemisphere – uranium that was used in warheads for the nuclear arsenal that kept the Soviet Union at bay from shortly after the end of World War II.  Oh, and it just happens to be in the middle of one of the most beautiful snowmobiling destinations in Canada.
While riding and mining both thrived for decades in Elliot Lake, the end of the Cold War also brought the end of the high demand for uranium; today the region (because of its established infrastructure) is a Mecca for retirees and sledders alike. And the Cold War? Well in Elliot Lake it refers simply to the residents efforts to stay warm.
Of course that's not an issue for those of us who ride. And certainly I was thinking warm thoughts as we hauled our sleds north recently from Toronto to a warm welcome in the nearby Algoma region town of Blind River.  Note: if you're a Neil Young fan, yes, that is the town in northern Ontario he sings about.
Thankfully, after a six-hour drive, the Lake Lauzon Resort (which is just two hours from Sault St. Marie, Mich.) had a wood stove blazing in the common room as we arrived late on a Thursday night amid swirling lake effect snow.  This small inn (like many in the region) caters to snowmobilers. Case in point, with our late night arrival the owners suggested a 10am breakfast which we gladly accepted before crawling under the duvets that night.  The next morning, as we ate we marveled at the height of the snow banks in the parking lot and along the highway.  Our hosts explained that the frequent snow in the area came off the Great Lake and was the secret to vast amounts of fresh powder that blankets the region throughout the season. Challenging to drive through; a joy to ride over, I thought.
Read about Northern Ontario's Incredible Gold Rush Tour
Heading out in the morning from Lake Lauzon we followed well marked trails into Blind River to fuel, and for me, to have my sled looked at. Unloading my Cat I was puzzled as it intermittently bogged at around 5,000 rpm – something new to me. As we ran for fuel we rode right through the parking lot of a dealer in Blind River. It was NAPA Power Sports, but despite the brand difference I asked if they'd look at it and the tech pulled my sled in right away after I expressed my concern over holding up my whole group. He did a quick check and suggesting changing up my stretched belt for better hookup and also gave me a can of injector cleaner for the bog issue; other than paying for the cleaner he sent me on my way with a "have a good ride, eh".  That kind help got me through the rest of our ride.
The trails in Algoma (an area that is easily more than a hundred and fifty square miles) are maintained by local clubs who donate volunteer labour using equipment and resources paid for by the trail pass system here in Ontario. Clubs each have set areas they service; but as you're riding the only way you'll realize that you've passed from one club's trails to another's is by the signs they post. The quality of the trails is consistent and each club works with its neighbors to align routes to the best locations while taking in as many local services as possible. This system is true for all clubs in Ontario.
Learn about Ontario's Interactive Trail Guide
Across Algoma lakes make up a large part of the landscape, so lake crossings are common; beautiful wide open expanses and deep powder that lets you unwind the beast, shore to shore, every once in a while. On the trails, though, more moderate speeds are called for as this region is hilly – with some areas even resembling mountains. Climbing and dropping 1,000 feet in elevation over a short distance is not uncommon here; making the riding that much more challenging. It's  scenic too as you rise from the lakes, through the white pine forests to the rocky outcrop heights of glacier swept granite – then plunge down to another series of winding lakes. Over and over you repeat the exercise; but it never gets boring.
The trails here are never narrower than eight feet and in places can be double that. Corners are well signed, hazards and bridges marked and brush never hangs into the right-of-way.  The clubs do a beautiful job of maintenance. On blind hills, clubs have even split trails in many places – a great safety feature.  Of, course the oddity (and humor) in this description is that the traffic is so low that you almost wonder why they bother. On our 100-mile round-trip run from Blind River to Elliot Lake and back (on a beautiful sunny Saturday) we passed no more than a dozen other sledders.
Halfway through our day, when hunger started to set in, we pulled into the Fireside Classic Grill in Elliot Lake, which provided us a hearty meal that readied us to head back out on the trails.
Read about World Class Sledding in Sudbury
Algoma is serviced by several major highways, but the key to the area is Hwy 17, also known as the Trans-Canada Highway. As part of the main east/west corridor of the country, its maintenance is second to none and the services along the route are plentiful and regular. Pull out a map and you'll see a collection of small towns strung out along the highway like pearls on a necklace. Bruce Mines, Thessalon, Iron Bridge, Algoma Mills, Spragge and our temporary home, Blind River, are just a few. Each is a jumping off point for the thousands of miles of groomed snowmobile trails. This network of towns offers another option for riders; short hops, town to town – or if deep wilderness riding is your thing, head north. Excellent, well groomed trails cut through the primal forests of the Canadian Shield to exotic destinations like Wawa and Chapleau; areas where the only heavy traffic you'll run across is the odd moose making use of the trails too.
By the way there is a towering statue of a Canada goose in Wawa (a place where I spent a week many years ago). With a name like Wawa and a giant goose welcoming you, that should be reason enough to go. But Algoma is also a region that is rich in mining history with tours offered in several towns – a nice diversion for the days when all that riding has left you just a bit saddle-sore.
Algoma Country, come ride.