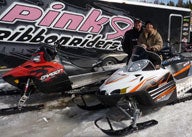 Snowmobilers enter fight against cancer
Pink Ribbon Riders ended its 2009–2010 winter season with a successful Wyoming-style event at the Togwotee Mountain Lodge in Moran. A non-profit organization, Pink Ribbon Riders raises money to directly provide financial assistance to both men and women breast cancer patients. The main fundraisers for the organization are its Snow Runs, snowmobile events that the group hosts throughout the USA.
The Pink Ribbon Riders is led by a team of volunteers in each of the Snow Run States under the leadership of Co-Founder Jody McKay. She explains that the organization's mission is to provide financial assistance to both men and women who are diagnosed with breast cancer. She always adds that, yes, men do get this disease also. The money helps with the immediate needs of those undergoing treatment. Each qualified person receives a $500.00 pre-pay card to help with financial issues that come along. McKay said Pink Ribbon Riders would love to see a cure for cancer, but with so many other organizations working on that, they have chosen to directly assist patients in their daily needs as this is also a part of the horrible disease.
According to McKay, the organization receives two to three applications for assistance a day, which works out to 1,095 people a year requesting assistance. She explains that her organization needs to raise about $500,000 a year to fund all the applications. In 2009-2010 the organization raised over $300,000. She hopes to get closer to the $500,000 goal this year because of increased application statistics and operating costs so they never have to turn a patient away.
Pink Ribbon Riders is a 501 C (3) volunteer organization, which means your donations to it qualify as being tax deductible. It is also is a true "grass roots" organization in which snowmobilers are directly helping people.
While McKay is a hard-hitting get-it-done person who does an amazing job, her significant other, Dan Ostrowski, as well as the many other volunteers like her do an amazing job. McKay stresses if you are interested in participating in a Snow Run, register early, as space is limited. Pink Ribbon Riders also sponsors ATV and Motorcycle rides in the summer months. The upcoming winter season kicks off in January in Minnesota, then North Dakota, Michigan, Wisconsin, New York, and Wyoming. If you are interested in participating in a ride or making a donation, contact Jody McKay at Pink Ribbon Riders.com for more Information.
The Snow Runs, such as the 3rd Annual Wyoming Snow Run held at Togwotee Mountain Lodge, consisted of a Welcome Party the night before (Friday), and a Saturday morning snowmobile ride where participants were organized into guided groups and taken to a destination which included a lunch stop at Brooks Lake Lodge. The guides at Togwotee Mountain Lodge know the area well, which enjoys much to see and do in the Togwotee area. On a personal note, if asked what's one of my favorite areas to ride? My first response would be wherever the snow is good, but in all honesty Togwotee is one of my all time favorites. It has much to offer from breathtaking views, trail riding, and incredible mountain riding combined with great food and lodging ? Togwotee is tough to beat.
After a day of riding followed by a wonderful dinner provided by the Togwotee Mountain lodge, a few war stories are told about the day's ride, with prizes going to the best: "What happens on the mountain stays on the mountain."
Believe me those who won the prizes wished their story stayed on the mountain. The fundraiser began with a raffle of donated prizes. McKay stressed the importance of her many sponsors especially the presenting sponsors that included Arctic Cat, Choko Clothing, Ingles Performance, HMK, and Triton trailers.
According to Dave Ramsey, author of the New York Times Bestseller, "The Total Money Makeover," he lists seven baby steps to financial freedom, of which step seven stresses the need to give to those in need. I believe that Dave Ramsey would be proud of this group in Wyoming. Many times I witnessed an item auctioned off then donated back only to be auctioned again. McKay said that the 3rd Annual Wyoming Snow Run raised an impressive $36,000. Over the years I've had the opportunity to listen to many survivor stories while hanging in rural Wyoming. The $500 can be a big help as most of a cancer patient's personal savings are funneled to life saving treatments in Idaho Falls, Idaho or Salt Lake City, Utah. The minimum 250-mile (one way) travel expenses are a big burden, which adds to their other treatment expenses.
The two years I have participated, I have learned this is a worthwhile cause that is worthy of our time and effort.
We were struck by one particular story from the Wyoming Snow Run at Togwotee. After the dinner my wife and I met several women to whom the Pink Ribbon Riders' provided finical assistance. As we listened to their stories we applauded for them as we learned of their success in terms of survival years. One lady to speak, seemed at first, to be as the others, until we learned she was near the five-year mark in terms of treatment and survival. She then held tight to her husband's hand as he stood by her and said her cancer has returned and is now "terminal."  She shrugged it off and said, "I really don't know what that means (though we knew she did)." She went on to say "…because she had never been normal at anything in my life." She then said the money she received from Pink Ribbon Riders would to be donated to help others who are suffering from cancer in rural Daniel, Wyo. where she lived, to help with travel expenses. For that she received a standing ovation. This brought a solemn feeling to me as I thought how lucky I was because my own mother is now a 15-year survivor of breast cancer. But at the same time a reminder of how quick cancer took my father at the young age of 65.
In closing I will leave with the words of a song sung by Clint Black, Life Gets Away. For me it helps keep things in perspective as these words went through my mind many times throughout the evening:
We're tied to our memories They won't let us stray We're not gonna lose ones we made yesterday We look to our future And we make all our plans As if we control what is out of our hands
Chorus: The world keeps on turning I'm learning to see Right where I am is where I have to be You can count the pages All ages hear the call No matter how hard we try Life gets away from us all
We start getting older The moment we live Look over your shoulder There's hindsight to give Come good days and bad days The suns gonna rise So why look beyond what's In front of your eyes
Related Reading Arctic Cat supports Pink Ribbon Riders Klim expands relationship with Pink Ribbon Riders Some Things You Should Know