We Want Much More From Snowmobile Manufacturers in 2015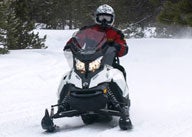 Model year 2014 was okay, but we want excitement in 2015 and beyond!
We certainly hope that Model Year 2015 brings us sleds to get excited about. Because, quite frankly, looking at model year 2014 leaves us bored.
We see "evolvements," but no real breakthrough in the mechanical pieces. Oh, forgive us our skepticism, although we think that Yamaha's Viper is one of the most significant sleds of virtually any year since we've been writing about the snowmobile business, it's still a warmed over Arctic Cat. The engine is a proven Yamaha four-stroke triple. No big breakthrough there. The Arctic Cat chassis is a proven third-year design. No breakthrough there. The combination makes for a very nice sled, but other than push back from dealers and consumers, what is the risk? Both Yamaha and Arctic Cat dealers have a very nice product to sell. And consumers get a proven first-year model. How often does that happen?
Better yet, if you buy from a combination Arctic Cat/Yamaha dealership, you can't lose! If you don't like the way the Viper comes out of the box, you ask that dealer to tune it like he tunes a ZR7000 – or, vice versa. That dealer can be your best friend as he has experience with the Yamaha powertrain and the Cat chassis setup. That's a buyer's win-win if we ever heard of one!
Yeah, it is a big deal this Yamaha and Arctic Cat hook up, but really only crucial to how the two companies adjust their corporate sensibilities. How they learn to work together and so on. But does that really matter to the majority of the snowmobiling public?
We expect to see more of the same from these two for 2015. As our Western Editor suspects, the powder Yamaha Nytro MTXs may go away in favor of Yamaha power bolted to Cat's ProClimb chassis. And we suspect that the recent unveiling of a turbo kit specifically fitted to the new Viper means that Cat will continue its turbo hot rods by replacing the boosted Suzuki four-stroke with a ramped up Yamaha triple.
And, isn't it interesting how the new trail performance Vipers no longer need a power steering assist? This is virtually the same physical package that powers the Vector, which features EPS (electric power steering). But the Viper doesn't need it. Indeed, you have to remind yourself that the Viper isn't a two-stroker; it feels that lively and light.
That also begs the question of why does Yamaha think its anti-vibration chassis damper will be a breakthrough on sleds? There are more and more frequent mentions of this Yamaha-developed technology, so we are quite suspicious that it may be planned for future snowmobiles. Although Yamaha is not actively offering the device on production sleds as we write this, the company is definitely playing with the concept. What is it and what does it do?
According to Yamaha's own global news releases, "Yamaha Motor first proposed the Performance Damper in 2000, and since its first use as a production unit for mounting automobile chassis in April 2004, it has helped boost cornering performance and comfort on a variety of select automobile models.
"The product name of this anti-vibration damper for motorcycle chassis is the YAMAHA POWER BEAM. It has been developed specifically for the Yamaha TMAX, the automatic transmission super sport scooter popular primarily in European markets. It has been developed to absorb motorcycle chassis torsion and vibration with the same effectiveness as the acclaimed Yamaha Performance Damper for automobiles in order to offer a ride with a greater feeling of stability.
"Normally, there is a small degree of flexing that takes place in the frame of a motorcycle when in motion. The metal frame of a motorcycle is in fact an elastic body with little damping capacity with regard to this flexing, so it fully receives the external forces that cause flexing (distortion) and then releases them in cycles of flexing that occur at specific frequencies. The new YAMAHA POWER BEAM adds damping capacity at one point on the frame to absorb the energy of these flex-inducing external forces and release it as heat energy. This inhibits the otherwise extremely high-speed flexing of the frame to provide a more comfortable ride and a greater sense of stability."
The "Yamaha Power Beam" has been optionally available in Europe since 2011 for the company's 500cc TMAX scooter. There have been versions of the "Power Beam" fitted to sleds in recent months, so we take its possible appearance in a Yamaha sled seriously. And as we recall, Yamaha engineers early on stressed the concepts of torsional rigidity and centered mass. Of course, torsional rigidity stood out in the days of "flex" chassis sleds like the Polaris Indy and Arctic Firecats. Today's snowmobile engineers work diligently to stiffen up modern platforms like the Polaris ProRide, Arctic Cat ProCross and Ski-Doo REV-XS.
We are not against such innovation, but until Yamaha put its Cat partnering deal together, its sleds weren't losing weight but gaining it as a result of new concepts like EPS and the complexity of EXUP exhaust with added cabling and pulleys. We could get excited with Yamaha building on its experience with Arctic Cat and designing a brand new from-the-snow-up performance snowmobile. That could shake some lethargy.
Let's get some new, fresh innovative ideas that really matter to snowmobilers. So, sorry Ski-Doo, your new ACE 900 four-stroke triple doesn't do it for us.
That new ACE 900 four-stroker from BRP/Ski-Doo? It's not breaking the boredom. It's admittedly an ACE 600 with an extra cylinder, commensurate weight gain and half again the power. We agree that its electronics packaging makes the news, but the mechanical pieces? Not so much.
The "learning key" is good – if not overdue. But is it new if it's totally borrowed from the Sea-Doo side of the BRP business? The multi-stage programming from sport to economy performance modes is new for snowmobiles. Is it a breakthrough? For fuel economy, perhaps!
We pause here to reveal that we are not blown away by this engine technology trickery. No surprise to those who have read our review of the MXZ TNT with ACE 900. If you didn't read it, here's the gist: "Nice, but don't give up your TNT with 600 E-TEC."
Some test reviewers were much kinder and even gave an ACE 900 powered crossover a shout-out as sled of the year. Okay, we're wrong. We just don't get the ACE 900 as a sport performance power package. Oh, but wait, the reviewers stated that they were frequently using all of the throttle and were usually right to the handlebar – for thousands of miles? Ah, try that with an 800 E-TEC and see where you end up?
We do appreciate the new ACE 900 in the engine bay of the Ski-Doo GSX. This solo luxury sled satisfies the "BMW" rider who's into style, amenities, on-trail comfort and smooth linear power. The ACE 900 triple and GSX platform work perfectly together. In the MXZ guise, not so much in our opinion. MXZ versus GSX? Two different riders with totally disparate outlooks. The MXZ rider aggressively participates in his ride, while the GSX rider is satisfied with the look of participation.
The ACE 900 offers innovation and is an interesting addition, but are we going to see an influx of engines with multi-stage modes of performance. Guessing that will be a "No." Well, at least not until the market and annual sales climb quite a bit higher than they are now. For now, the ACE 900 will appear in select Ski-Doo sleds and be shared with Sea-Doo, where it was recently introduced to power a whole new entry level of lighter weight, lower cost personal watercraft. Nicely done, by the way, you get applause.
And, in our boredom, let's be an equal opportunity boor. Polaris gets a big "What the…?" from us with the reemergence of its 550cc fan-cooled engine with CVTech Powerbloc 50 drive clutch. For an engine with 50-plus horsepower the Powerbloc will be very durable. Hey, it has been durable and versatile for decades. So, welcome to the 1970s?
When Ski-Doo developed its eDrive series of drive clutches, primarily for its new ACE-series four-strokes, the Bombardier Lite was phased out. The "Lite" was actually a Powerbloc and satisfied the same needs required by Polaris' 550 fan-cooled twin.
This shouldn't be a surprise that one supplier builds pieces for competitive brands. Look at the ATV business. You don't really think that the "big" four-wheel manufacturers make all of their vehicles and power systems do you, especially the low volume, minimal profitability small-engined ones? Many of those come from a contract supplier. In this case you'll find that Kwang Yang Motor Company makes some of the under-400cc ATV engines for Arctic Cat and Kawasaki, and of course, this Taiwanese manufacturer's own "house" brand, KYMCO.
CVTech clutch systems fill in the gap as a cost-efficient alternative for snowmobiles. Plus, you'll find that this Quebec-based manufacturer enjoys a much more profitable role supplying CVT technologies to ATV makers. As any ATVer knows, those clutches are reliable, durable and trouble-free. That's what you want and expect in a 550cc low-buck snowmobile.
We expect more for 2015 and beyond because the snowmobile manufacturers have been scratching the surface of what they can do for the past few seasons. We understand that the 550cc low buck units have "European Market" stamped all over them. Not a problem. But we know, because it's been done, that we can have sleds that weigh closer to 400 pounds than 500 and the power-to-weight ratio would be excellent for a trail sport performance model with current power systems.
We know that we don't need power steering if the chassis and design placement work. We know that we want superior trail performance that doesn't cause us to lift off because the drive isn't smooth enough to throttle into a turn or the suspension wants to perform nasty pogo-aerobatics at the wrong point in a row of moguls.
We've got good sleds. We want better. We want great sleds that, like male enhancement pills, will have us calling our doctor after more than four hours of riding. We want sleds that allow us to participate in the ride, not give us the look of participation. We want more. We don't want to be so bored. Let's start with model year 2015!