2014 Ski-Doo MXZ TNT ACE 900 Review – Video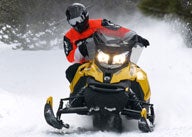 Quiet and fuel efficient but not the sportiest MXZ
Let's acknowledge that Ski-Doo does a very good job of identifying its core market of snowmobiling. There are deep powder sleds for the aggressive Western rider. The two-up travelers with itineraries that measure into days and hundreds of miles can find any of a number of deluxe touring oriented cruisers in the Grand Touring or Safari model lines. Trail cruisers with a penchant for one-upsmanships get a lot in the GSX model line up, including a choice of two-stroke E-TEC direct injection motors or a brand new 90-horsepower, 900cc four-stroke triple with throttle-by-wire and electronic "learning key" technologies. The sport rider not only gets Ski-Doo's top of the line performance MXZ, but it comes in several versions to include a racer-quality XRS, the performance-tuned "X" series, a budget-priced Sport line and the TNT series, which blends performance with value.
COMPARE: Read our review of the 2014 Ski-Doo GSX LE Ace 900
To us, the Ski-Doo MXZ, in whatever designation, is all about trail performance, lightweight handling and the nimbleness that a chassis sporting a 120-inch track length gives us. An MXZ buyer has a self-image of himself as a hard-riding veteran with the knowledge and capability to enjoy a high-performance ride with other like-minded friends. This tribe of performance riders understands the difference that shock packages make and how to set up a suspension. He looks for performance. He expects performance. He appreciates the sophistication of a top of the line sport sled.
We accept that the Ski-Doo MXZ buyer can appreciate the sophistication of the company's newest engine, the ACE 900 triple. He understands that throttle-by-wire, or as Ski-Doo calls it Intelligent Throttle Control (ITC), is a first for snowmobiling four-strokes, just as E-TEC and direct injection were firsts for Ski-Doo two-stroke engines. He gets it. But does he want it in his personal MXZ TNT cruiser?
We are diehard MXZ fans and have been since the REV rider-forward chassis totally revamped the way we ride – for the better. We value what Ski-Doo's engine partner, Rotax, accomplished with its E-TEC design that permits us to have a fuel-efficient two-stroke with power and remain lightweight under the hood. It would be darn near impossible to get us to give up our MXZ with E-TEC twin, either the 600cc or 800cc! And, sorry Ski-Doo, we wouldn't give up an MXZ TNT 600 E-TEC for one with the new ACE 900 triple. And here's why.
We think the ACE 900 is a terrific engine and extremely well suited for the Grand Touring, Safari and especially the GSX LE. We aren't fond of it in the MXZ TNT.
The ACE 900 comes with 90 horsepower, down about 25 ponies to the 600 E-TEC. In our test rides out in West Yellowstone this past March; we were left totally unimpressed with the ACE 900 power package of the new triple and its requisite eDrive2. We thought the engine simply pooched out on top end and didn't give us the performance buzz of the 600 E-TEC, which we've come to admire. In fact, we can't come to any conclusions between the Rotax two-stroke 600 and the Polaris Cleanfire 600 as to which we like better. Call it a draw. It's not a draw between the Rotax E-TEC and the Rotax ACE 900. The power differential is real.
COMPARE: Read our comparison of the Polaris Rush 600 Pro-R and Ski-Doo MXZ X 600 E-TEC
Well, what about that sophistication of the ACE 900's three electronically controlled power modes: Standard, Sport and ECO? Dismiss the ECO mode if you are a serious MXZ rider. Tell us that you are truly going to ride all day at reduced speeds and lowered torque just to average improved mileage. As for mileage, Ski-Doo makes a point of the ACE 900 achieving upwards of 23 miles per gallon. Okay, but Ski-Doo also tells us that its 600 E-TEC can get up to 21 mpg with virtually no two-stroke oil smoke or odor. We'll give the ACE 900 the edge in oil usage and probably in emissions as well. Sorry, Greenpeace, but it's not a big issue to us simply because the use of snowmobiles in a winter climate pales compared to automobile congestion and other worldwide contaminators. Hey, it's great that Ski-Doo can promote its new four-stroke as a powerplant for sledding in areas needing to be politically satisfied like West Yellowstone. But, that's another issue.
What's at issue here is how the ACE 900 triple works in the MXZ TNT chassis. Truth is, it works fine. We wouldn't give up a 600 E-ETC for one, but it's adequate. The 2014 MXZ TNT ACE 900 moves out quickly because the three cylinder engine has very good low end torque, which is a definite plus.
In our rides out West, we found the power package of the triple cylinder engine driving through the eDrive2 clutching seemed a bit lazy compared to the veteran E-TEC power delivery. Fortunately, once we returned from the western test rides, we had the opportunity to test ride an MXZ TNT ACE 900 in flatland Minnesota. We came away with a much better impression of the ACE 900-powered TNT at the near sea level elevations. We had remembered that West Yellowstone sits at a higher base elevation than Denver and that elevation reduces horsepower numbers, which can be fatal to a sled with only 90 total horses. We can report that top speed at sea level is definitely capable of getting you a seriously heavy fine if caught on radar. The acceleration was better, but we still felt that the total package of ACE 900 and its eDrive2 clutching just needed more fine tuning as it seemed a bit erratic and proved inconsistent especially when playing with the three electronic power modes. We especially don't like the sled in its Sport mode, which tends to hold revs longer for supposedly greater acceleration. The normal mode allows the engine to run more smoothly in our estimation. And the ECO mode is fine if you are truly in no hurry.
With our test ride at sea level; we quickly picked up on the fact that the TNT ACE 900 is heavier than an E-TEC model. Ski-Doo shows the 600 E-TEC weighing 456 pounds and the ACE 900 coming in 29 pounds heavier at 485 lbs. That's really great when you look at this class of sports performance snowmobile or against Ski-Doo's GSX LE and its 501 lbs. Unfortunately that weight seems to reside in the front end and makes steering a bit heavier and more tiring than with the two-stroke.
COMPARE: Read our review of the 2012 Ski-Doo MXZ TNT 600 E-TEC
Engine differences aside, you will find the two MXZ TNT models equipped in a similar fashion. Both sit on the REV XS chassis and style platform, which means they have the latest rMotion rear suspension with an impressive 15.5 inches of maximum travel. All TNTs feature Ski-Doo's HPG Plus rebuildable aluminum gas shocks on front and rear suspensions. When riding a 600 E-TEC versus the ACE 900, we did sense the front shocks tended to fade a bit more frequently on the heavier three cylinder. Not a huge difference, but a noted one.
Granted we are long time two-stroke engine veterans and have a "feel" for how a two-stroke can be pushed. We are new to the ACE 900 and can state that it requires a learning curve of its own to maximize the riding experience. The TNT series, fortunately, is designed to give the handling and on-trail performance to let you learn the new engine. You will notice quite quickly that it's down in power but up in drive-off torque versus the two-strokes. The ACE 900 revs very freely and seems to like being flogged. But you have to decide if that's what you want to do stay up with your buddies or not.
Ultimately, what the 2014 Ski-Doo MXZ TNT ACE 900 really asks of you is simple. Are you a GSX rider trying to hide in an MXZ TNT suit? Not that there's anything wrong with that. After all, the GSX line does not sell as well as the MXZ series and the reason behind that has a lot to do with self-perception. Ski-Doo has created a very good GSX LE powered with the ACE 900 that would satisfy many riders who might be attracted to the TNT ACE 900. Even though Ski-Doo already has more models than its dealers can stock, maybe the company should consider adding one more, one that we'd call the MXZ TNT ACE 900 SC (for sport cruiser). Let's face it, a good number of buyers would be happier with the GSX LE but just aren't ready to accept the AARP-message that it conveys. They want the GSX LE amenities, but want it all in a sled that still portrays them as being aggressive and modern like the traditional Ski-Doo performance styled MXZ TNT.
We admit the ACE 900 in the MXZ package isn't for us, but we were surprised when a friend and a very veteran rider told us that if he were to get a new sled in the future, he'd seriously consider the TNT ACE 900. He said he didn't need to ride as fast or hard as he used to and he appreciated the quiet operation of the new engine. He said it would be a good alternative for him as it would let him feel like a performance rider even if he wasn't going to ride like he did a decade ago. And that's why Ski-Doo put the MXZ TNT ACE 900 into its line, to give the AARP crowd a quiet, fuel-efficient and reliable yet sporty ride and way to let them retain a hard-riding persona.
2014 Ski-Doo MXZ TNT ACE 900 Specs
Engine
Rotax 899cc, liquid-cooled three-cylinder 4-stroke; Advanced Combustion Engine with EFI 46mm throttle body
Horsepower
90
Drive
Ski-Doo eDrive2 with QRS secondary
Brake
Brembo hydraulic brake system with braided stainless steel line
Front Suspension
Dual A-arm with HPG Plus aluminum bodied rebuildable gas shocks; up to 9.0 inches of travel
Rear Suspension
rMotion parallel slide rail with aluminum body HPG Plus shocks; up to 15.5-inches of travel
Length
114.4 in
Width
47.9 in
Height
47.6 in
Ski Stance
42.4 in
Track
15 x 120 x 1.25 RipSaw
Weight
485 lbs (claimed)
Fuel Capacity
10.6 US Gal (Regular Fuel)
Features
Analog gauge, rear seat storage bag, push button reverse, electric start, three engine performance modes, learning key
MSRP
US$10,349