Why Modern Sleds Cost More
In the Good, Old Days sleds cost and weighed less than today's sleds
Story by Jerry Bassett, Photography by Jerry Bassett, Created Oct 08, 2009
Email a friend
Print Friendly

RSS
Walking around the HayDays' site does get you to thinking. You see all the key new sleds on display. You see some vintage sleds, too. Some of those are restored and some are just dismantled pieces of junk looking to be someone else's treasure.
With our long time involved in snowmobiling, you'd think we'd have a greater kinship with vintage sleds. The problem isn't that we don't appreciate the old sleds; we hesitate to embrace them because we refuse to think of them as "old." When we see a nifty restoration of a 1965 Ski-Doo Olympique, we remember being a younger person. In our mind we remain that younger guy. We like that younger guy. But every new morning, when we look in the bathroom mirror, we no longer see that young guy. Our mind can be fooled, but our eyes see that mirror reflecting back the visage of some balding, older guy with aches he acquired from those old sleds. Maybe we appreciate the new sleds because they are easier on our body. We rode that original Ski-Doo on bended knee. And when we didn't, the old bogie suspension (using the word suspension loosely here!) couldn't contain the brunt of shots to the lower back and up the spine. But we did learn sled control. You had to. The front end would push out as you cocked the skis full lock into a turn. Braking was only slightly more effective than simply letting off the throttle.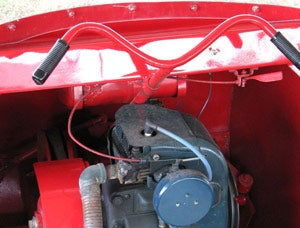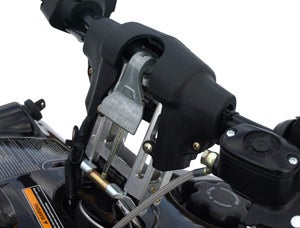 For this writer, those old sleds are past tense, like rotary dial telephones and Pong. We'll take the new sleds with their quiet power, supple ride, corner gripping skis and computerized electronics. They allow us our personal deceit. We aren't as fast as we once were. But every few miles we still can muster up that young fella, until we look in the rearview mirror. So, we ride sleds without rearview mirrors!
We ride new sleds that cost substantially more than the old sleds. In the early days US$695 could get you a state-of-the-art sled with modern air-cooled 2-stroke motor, a bogie suspension and stylish looks. In terms of value over time, that sled in today's dollars would cost US$4,683. That's quite a bit less than the average price of a modern sled. The International Snowmobile Manufacturer's Association notes that the average suggested retail price of a new snowmobile sold in 2009 was US$8,800. You might ask why new sleds cost so much more, even accounting for nearly 45 years of inflation. We can demonstrate some reasons.
Next time you look at a vintage sled, take a serious look at it. Fundamentally it shares the same features as a 2009 model – engine, continuously variable transmission, drive belt, track, skis and seating for one or more. Over time all of those pieces became more costly in dollars and pounds.
In 1965 few trail model snowmobiles came with an engine much greater than 300cc. Even in 1968 few sleds had 500cc engines and the big engines of the day were usually reserved for racing models and claimed way less than 100-hp. Polaris' 744cc motor was rated at 35-hp! Try finding a 2009 snowmobile with an engine displacing less than 500cc. Even entry-level models give you 50-plus horsepower. Today's best selling sled segment is the 120-hp class. And that's tame by today's standards.
| | |
| --- | --- |
| | |
You can see that engine technology improved – and with improvement comes expense. In the early 1970s snowmobile manufacturers needed to meet noise abatement standards. To get sound in check, engines needed to be shrouded. Hoods were redesigned to contain engine noise. Air intake systems changed from simple rubber or metal intake horns on the carburetors to intricate air ducts with foam or plastic baffle chambers. With noise reduction came heat problems as underhood temperatures from enclosed exhausts and drive clutches had to be addressed. This led to heavier sleds.
We used to think of a sled as heavy if it weighed more than 400 pounds. Now that is a lightweight model. By 1960s standards, a 408-lb 2009 Ski-Doo TNT would be a heavyweight cruiser. It would outweigh a 30-hp, 1971 Johnson Wide Trac. And we thought that was a heavy sled back in the day!
Prices and weight have gone up compared to the sleds of yore. But, would you give up 14-inches of travel from a modern, parallel rail slide suspension with remote reservoir, aluminum-bodied, clicker adjust gas shocks? Do you really think you'd be happy with three inches of bogie wheel ride?
Up front a modern snowmobile has dual A-arm suspensions with saddleless plastic skis and ice-cutting wear bars. Back in the day you could get "pizza cutter" wheels to bolt on leafspring front ski suspensions. The skis were of metal and picked up snow instead of gliding over it like new poly-skis.
What about the chassis and drivetrain compartments? That old 1965 Ski-Doo chassis was a stamped-out piece of steel. The engine stood upright, bolted ahead of the seat and back from the skis. The single Tillotson carburetor sat ready to suck in a loose snowsuit. The fuel line ran under the engine, inviting vapor lock on any kind of a warmish, above freezing day. Compare that slab-like platform of the 1960s to today's REV-XP with its ride-forward design and low-slung engine cradle. Or, better yet, how about those exclusive, lightweight cast pieces used to construct Yamaha's Deltabox II front end? That's quite sophisticated engineering and it costs more than a single stamping of 1960s steel.
This isn't even taking into account the technology of new CVT trannies, turbocharging, computerized electronically controlled direct injection systems, lightweight hydraulic disc braking designs or modern lightweight aluminum-construction chassis that accommodate extruded elements to cool the engine.
So, let's see now: the vintage sleds cost half of what the average new sled does and they weighed less then today's sleds. The 2009 version of a snowmobile at the low end has more power than a 1960s-racing sled. It has upwards of seven times greater suspension travel. It is generally way more reliable and durable than the sleds of yesterday. It is more fuel efficient, quieter, emits less pollution, plus it starts and stops reliably. You can ride longer and more comfortably than ever. The modern sled is more apt to go exactly where you steer it, regardless of trail condition.
| | |
| --- | --- |
| | |
Of course, there is the realization that the sled of today will become the sled of yesterday and there will be those who will pine for the "old days." Unregrettably, this writer will not be one of them as he looks to the future and even better snow machines to come. What was, remains to be appreciated. What we have now is to be enjoyed. What is to come, we welcome. Do you really miss the landline and the rotary dial phone? Yeah, we figure you'll hang in with the special apps you have on your Blackberry or iPhone and impatiently await the next "big thing." What will that be in snowmobiles? Hybrid powertrains of gas and electric? Wafer-thin tracks? We welcome the future, while appreciating how we got here.