The Missing Women's Market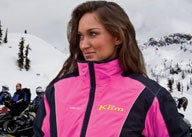 Could more female-friendly features create a growth market?
Most likely we would not be considered an enlightened male. When we watch television's "Mad Men" episodes set in the 1960s, we view with the hindsight of firsthand experience. Of course, we accept changes since then have been for the better — the much better! Which leads us to conclude, sadly, that our sport has not advanced with the times when it comes to attracting female enthusiasts to snowmobiling?
Admittedly, there has been lip service paid to making the sport more female-friendly, but there isn't significant traction. A few pink-fringed pieces of apparel or a pink-colored kid's sled don't make a sincere commitment. Not when we consider what we've seen one specific motorcycle manufacturer do in the past few years.
Bad Boy Icon
When you think of motorcycles, you think Harley-Davidson — the iconic, bad boy American-built bike. It evokes the leather-jacketed image of James Dean, Marlon Brando and "Sons of Anarchy." It's the weekend pose struck by unshaven accountants, dentists, stockbrokers and lawyers. When you think biker babe, you think bad-attitude mamas with "tats." Chances are you don't think of petite blondes, manicured brunettes, schoolmarms or moms. You should and you should thank Harley-Davidson.
For the past few years we've participated in the annual spring "Flood Run," a loosely organized motorcycle ride/event that celebrates the 1965 efforts of Minnesota and Wisconsin motorcyclists who helped sandbag towns along the flooding Mississippi River. Since that original run, the annual commemorative Flood Run has grown and remains one of the oldest and largest runs in America.
Since we've made the "run," we've noticed a significant change in the number of female bikers. In our first rides it was unusual to see women on their own bikes. That has changed dramatically in the past few years to the point that women don't simply ride with their significant others, but are just as likely to ride with groups of other women bikers.
Obvious Truth
As a Harley rider and one who frequents Harley dealerships, it is obvious that Harley-Davidson recognized a basic marketing truth. If a wife or girlfriend, who used to ride on the back of her guy's bike, had a bike of her own, it would mean extra sales. But Harleys are big and can be intimidating.
Harley executives figured this out by listening to — women! What a concept? In addition to listening, the company took action. One way to address the big Harley syndrome would be to create "women's" bikes. Lightweight, cute and frilly. But they wouldn't be Harleys. And these women wanted Harleys.
So, these executives found women in and out of the organization to create a "women's division." Well, not really, but Harley-Davidson evolved a series of programs to attract and appeal specifically to this underserved market. Oddly enough, this initiative was female-oriented to address female concerns.
Pre-Existing Programs
What Harley managed to do was expand and take advantage of already existing programs. There already was a "learn to ride" program offered through its many dealerships. These were made attractive to females. We noticed that female Harley riders we saw on this year's Flood Run seemed as confident — and, yes, frequently more competent — than many of the guys we watched roll through the various river towns. We attribute this to the women accepting their riding instruction without the basis that guys tend to bring along. You know, the "Hey, I've been riding off and on since I was a kid and I'm only taking this course as a refresher to get my motorcycle endorsement."
While Harley didn't make all new "women's" bikes, they did evolve their big bikes to better suit lighter, smaller framed riders. The seat height dropped on some "refreshed" models and handlebar shapes changed. A benefit to all riders was a reduction in clutch pull effort — recognition that smaller riders might have smaller, less powerful grips. There were some styling changes that had a bit more appeal to females while retaining all that iconic "Harley-ism" that defines this motorcycle and its lifestyle. And, yes, the apparel catalog gained pages to accommodate female-specific style and fit!
Women Ride Too
With this rise in Harley sales to women comes a recognition by the motorcycle industry that women ride, too!
This past August, the American Motorcyclist Association (AMA) supported an International Women & Motorcycling Conference that drew more than 1,000 motorcyclists to Keystone, Colo. With sponsorship from Harley-Davidson, the event centered on a theme of "Riding to New Heights" and included four days of motorcycling, programs and networking.
Further proof that Harley-Davidson takes this market seriously came with the company's announcement of its sponsorship of its "Celebrate Women Riders" event to be held in Milwaukee, Wis. next May.
What does this have to do with snowmobiling? If you have to ask, then you don't get the value of expanding an underserved snowmobiling demographic. Oh, yes, of course, we forget, snowmobiling is predominantly male-oriented. So was/is motorcycling with men representing 77 percent of the total US motorcycle riding population.
Flying Femmes
Perhaps we forget the history of Women On Snow. This concept draws from the Flying Femmes, a group of women who in the late 1970's earned membership into their club by trail touring on snowmobiles.
In February 1978 two avid Wisconsin snowmobilers, Sally Ayers and Joyce Roxbury founded the group after word spread of all the fun they had on their 307-mile, two-day snowmobile tour. The next year they traveled 376 miles in Michigan's Upper Peninsula over three days and created an annual tradition of a "ladies only" snowmobile tour.
In 1984, the Flying Femmes rode from Eagle River, Wis. to Brainerd, Min. and back — a 1,200 mile, six-day tour. A year later the Flying Femmes organized the first official "Women on Snow" event, which was hosted at Eagle River's Chanticleer Inn and drew 97 women snowmobilers.
Now an Eagle River tradition, the Women on Snow event draws women of all ages to Wisconsin's Northwoods during the last weekend in January.
The Flying Femmes based their event out of Eagle River but created a model for other similar women-only rides across the Snowbelt. But unlike the support female motorcyclists have garnered from Harley-Davidson and other motorcycle makers, women on snow draw marginal support from the snowmobile industry. There are no similar efforts that we have seen to date. And it's not simply a shame, but a bad marketing decision.
Marketing Opportunity
We find it surprising that women seem to be slighted in our sport. After all, they represent 12 percent of potential buyers, which would account for upwards of 17,000 sled sales based on last year's sales of 147,066 sleds. In the three big sledding states of Michigan, Wisconsin and Minnesota, 12 percent of the snowmobiling population would be nearly 100,000 riders. That would seem to be a significant number that is being missed.
On the plus side, we have noticed that KLIM apparel company has devoted serious efforts to creating snowmobile wear aimed specifically at the fit and needs of female riders. This goes beyond the "women" cut suits offered by all apparel makers. KLIM has added staff to evolve and expand this market, feeling that if it can be first to offer truly female-friendly KLIM wear, it can build a loyal clientele.
Now if women can get just a smidgen of the respect in our sport that women bikers get in motorcycling, maybe there would be an expansion of the market.
Related Reading New Ideas In Riding Gear 2009 AMA International Women and Motorcycling Conference Report (Motorcycle.com)