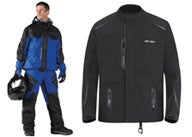 Upgrade your wardrobe with apparel designed for serious snowmobiling
In the 1950s when Edgar Hetteen and David Johnson trailered their early Polaris Sno-Travelers to winter events like those in The Pas, Manitoba, they were only concerned about staying warm. Surplus winter gear from the local Army-Navy store would do for them. Functional warmth won out over style.
Keeping warm and dry is still critical for today's snowmobilers, but they manage it with style and materials that could never have been envisioned in the half century since Polaris' founders began establishing their brand. Those bulky Army-Navy surplus mitts and Arctic parkas have given way to lightweight insulations, water and wind resistant coverings, and bright color combinations to match a rider's snowmobile.
Modern day snowmobilers expect their personal riding gear to be light and to repel blizzard winds and wet, heavy snow. They expect the materials to breathe well enough to keep body moisture controlled as they work up a serious sweat while sidehilling up a mountain or running full tilt over nasty moguls.
Entering 2010 we are fortunate to find collections of snowmobile apparel specifically designed for every riding style. The mountain rider can call on lightweight garments designed to take on those warm, slushy spring rides. The flat land warrior will find lightweight insulated gear that banishes the wind as he speeds across a lakebed's wide-open expanses.
Being veteran snowmobilers ourselves, we have come to appreciate just how effective today's modern snowmobile gear has become. Over the years we've used goose down parkas above the Arctic Circle and Dale ski sweaters for final late March rides. Where winter winds used to bite and freeze our fingers to the handlebars, we've found wind-stopping, water-resisting gloves that retain their flexibility even at below zero temperatures. We do not long for the good old days of winter gear. Those days were just too darn cold. We'll take innovations like 3M Thinsulate and Gore-Tex along with heated handgrips. These innovations have made snowmobiling a more enjoyable sport for all of us. As we head into 2010, we've found some riding gear for you to consider as you think about upgrading your sledding wardrobe.
Advanced Tec Jacket
When you think of Ski-Doo, you probably think of REV chassis and ETEC motors, but Ski-Doo's parent company, BRP, thinks about the entire snowmobile experience, not just the sled. Last season we told you about a nifty fleece top that we found useful for fishing, motorcycling and, yes, snowmobiling. Carry that piece of riding gear to another level and you have the latest from Ski-Doo's apparel minions, the Advanced Tec Jacket.
The jacket comes in a basic black with generous, but subtle, use of the "Ski-Doo" logo. The Advanced Tec jacket appears at first glance to be simply a super fleece piece of apparel. It is lightweight and soft to the touch. But it has an edge thanks to the use of the Sympatex membrane that is both windproof and waterproof and claimed to be 120 percent more breathable than Gore-Tex. BRP is the first to utilize this membrane in snowmobile apparel. This material stretches so that knee and elbow movement can't disturb its ability to defy water.
The Advanced Tec jacket's inner lining is a soft knit laminate that soaks up sweat and spreads it out so it evaporates quickly and efficiently. In addition, the garment has zippered underarm and back vents to help modulate body comfort. The back panel features stretch inserts to ensure freedom of motion.
As you may have gathered, the Advanced Tec jacket and matching high pants were designed to suit active snowmobilers, especially late season mountain riders. That's why you find this gear equipped with a built-in RECCO avalanche system, which is recognized and used by more than 600 rescue organizations worldwide. The Advanced Tec jacket and pants integrate a RECCO reflector into the garment which permits organized rescue groups using harmonic radar to help pinpoint a victim's location.
Sizing for the Advanced Tec apparel runs from small to 3XL. You should check with your local Ski-Doo dealer for specific pricing, but expect the jacket to run close to US$400.
Arctiva Mechanized Outwear
We fancy snow gear that can be versatile enough — and warm enough — to take on a multi-day tour or get us into the backcountry. Arctiva apparel offers what it calls a "multi-sport" combination of color-coordinated jacket, bibs and gloves.
Arctiva's Mechanized 3 Jacket features a removable synthetic fiber insulated liner under a waterproof, windproof, yet breathable nylon constructed shell. There are cooling vents located in the upper chest, back and under the arms. As snowmobilers we are looking for stowage and fully appreciate this suit's large front cargo pocket along with its sleeve and upper chest pockets. The matching Mechanized 3 Bibs also adds storage with cargo pockets positioned on the legs. Both pieces feature taped seams to exclude fierce wind or melting snow.
The jacket comes with a detachable hood, useful for ice fishing we'd guess, but something to put aside when snowmobiling. You'll find an adjustable powder skirt to keep snow from creeping inside the jacket. The bibs feature an adjustable length inseam along with a double layer of material for added wearability at the seat and knees.
Completing the look in your choice of black, red, blue or black camouflage is the matched pair of Mechanized 3 gloves. These come with a polar fleece liner that can be removed for warm weather riding. The fingers are pre-curved and have a PVC diamond textured palm and finger for added grip. There's also a zippered pocket located above the knuckles that will accommodate a heat pack for added warmth.
The jacket and bibs each retail for approximately US$210 with the gloves selling for an additional US$55.
Arctiva gear is handled through independent dealers, so visit Arctiva.com to find a local retailer.
KLIM's Woman Specific Apparel
In its early years, KLIM established itself as the most highly regarded apparel manufacturer of mountain riding gear. Now the firm's base has evolved to the trails of the Midwest and Canada. In 2010 that base will expand further as KLIM and Yamaha have hooked up to make joint branded apparel available through Yamaha dealers.
In addition KLIM looks to further expand its brand with a line of female-specific riding gear. States KLIM president Justin Summers, "We want to make sure that our women's line works and fits the needs of women riders. To insure this, we have added a female designer and product developer with years of experience in pattern and product design to our product team to oversee all of our women-specific riding gear."
KLIM has been one of the of the first snowmobile apparel manufacturers to focus on layering its clothing and has designed "systems" that feature outer shells with underlayering apparel that can be suited to match seasonal conditions. With that in mind, KLIM developed a clothing system specifically for women riders.
The KLIM Solstice Base Layer System is comprised of the Solstice Shirt, Pant and Brief all patterned just for women. Mid-layer pieces consist of an all-new Sundance Pant and the completely re-designed Sundance Shirt.
KLIM is quick to note that its new female-specific garments are not repackaged male versions in feminine colors, but are fitted and styled specifically for the female anatomy. The Solstice system integrates nicely with KLIM's Allure Parka and Bib.
KLIM's women's line is manufactured with the same quality and workmanship that has made KLIM a leader in outerwear products.
For more information about KLIM gear, check out KLIM.com.
Related Reading Ski-Doo Technical Fleece Jacket Review Klim Tomahawk Parka 2009 Coldwave Velocity Jacket