2011 Fan-Cooled 550cc Trail Sportsters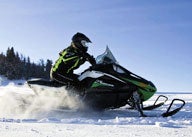 Consider one of these heritage-rich, instant "classic" 550 fan-cooled trail sport sleds.
We're constantly amazed at the ever-growing interest in vintage sleds. More and more snowmobilers prowl swap meets and online sites trying to find just the right sled to fix and reclaim. We're not opposed to the concept of fixing up an old sled, but sometimes we feel that we snowmobilers neglect to see the modern "vintage" classics staring at us from a dealer's show floor. Heck, we can think of three modern classics you can get right now that come with a full factory warranty — not that those are very long! — and modern upgrades like electronic ignitions, slide carburetors and even push-button reverse.
You may think we're totally out in the bushes, but we think that these three 2011 budget sport trail sports are as close to production "classics" as you're going to find. Each of these sleds comes with a soon-to-be-dropped fan-cooled, two-stroke twin. Matter of fact, these modern "classic" powerplants draw their heritage from motors that actually power some of the most popular fixer-up classics.
We're talking about three modern sleds that retain the spirit of snowmobiling and are throwbacks to those fan-cooled, two-strokers that many snowmobilers seek to fix up. We're talking about the modern day, 2011 fan-cooled 550s.
The 2011 Arctic Cat F570, 2011 Ski-Doo MXZ Sport 550F and 2011 Polaris 550 IQ Shift get overlooked as modern classics because dealers and manufacturers promote these sleds — if they promote them at all — as the bottom line, price-leading sleds designed to appeal to the snowmobiler who likes having his money invested anywhere but in his snowmobile. All three of these models retail for less than US$7000, but all share similar features, including a warranty, that put them as serious alternatives to fixer-upper decades old, pre-owned classics. You can buy one of these modern classics and enjoy it for years of faithful service. Then as it ages, you can fix it up, satisfying your need to have a restorable sled.
Classics In Waiting
Okay, we jest — just a bit! But the truth is that these three low-end models are, indeed, serious classics in waiting. They possess engines that are just a few years from disappearing totally. Indeed, we're absolutely shocked that these fan-cooled twins have lasted this far into the 21st century. Yamaha already dropped its fan-cooled, two-strokes for US distribution. One look at Ski-Doo's all-new ACE 600 four-stroke tells you that the Rotax 550F isn't long for this market. Polaris has invested in a four-stroke partner, which suggests that it plans an alternative to the Fuji-built 550 fan-cooled two-stroke. While Arctic Cat announced it would build future snowmobile engines, it won't be for a few years yet, leaving us to wonder how it can justify its "dirty" Suzuki-built 565cc fan-cooled twin. All in all, the future would seem to be preparing these 550 powerplants for instant "classic" status.
We'll admit that we figured the demise of the 550 fan-cooled, two-stroke twin would have come years ago. We even jumped ahead of the line as a few years ago we bought a 2006 Ski-Doo MXZ 550F, figuring that these two-strokers had to be nearing the end of the line. We like these fan-cooled powered sleds for a number of reasons. They are much less complex than liquid-cooled units. They tend to be lighter, especially over the skis, which makes them quite nimble in tight running. And they remind us of how the sport used to be when we first got into it. The engines are loosely constructed to allow for heat expansion. Liquid cooling permits engineers to fine tune internal specifications, which means more consistent power delivered over longer duration. It also means that hoods can be sealed to reduce engine noises. Of course, liquid-cooled cylinder walls deaden sound as well, something that fan-cooled cylinders fins can't do.
While the engine packages retain a sense of history, each of these instant "classics" gives you the best features of the most modern Ski-Doo, Polaris or Arctic Cat trail sleds. All three of these models are built on the most recent sport platforms. The Ski-Doo MXZ Sport puts its fan-cooled power package on the lightweight REV-XP chassis. Polaris uses the IQ platform to house its fan-cooled team and Arctic Cat blends its fan-cooled twin into its modern rider-forward chassis. While the drive systems may reflect older heritage, the ride platform reflects all that is new and modern, bringing old and new aspects of snowmobiling to the buyer.
Arctic Cat F570
Of these three modern classics, we prefer the 2011 Arctic Cat F570 for making serious miles. Arctic Cat's ride platform puts you upright in the saddle with a great over the mid-height windshield view of the trail. It is the most comfortable of the three. Frankly, Arctic Cat marketers outfit this model to be more trail tourer than trail fighter as it comes standard with electric start and amenities like electric gas gauge, multi-functional digital/analog instrument cluster.
The Suzuki two-stroke and its Arctic Cat drive clutching feels responsive, yet best suited for serious days of making miles. Fortunately the F570 comes equipped with the seventh generation of Cat's wishbone front suspension and slide-action rear slide rail. This combination allows you some serious cornering carving and grip. The rear set up will provide ample ride comfort with its 13.5-inches of rear travel. Still, the shocks are a modest hydraulic design that will fade if you push performance for too many miles.
This is a handsome sled and it will motor at trail speeds all day long. It will remind you of how snowmobiling used to be as you catch the clatter coming back from under the hood, but it won't beat you up like an original classic, thanks to the modern suspensions and ride forward design.
Polaris 550 IQ Shift
This is definitely a price-point model. Indeed, it is bare bones to the point that Polaris expects you to purchase any graphics treatment that you may want to add. The idea is for you to personalize your mount. You'll find ample graphics ideas in the Pure Polaris catalog.
Of course, you can leave it basic black. The package is designed around Polaris' older IQ models, which have been superceded by the new Rush-like packaging. He IQ front end shares a heritage with the newest Rush design, but the rear suspension, for trail models, at least, shares more with the Dragon IQ than the Rush. That's not a bad thing as the Dragon IQ suspensions gained popularity with the ditch pounder set.
The 550 IQ Shift drive system may be the best of these three models. The fan-cooled twin delivers pits performance via Polaris proven P85 drive clutch and P2 driven. Obviously these pieces are clutched around the modest output of the fan-cooled motor, but the clutching system carries a heritage that dates back to the days when Polaris won more long distance, cross country races than all other sled makers — combined!
The front and rear IQ suspensions are years ahead of anything you'd buy as a fixer-upper. Even with the base RydeFX MPV shocks all around, the 550 IQ Shift will be the best ditch banger of these three instant classics.
The sled feels good in the rough and handles the corners well, maybe not as gripping as the Arctic Cat F570, but this is a truly fun sled to ride hard — until the shocks go into full fade. The Phantom disc brake works well and gives you positive control.
Of course, the power is limited so you'll be at wide open a lot, as backing off the throttle and getting back on scrubs off a surprising amount of speed. Still, for rough riding, this model is probably the best for tight trails.
Ski-Doo MXZ Sport 550F
The Ski-Doo MXZ Sport 550F drivetrain bears a strong lineage to some of our least favorite Rotax engines of all time. But we have found the newest 550 fan-cooled twin likes to come off the line smartly, delivers very strong midrange and doesn't peter-out as quickly as its heritage would have indicated. Some of those earlier 500-ish twins were very strong at midrange but fell off the powerband much beyond that. Not the case with the 550.
We like this sled for tight, curvy trails. In fact, the tighter the better as the powertrain pulls surprisingly hard for a fan-cooled twin. This is the lightest of the three modern classics and it is the sled you'll most want to literally toss into a corner. At a claimed 423 pounds, the MXZ Sport 550F takes a little getting used to as you can go deeper into the corners than you first suspect — especially if you are sued to a 600 or 800 liquid-cooled hot rod.
The shocks are on a par with the Polaris for longevity, so the two models are fairly even. When it comes to on-trail performance, we give the suspensions a draw but Polaris holds an edge in its clutching as the Ski-Doo driven is a design fitted to low horsepower models and not really as well suited to pulling performance out of a corner.
The Ski-Doo definitely wins the styling award as its edgy "look" and bold design stands out when compared to the basic Polaris. The Ski-Doo may be nearly the equal of the Arctic Cat for making trail miles, but it looks way sportier. It will get good marks for long haul comfort from most riders thanks to the mid-height windshield, j-hooks on the bar ends, and ride-forward comfort design.
Any of these three modern day fan-cooled two-strokers will satisfy a price-conscious snowmobile shopper. We figure that they might even satisfy the snowmobiler looking for a classic sled to fix up. As we said before, these 2011 fan-cooled snowmobiles verge on becoming instant classics as they sit on the dealer's showroom floor. But that's really for you to decide, right?