Best Flatland Snowmobiles of 2019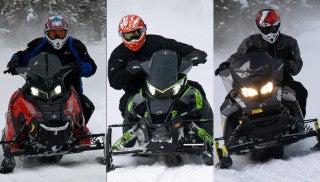 As to 2018-19 riding season approaches, we thought we'd share our list of the best flatland snowmobiles of model year 2019.
As the snowmobile market continues to hover around the annual 125,000-unit sales mark, profit pressure amplifies for the sled making components of today's four multi-faceted conglomerate parents: Textron, Yamaha, Polaris and BRP. This new world of snowmobiling requires the four heritage sled brands to be competitive on the balance sheets of their respective corporate parents as well as with each other in market share for deep snow, performance trail and new entry level enticer models.
That's why we've seen not so evolutionary change in the recent marketplace where sled makers offer bigger, faster, more powerful models to generate the best profit per unit sold that they can. The parent companies demand it as these conglomerates look for solid year-over-year financial performance.
Once niche heritage brands — Arctic Cat, Polaris and Ski-Doo — may remain quaint reminders of the sport's past and occupy historic references in a parent's Annual Financial Statement, but in today's economics, their history is more footnote than forward-looking asset if profits and return on investment don't keep pace with expectations.
In this world of nouveau power and displacement, we've concocted a list of which "flatland" sleds are the best for model year 2019. You'll notice, that like the industry itself, we've gone to the bigger, pricier and more powerful models as overall class leaders. Why not? The 150-plus horsepower models of 800cc or more displacement have grown in popularity regardless of price. These higher performance models for trails and mountains sell and price is seemingly irrelevant to buyers desiring fun-per-mile.
2019 Flatland Snowmobile of the Year
Arctic Cat ZR9000 Thundercat iACT 137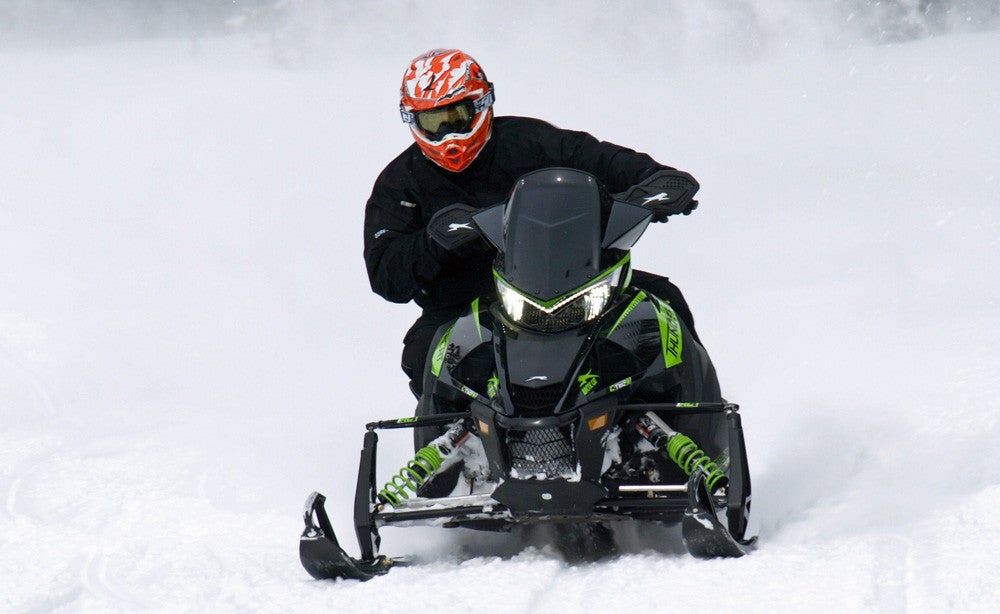 Polaris may not have been first to market with an 850cc two-stroke twin to power a top of the line model, but when it did so, it created a superior version of its high performance, race-bred Switchback XCR. In another year, last year for sure, this sled would be the shoo-in for Best of the Best.
But this is model year 2019 and 200 turbocharged horses from a 998cc liquid-cooled mill trumps the 850 Patriot, even with its four-year engine warranty. The Thundercat barely aces out the similar, but different enough, Yamaha SRX production mate for this season's title.
While the marvelously tuned Yamaha turbo triple would be reason enough for a top score, the 2019 Thundercat adds innovation with its splendidly simple to operate iACT adjust on the fly electronic suspension. You can go from soft to medium to firm front and rear suspension settings in little more than the blink of an eye. This next step in suspension technology may be copied for model year 2020, but Cat had it first and it works brilliantly with the latest Slide-Action rear design and wide A-arm design of Cat's Arctic Race Front Suspension.
Just to clinch the choice, the T-Cat comes with adjustable front ski stance and bump-smoothing 137-inch track length with one-inch lug height for pursuing top speeds. The hand controls were re-imagined for both greater intuitive "feel" and utility.
While you'll find most of these features on the very similar (but blue) Yamaha SRX, which is built alongside the Cat in Thief River Falls, Minn., we preferred the Thundercat's auto-adjusting CVT drive system for overall performance when combined with the Yamaha turbocharged triple. Our fellow test riders were impressed with the new iACT rapid-action suspension and the very manageable 200-plus horsepower of the Thundercat. The Cat wins for 2019.
2019 Best High Performance Trail Snowmobile
Arctic Cat ZR 8000 Limited ES 137 iACT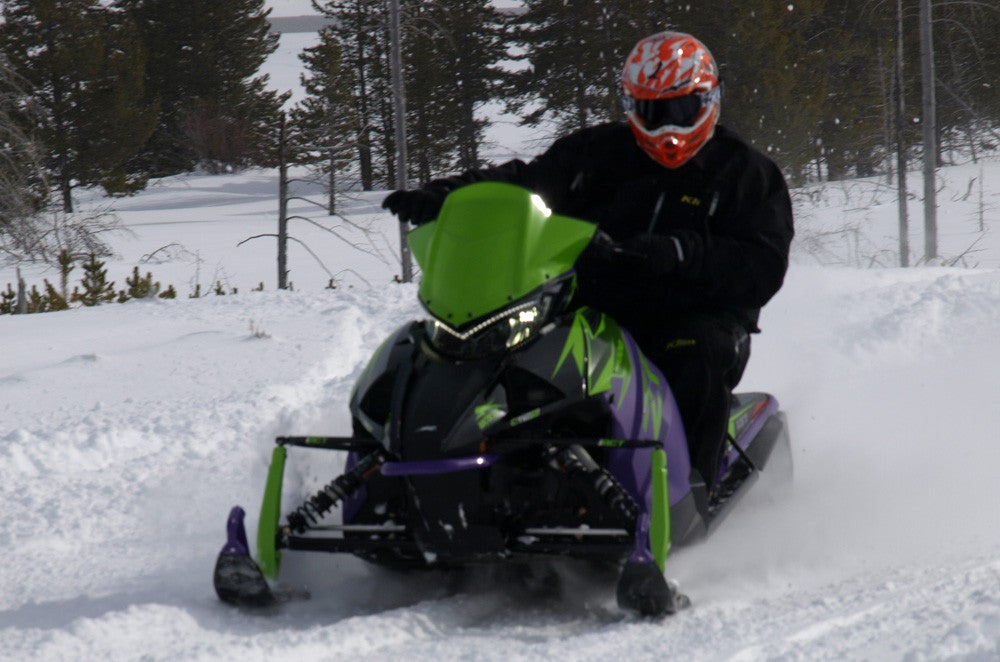 Again, our test riders rode away from the annual test session impressed with what Arctic Cat under Textron managed to accomplish for model year 2019. The consensus revealed a fondness for Cat's uniquely innovative iACT adjust on the fly electronic suspension. But these riders also greatly enjoyed Cat's own designed and built 800cc two-stroke twin. They felt it gave the ZR 8000 Limited ES 137 a measure of front-end lightness and overall on/off trail nimbleness unimpeded by the weight and complexity of Cat's three-cylinder turbo.
Test rider Steve Dubbs noted, "All the pieces work together, making it arguably one of the best all-around performance sleds currently available." His brother test rider Rob Dubbs "loved the iACT, which makes it better for all day riding."
Of course, none of these Arctic Cats with iACT and 800cc-plus displacement qualify as 'budget models." This chosen Cat retails at just under US$15,000.
Our runner-up choice, the 850cc Ski-Doo MXZ X-RS, carries a price tag of US$14,699 but does not offer a quick-response handlebar-mounted electronic suspension like Cat's iACT. We found general on-trail performance similar between the Cat and this Ski-Doo, but in the end, we went with Cat's innovation of iACT and an extra year of development for its home-built 800cc twin. While not quite up to Ski-Doo's well accepted fit and finish standards, all of Arctic Cat's models have noticeably improved in this category.
2019 Best All-Around Trail Sport Snowmobile
Ski-Doo MXZ Blizzard 850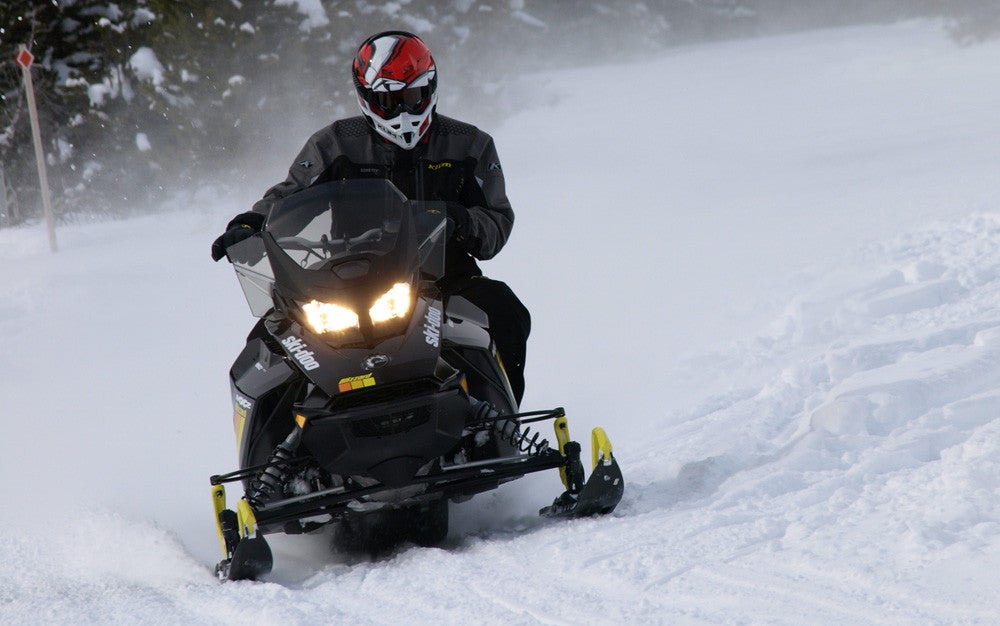 It was difficult to convince Test Rider Steve to share the Ski-Doo Blizzard 850. We could guess that this would be his choice as "best all-around trail sport."
Ski-Doo's Blizzard brings the 129-inch GEN4 platform to everyday all-around sport riding and completes it by adding the handling prowess of Ski-Doo's latest RAS3 front suspension design. Add in Pilot TS dial-adjust skis paired with the rMotion 129 rear set up and you have a very competent and compliant trail ride that can blast corners, handle bumps and power straightaways thanks to the 165-hp Rotax 850cc E-TEC twin.
Another choice for all-arounder has to be Yamaha's Sidewinder L-TX SE with the adjust on the fly electronic IQS suspension package. We'd be kidding ourselves if the availability of the 998cc turbo triple didn't factor into its runner-up status. This power plant is an absolute delight on the trails and works like a well-tuned modern turbocharged pickup. But when compared to the Blizzard and even considering the turbo boasts a minimum of 35 more horsepower, the Yamaha's additional and noticeable nose weight from the 998's extra cylinder and turbo plumbing makes it more tiring as an all-day ride. Give the Blizzard the edge here and in general handling as the GEN4 chassis and engine placement have been rightfully designed to make the Ski-Doo a much easier sled to toss around in all-around trail play.
So, we guess that Test Rider Steve had a point and a reason for not wanting to share the Ski-Doo MX Blizzard 850, our choice for Best All-Around Trail Sport.
2019 Best Adventure Snowmobile
Arctic Cat XF 8000 Cross Country Limited ES 137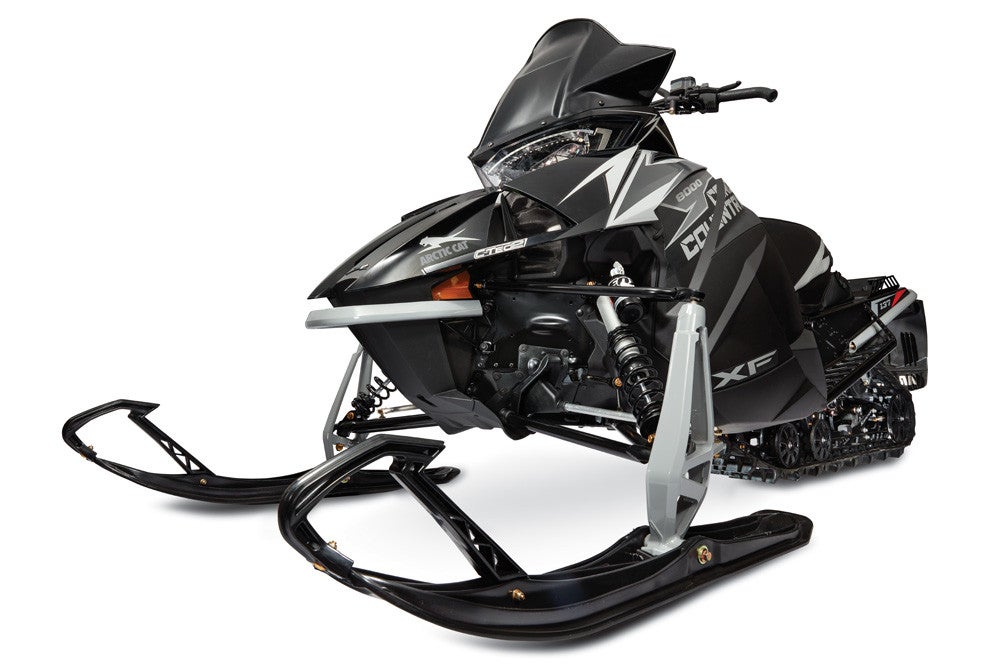 Arctic Cat stepped up its game in the past two seasons as refle in our riders' choice of the Cat XF 8000 Cross Country Limited ES 137. Powered by the 160-horsepower class Cat-designed and manufactured two-stroke, the Cross Country Limited features manually adjusted QS3 Fox shocks up front on the ARS and at the rear on the Slide-Action design, which spins an aggressive 137-inch track with 1.75-inch lugs.
The Cat provides ample opportunity for off- and on-trail excitement while retaining extreme civility with a built-in goggle holder, stylish and effective mid-height 11-inch tall windscreen, available warm and warmer heated seating, standard front sport bumper, rear rack and storage bag. The front ski stance can be adjusted from 42 to 43 inches in width, allowing the dual runner Pro-Cross-6 plastic skis to bite in corners or narrowed up to better handle deeper off trail snow conditions.
Its narrowed Next Gen style lets you pitch the sled deeper into backcountry powder when necessary to hold a climbing line. They also make the sled aero-efficient for slicing through winter at high speed. Handsome, powerful and civilized, this Cat can be outfitted with an optional passenger seat and a catalog of storage and custom options.
That's why we named this Cat as Best "Adventure" sled, narrowly beating out Ski-Doo's Renegade Enduro 850 with its air-assisted suspension, dial adjustable skis and terrific handling GEN4 chassis.
2019 Best Personal Cruiser Snowmobile
Polaris 850 Indy XC 129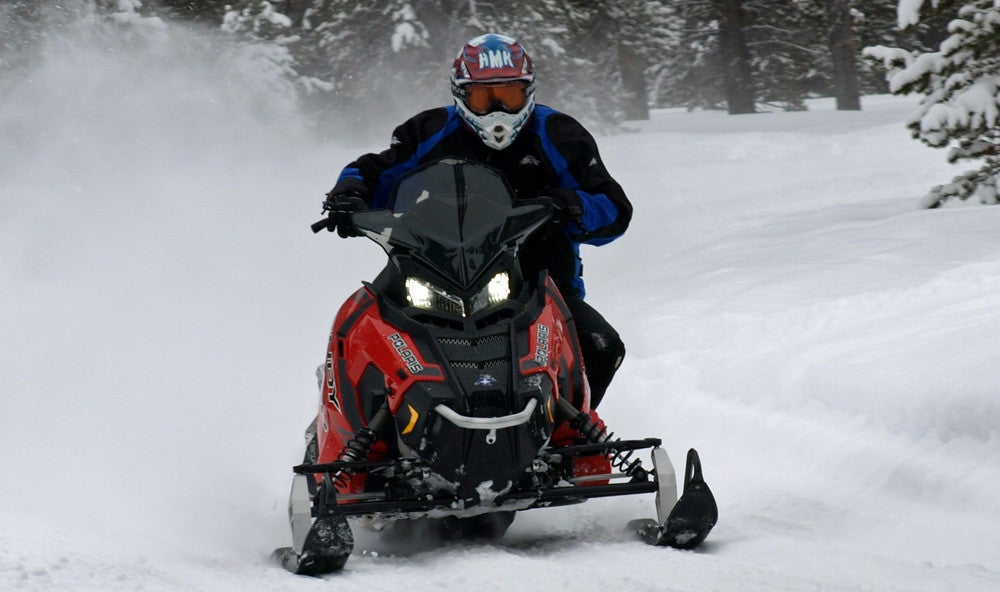 Adding an all new top of the food chain Polaris snowmobile engine, the 850cc Patriot, to a stretched out Indy brings the Polaris Indy back to a seriousness not seen in a decade and a half. This engine/sled combination makes Indy great again. Add in a brand new straight rail Pro-CC rear suspension for damping the ride of the proven AXYS chassis and you have an all-day charger that hearkens back to the glory days of the Indy, when they were sleds of first choice to ride.
The XC nomenclature is a bit deceiving as this 850 (or 800 even) Indy's versatility can be a one-time buy, long-term solution to serious sport riding and passenger sharing, it all depends on what page of the accessories catalog you look at. Add an easily installed (or removed) two-up seat for a trail-ready safari sled. Add storage options to make it a weekend touring capable sled. Or, add optional performance accessories to make it a serious on and off solo trail runner.
Fast, powerful and versatile with an Indy reputation for all-around performance, the 2019 Polaris 850 Indy XC 129 is our first choice, beating out the tamer Arctic Cat ZR 7000 with its nifty iACT electronic adjust-on-the-fly suspension and Yamaha's four-stroke Viper L-TX.
2019 Best 2-Up Touring Snowmobile
Ski-Doo Grand Touring Limited 600 E-TEC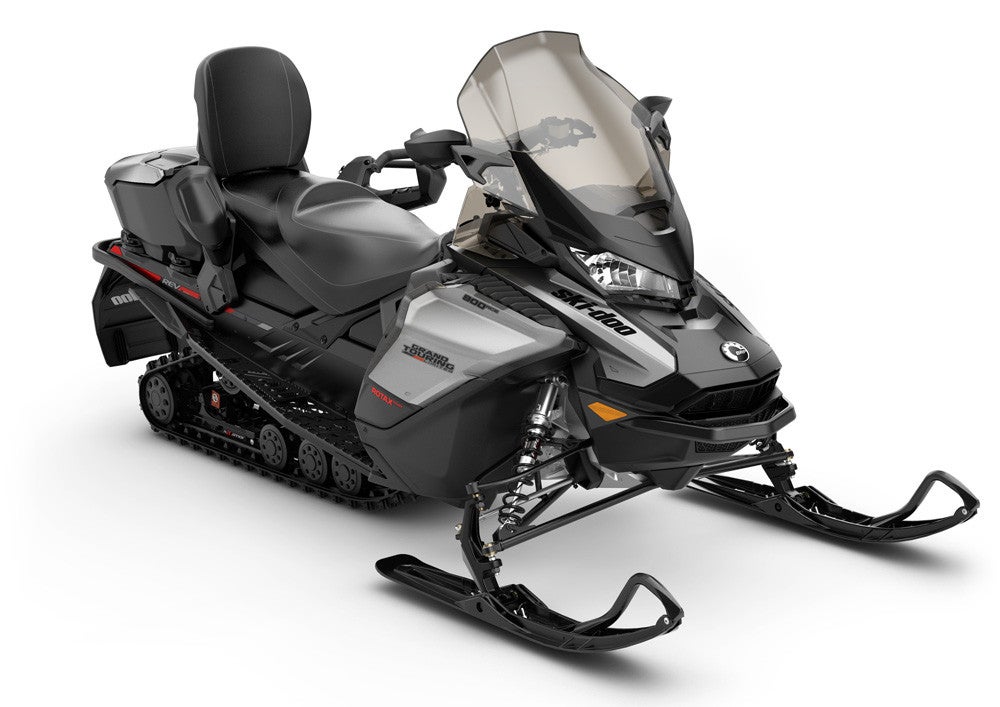 Enjoy this category of sleds as we see it fading away, or at least the number of choices you'll have diminishing. This market segment seems to have lost its appeal and its comeback isn't being helped by the number of "sport" sleds that can be readily converted into two-up and weekend touring duty — like Polaris' Indy 129 for example.
Unlike the convert-able solo sport rides, serious "partner" sleds will always be two-uppers. While their days may be on the downswing, the ones we have for model year 2019 offer excellent comfort to performance. Ski-Doo's Grand Touring is always a contender. This year 'Doo adds a turbocharged version of its 900 ACE three cylinder four-stroke. Go for the standard and upgraded normally aspirated 900 ACE or our choice of the new 600cc E-TEC two-stroke twin. Maybe in the next model year or two the 150-horsepower turbo will overcome our objections and prove to be smooth and consistently controllable like Yamaha's turbo. For now, our best bet would be combining the new 600 E-TEC with its nicely proportioned power that works well with the handlebar-operated air-ride rear suspension.
Based on the wider GEN4 platform, this Grand Touring Limited series incorporates heated seating, Ski-Doo's innovative adjustable handlebar system, a heated goggle box, SilentDrive 137-inch track system and a plethora of nice-to-have features like push button reverse, electric start, wind-defeating windscreen and multifunction gauges.
Polaris' generously-sized 800 Titan Adventure offers many similar features, but we found the Ski-Doo's more trail-friendly dimensions easier to handle overall. The Titan's cargo options allow much greater capacity for a weeklong tour, but we'll pack light and enjoy the nimbler feel of our choice for Best 2-Up Touring, the Ski-Doo Grand Touring Limited 600.
2019 Best Budget Buy Snowmobile
Polaris Indy EVO (US$5299)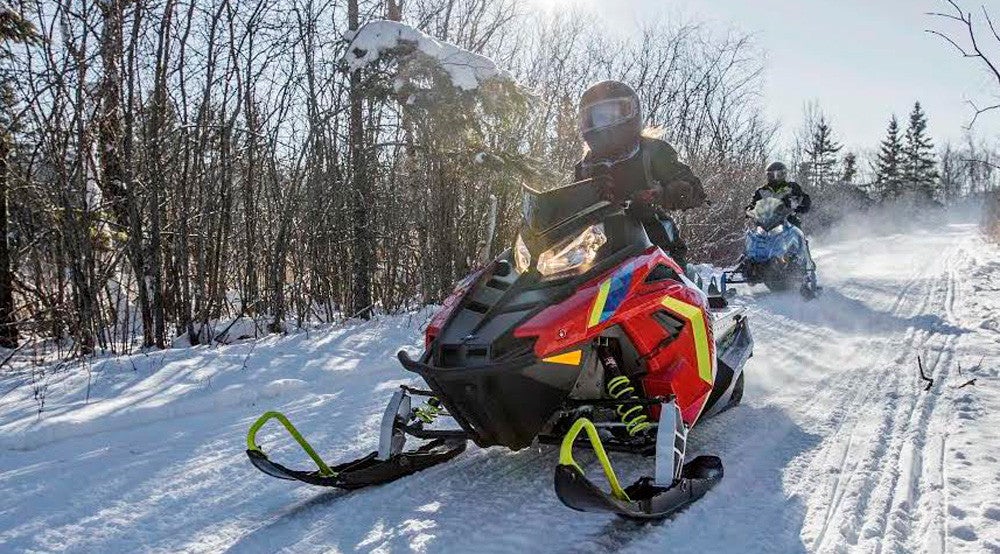 You could see this one coming. The Polaris EVO should be the right choice for most buyers looking to get into the sport on a budget and wanting a sled that they can grow into and slightly beyond.
Based on the 550 Indy, the EVO keeps things simple by replacing standard 550 Indy front suspension pieces with the narrow arms off the Voyageur, making a new throttle system that only lets the carb open just over halfway and mitigating top speed to a 50 miles per hour maximum. Lowering the seat presents a less intimidating ride height for new or more diminutive riders. By lowering performance parameters, Polaris can cheap out with more basic shocks and utilize a lightly modified 550 Indy rear suspension that works well for riders under 175 pounds. The EVO retains hydraulic braking and the Indy's long-lasting and nearly bulletproof CVTech drive and drive clutching system.
Of course, at a suggested retail of US$5299, one cynical test rider suggested that perhaps a buyer could look for a non-current 550 Indy instead, thinking that it could be an equally good value. At today's pricing the EVO remains a better deal than a current year 550 Indy model.
The other thought might be the Arctic Cat Lynx 2000, but if you go that route of expense, you should think about the 550 Indy 121 at US$7499.
All of those considerations work well in leaving us with the Indy EVO as our Best Budget Buy for this season.
2019 Best Utility Snowmobile
Polaris 800 Titan XC 155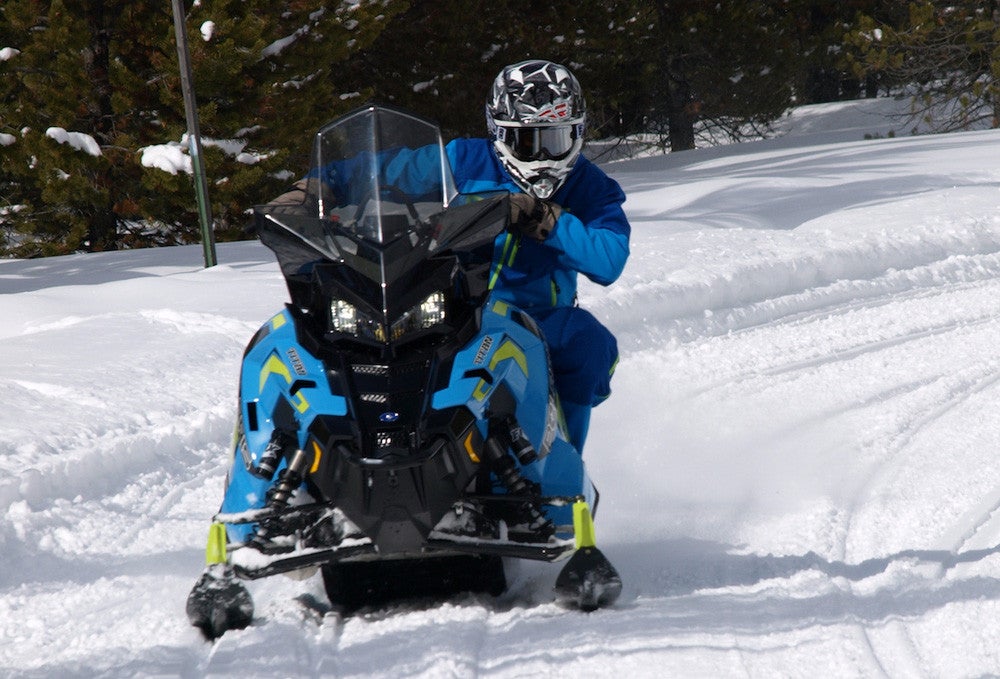 When it comes to best utility sled, we gave the new Arctic Cat Norseman X 8000 serious consideration. If it came with Cat's Wide Range three-speed transmission that's available in the Bearcat, we might have been convinced. But for overall utility it's hard to fault the Polaris 800 Titan.
Demonstrably proven to us to have more than adequate power to launch its 20-inch wide by 155-inch long Cobra track out of a deep snow field and effectively "wheelie" over hardpack, we readily accept that the Titan also has the power to chug along towing at least half a ton of who knows what.
Versatility is a given thanks to the Polaris accessories catalog. Two-up riding? Check. Winching capabilities? Check. Deep snow rated? Check its wide and long track and look at its Pro-Float skis and FOX QS3 shocks. Hauling? Check its proprietary Alpha high-low-neutral with reverse gearbox. Marginal snow capable? Check under the hood for that radiator assisted cooling system.
Utility sled? Yes and more. The Titan XC 155 has a very playful side that likes to hang it out on the trail. Its proven drive system can power through an eighth-mile drag with virtually all other Polaris models. It's quick, powerful, versatile and actually fun to ride. It's our choice as Best Utility sled for model year 2019.