1980 Polaris Galaxy Review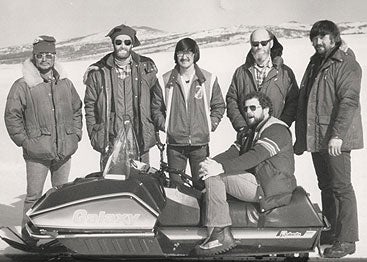 Team Galaxy tundra-tested the Polaris Galaxy and its all-new rubber track
March 25, 1979 was the day Polaris sales and marketing types assigned me to one of its new 1980 Galaxy snowmobiles. It was also the first day of a very rugged 1,200-mile excursion from the northernmost point in the United States — Point Barrow, Alaska — to the Yukon River. Polaris concocted this trip to convince northern clime riders that changing from the older cleated track to new Yokohama rubber tracks was a good thing.
The Galaxy, you see, was transitioning to an all-new long travel rear suspension with all-rubber track. The problem was that many trappers and hunters in the great white northlands had chosen Polaris over Ski-Doo partly because of the cleated traction from Polaris' previous generation.
When you look at the Galaxy, you see a rather bulletproof and quite conventional snowmobile. This transition to all-rubber tracks shouldn't have been such a big deal. Ski-Doo ran rubber tracks almost from the get-go. In fact, the 1980 Galaxy struck me as a Polaris version of Ski-Doo's popular Olympique. Both appealed to conservative minded snowmobilers looking for value over high performance. The serious Polaris rider wanted the Indy, not the somewhat dowdy Galaxy.
Headed South
When our Polaris crew headed south from Point Barrow at 5:20 a.m. on Sunday, March 25, 1979, we had some doubts. There aren't nicely groomed or marked trails to get you south to the Yukon River. Indeed, we navigated by keeping the Arctic Ocean on our right and the vast inland tundra on our left. The route consisted of rough tundra-grass hedges and wind-blown shoreline. Our plan called for making 200 miles a day. We settled for a slow 100 miles.
Our group, called Team Galaxy by Polaris' marketing team, consisted of six snowmobiles; five 340cc preproduction Galaxy models and a 1979 440cc Cobra-based prototype. All of these sleds were equipped with the latest Yokohama rubber track and Polaris' newest long travel 'comfort' suspension. Keep in mind that long travel in 1979 meant nearly six-inches, plus or minus.
TX-L Derived Ride
The 1980 Galaxy sported a parallel rail slide suspension derived from the race-tested TX-L. It came with torsion springs and a hydraulic shock. By terms of the day it delivered a relatively comfortable ride.
Polaris referred to it as having unitized aluminum construction. The use of aluminum kept the weight down; although our Team Galaxy 340s used optional racing-tough, steel shafts instead of the stock aluminum shafts. Because we were on our own after leaving Point Barrow, this seemed like a good idea.
The suspension's single shock angled from the center to the rear and was assisted by progressive rate torsion springs to control the ride. As a concession to the marginal conditions we expected to face, the suspensions were equipped with four extra idler wheels to keep the rail's hyfax from gluing themselves to the rubber track. Snow conditions on the Arctic coast were minimal and this precautionary addition proved very worthwhile.
The seat was a new design, but we only had one on the trip. Our other preproduction sleds featured 1979 version seats. The older style had a storage trunk in the back, which the new for 1980 design excluded. Tool storage for the all-new Galaxy was placed under the hood. We had the better deal getting both underhood and rear of the seat stowage areas.
Fortunately the suspension and seat combination worked as promised. The find-it-yourself trail proved exceedingly rough most days.
Fuji Power
For 1980 Polaris went with a new track, but the powertrain was familiar. The 340cc fan-cooled twin not only offered plenty of muscle in Alaska, but also would last into the new century with relatively minor updates. Designed by Polaris but built by engine partner Fuji Heavy Industries, the twin-cylinder motor performed surprisingly well when you consider the state of the oft-times, urine-like gasoline we had to haul.
Yes, that's correct. We were totally self-sustained. We carried large drums of fuel. We started the trip with bright, new aluminum tow sleds, but they were virtually destroyed a few days out. Team Galaxy leaders and our Alaskan guide negotiated for old-fashioned wooden sleds, which lasted the remainder of our trip. The reason the locals use those old dog sleds is because they work. They flex, they bend, but unlike our aluminum tow sleds, they don't break!
Even loaded down with fuel and gear, the sleds carted the expedition's essentials with nary a complaint. My 340cc Galaxy might have been stressed the least. As the invited guest magazine editor and photographer, my sled only needed to carry my camera gear, some odds and ends and me. By the time we reached the Yukon River, my sled looked pretty darn spiffy. That changed with about 50 miles to go.
Cosmetic Update
We knew we were reaching the end of the 1,200-mile run. The weather had gotten warmer and we were focused on wrapping up this test. In an over enthusiastic rush, one of the riders dropped into a gully. An even more enthusiastic and less focused rider — me — charged in after him, effectively re-styling my preproduction Galaxy 340. The good news was that it was cosmetics — bent bumper, cracked hood, torn decals and an injured ego. Once we got ourselves unencumbered, my sled managed the final 50 miles with no problem.
We won't pretend that the 1980 Galaxy was a 'must have' snowmobile. It was a solid performer. Sturdy and dependable, its steel chassis, Polaris/Fuji fan-cooled twin and new rubber track made it quite a bargain at US$2,049.00 in 1980.
Looking back on that experience reminds of just how much the rider mattered on those vintage sleds. The ski stance measured 28-inches from center to center and its overall length was a relatively short 104 inches. Team Galaxy gave this new sled its own much needed history. It was replacing a Polaris legend — the Colt series, which were nimble handling, value sleds.
As a vintage model, we would be surprised to learn that the Galaxy was an 'in-demand' sled. It was a good sled. Not exciting, unless you were heading 1,200 miles south of Point Barrow, Alaska on a gray March morning in 1979.
1980 Polaris Galaxy 340 Specs
Engine
Polaris/Fuji fan-cooled twin; 340cc; 2xVM26 Mikuni carburetors
Horsepower
N/A
Drive
Polaris
Brake
Hydraulic disc; chaincase mounted
Front Suspension
Leafspring with tube shock
Rear Suspension
Polaris long travel, parallel rail slide with torsion springs and center-mounted hydraulic shock
Length
104.0 in
Width
33.5 in
Height
42.0 in
Ski Stance
28.0 in
Track
Yokohama all-rubber 15 x 119.5
Weight
386.5 (claimed)
Fuel Capacity
7.0 US Gal
MSRP
$2,049 (1979)
Related Reading:
1991 Polaris Indy 650 RXL Review