2009 Polaris 550 IQ Shift Review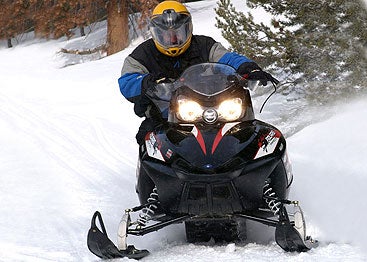 This value sled has best in class power and spot on handling
When we test rode the 2009 Polaris prototypes this past January on a frigid day in Roseau, Minn, virtually all of the new-for-2009 Shift models were in their basic black only skin. When you changed from one Shift to another, you needed to lift the hood to see what was powering each test vehicle. They all really did look alike.
At the end of this test ride day, the assembled editors, factory technicians and engineers each grabbed a sled for the final run back to the plant. This end-of-the-day throttle to the bar run can be a few miles or a lot of miles. It all depends on how far away from the factory you have gotten.
As the crow flies, it wasn't all that far away. As the Roseau County landscape lies, it was all ditches. It reminded me of my youthful days spent following and once competing in the four-day Winnipeg-to-St. Paul cross-country race, which had been aboard a Polaris. The terrain consists of wide ditches filled with snow, blown concrete-hard by the ever-constant prairie winds. Road crossings and raised driveways are simply launching ramps to get you airborne so you can fly over those entries to Roseau's farmsteads. Take-offs and landings from hard packed snow test a sled's suspensions. Running at wide-open throttle tests an engine's durability. Mile after mile of open ditch running is standard operation for a Polaris prototype.
An all-black Shift prototype was my ride for the full throttle run back to the Polaris factory from the forested trails we had been riding. There was no time to lift the hood and see what was powering the sled. We had gathered up as a group and were headed back — quickly and at top speed. My ride had some factory designation numbers on the hood panel, which meant that this sled was truly a prototype and test mule normally ridden by Polaris' test riders. It seemed incredibly sluggish for a Shift 600 twin. It rode okay, but its performance was sub-par for a Liberty 600, even a carbureted one.
At a road crossing, there was a pause. We grabbed a Polaris engineer and asked him what we were on. He looked at the black hood, looked at the numeric designation. Then he asked another test engineer. We lifted the hood. That 600 liquid-cooled twin with sub-par performance was actually a 550cc fan-cooled twin with new-for-2009 two-into-one exhaust and Polaris P2 secondary clutching. Now that we knew what we had, there was an immediate attitude adjustment. The proto 550 IQ Shift went from being a liquid-cooled dog to a rather impressive fan-cooled sports sled.
Attitude Adjustment
Ah, yes, amazing how our attitude can shift so quickly. Rated at 60 horsepower the fan-cooled twin has been a budget sled stalwart for many seasons. You'll find this engine powering work sleds, touring models and even the soon-to-depart remnants of the Indy chassis models like the SuperSport. It's a tried and true powerplant with dual 34mm Mikuni carbs that resides in Polaris' best sports chassis.
Vintage-riding snowmobilers recognize that a 550cc fan-cooled twin of 60 hp was once a very 'big' deal. Today, though, such sleds are barely passable as performance models, deemed more typically as 'starter' or 'second' sleds. Because we value power-to-weight and dollar-per-mile, we tend to view such fan-cooled sports sleds as great fun for not much money.
The 550 IQ Shift falls into the same category as the Ski-Doo MXZ 550. While we own and thoroughly enjoy our Ski-Doo fan toy, we must accept that the 2009 Polaris 550 IQ Shift is a better performer. Once we got over the 'doggy' 600 issue, we recognized that the Polaris 550 has better acceleration and seemingly better top end than our Rotax-powered Ski-Doo 550. That hasn't always been the case with the Polaris air-cooled twin. But with the new exhaust and upgraded clutching we would give the Shift the advantage.
Drive System
Anyone experienced with Polaris will immediately recognize the P-85 drive clutch. It's been a standard piece with most Polaris models for years. The innards are specifically tuned for the fan-cooled engine's characteristics and result in smooth drive away, good pull through the midrange and a feeling of overdrive for steady miles at wide open throttle. The secondary is a Polaris P2 design, which looks similar to the TEAM secondary that has been standard fare on many Polaris models. The new P2 features three rollers and should allow more consistent performance from the fan-cooled twin.
All Shift models come with Polaris' top of the line IQ chassis. While budget-priced at US$5,499, the 550 IQ Shift features 10-inches of travel from the A-arm front end and nearly 14-inches of mogul absorption from the Polaris slide rail rear suspension. Appearing on the original 2005 RMK, RydeFX MPV shocks are fitted on the 550 IQ Shift's front and rear suspensions. They have been proven in the deep snows as well as on mogul-strewn trails and give the sports-tuned Shift fan models very good ride and handling. Experienced riders who pick a fan-cooled sled have a tendency to keep the throttle pinned to the handlebar and tend to hit bumps as hard as riders on more powerful sleds. It's good to see that Polaris hasn't shortchanged the price-conscious rider when it comes to suspension pieces.
Test Sitting
We also liked the narrowed 'freestyle' seat which integrates nicely into the 11.5-gallon fuel tank. The IQ chassis provides ample footing on the runningboards so you can post over ridges or long sections of rough trails. We would recommend 'test sitting' the 550 IQ Shift to see how the steering feels in your hands — both when seated and standing up. The base steering may be too low for many riders, but Polaris offers a nice array of risers to bring the steering up to suit your needs.
Since the whole idea of the Shift is to afford a basic customize-it-yourself sled, you'll find more packages available in 2009 to dress up your Shift. There's a 'race' decal package and even a pink 'girly-girl' package. You can add all kinds of things to personalize this sled.
Polaris marketing states simply: "Polaris understands that many riders would rather ride an all-black sled or choose their own graphics instead of having their sled's visual image determined by the manufacturer. To assist in this regard, Pure Polaris offers a large collection of accessories designed for Shift models, including an expanded selection of pre-cut, adhesive-backed graphics for the hoods and side panels. Riders can choose their graphics (if they want any) and apply them however they like. In the Shift world, no two sleds need to look the same."
Impressive Overall
The basic 550 IQ Shift package is impressive. The IQ chassis and IQ suspensions are very good. We would rate this 2009 version of Polaris' fan-cooled engine as the best in the class. Ride and handling are excellent in a sled of this price. While all that should be enough, the 2009 Polaris 550 IQ Shift comes with more. There's electronic reverse that makes this sled much easier to load and unload when trailering; a fuel gauge; analog speedometer; and hand and thumb warmers.
The whole idea behind the Polaris Shift is to offer a value-laden model on a premium chassis at a reasonable price. The 550 IQ Shift certainly achieved that goal. How you dress up yours is up to you, but rest assured, basic black is merely a starting point.
Specifications:
2009 Polaris 550 IQ Shift
Engine
Polaris 544cc; fan-cooled twin; 2x34mm Mikuni
Horsepower
60
Drive
Polaris P-85 primary; Polaris P2 secondary
Front Suspension
Polaris IQ twin A-arms – 10 in. travel; RydeFX MPV tube shocks
Rear Suspension
Polaris IQ slide rail – 13.9 in maximum travel
Front Arm: RydeFX MPV tube shock
Rear Arm: RydeFX MPV tube shock
Length
115.0 inches
Height
48.5 inches
Width
48.0 inches
Ski STance
42.5 inches
Track
15 X 121 X 0.91 Shockwave
Weight
470 (estimated)
Fuel Tank
11.5 US Gal.
MSRP
US$5,499