Looking Ahead to 2010 & Beyond
New models with strong evolutionary updates mark model year 2010
Story by Jerry Bassett, Photography by Jerry Bassett, Mar 24, 2009
The preamble to model year 2010 has passed. We have been to the new product previews and the all-encompassing, multi-manufacturer showcase that is the annual snowmobile test ride and photo shoot in Grand Lake, Colorado. Oh, yes, don't make reservations to attend next season's session, as this third year in Grand Lake is it. Next year the session moves to an as yet undetermined spot within the US snowbelt.
The cynical part of my brain and keyboarding fingertips might say, "if you liked 2009, you'll love 2010." Aside from a few truly new models like the Polaris Rush, Yamaha Nytro mountain series, Arctic Cat Sno Pro 500 and the return of Ski-Doo's racer-like XRS, most 2010 sleds will be updates and upgrades to what you have seen this past season. There are bigger and bolder (and not so bolder) graphics packages. Some of the 'dirtiest' engines have been dropped as snowmobile manufacturers work to meet fleet emissions standards that toughen up for 2012 and beyond. Say good-bye to the carbureted Liberty 600 twin and Cat's 105-hp 500cc twin among others. Say hello to the 550cc air-cooled engines that don't disappear quite yet but stay on to power a series of fan-cooled budget priced models for now. We expect future seasons will see their demise as engine regulations tighten even more.
Ah, yes, the power of the federal government to encroach on all things fun and save us from the dismal future of global warming. Of course, tell that to my northern New England brethren who have shoveled through two winters of the deepest snows seen since this writer was a little kid. As we sit and write this, the National Weather Service says it hasn't snowed this much in New Hampshire since the winter of 1872-73.
You might think that the sled makers would be giddy about such snowfalls. After all, they have suffered a near decade of abysmal winters during which executives kept telling us that once snow returned sales would, too. Oops! Good snow, horrible economic times. Instead of being giddy, sled executives are guardedly optimistic as they concern themselves with helping their dealers and potential sled buyers with programs to help them buy new models. That explains why every snowmobile maker has curtailed new model introductions.
It's The Economy, Stupid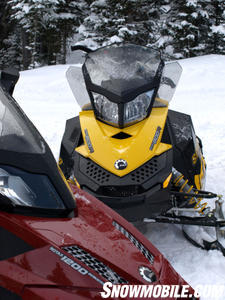 When we were chatting up the latest sleds with manufacturers in Grand Lake, they were trying hard to avoid looking at stock market reports, which saw Arctic Cat nose dive under US$3 per share for a 52-week (if not historic) low. Polaris stock dived as well, but its under US$15 per share price was far from its record lows seen in early 1989 when Polaris traded for less US$3 per share. The Minnesota power sports manufacturer weathered that challenge by hitting more than US$70 per share by March 2005.
Admittedly the snowmobile manufacturers understand the economic situation, but as with the rest of us, they press on regardless and make plans to weather this period as they have many times before. Polaris has been in business for more than a half-century and has seen its share of disruption. So, too, has Arctic Cat. This is a resilient company that has gone from being Edgar Hetteen's post-Polaris snowmobile company start-up to being the world snowmobile leader, falling into a bankruptcy and coming back to being one of just four major snowmobile manufacturers. Likewise, industry pioneer Ski-Doo has suffered through tough times, as has the snowmobile arm of Japanese-based Yamaha Motor Corporation.
All these firms weathered some previous severe times by doing exactly what are they are doing now: taking stock of their situation, managing production and inventories, making unpleasant decisions to assure a future, and staying the course in snowmobile technologies aimed at providing us with exciting, new products for the future.
Wanting New
As spoiled media brats, we always like 'new' to come faster, but reality dictates a different, more studied course. We accept that and embrace what we have been given for model year 2010. Obviously there would be more 'new' if times were better. But, in many ways, this economic downturn may be a blessing for us long term as some of those 'new' technologies and designs will get additional time to gestate.
At the Ski-Doo preview in January, there was a hint of planned retaliation aimed directly at Polaris' Rush. Make no mistake; the Rush is aimed at the Ski-Doo XP. Our behind the handlebar feel of Polaris' newest sled left us with a very distinctive Ski-Doo XP feeling as we rode it. Well, actually, more distinctively since the Rush Pro-Ride rear suspension gives us serious trail riders an improvement in overall ride quality.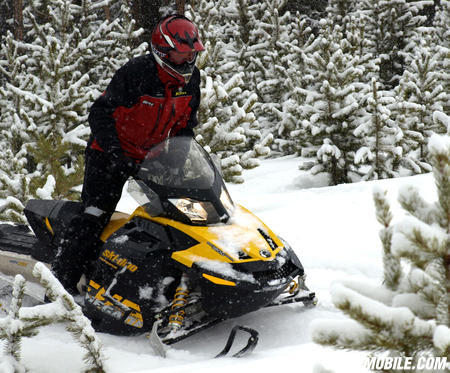 Polaris should enjoy its edge. We expect Ski-Doo general manager Roch Lambert's statement that Ski-Doo would "…continue to fight hard for leadership…" means the Quebec-based sled maker won't give up willingly any sales. Ski-Doo director of marketing Dominque Godbout told an assemblage of reporters that BRP/Ski-Doo takes market share seriously and understands that "…suspensions are part of the next frontier." Indeed, the wily Ski-Doo marketing veteran was seen jotting down copious notes at the multi-manufacturer snowmobile showcase in Colorado in early March. And, keep in mind that copies of the Polaris suspension patent have been available for a couple of seasons. So, the Rush is not a total surprise to the competition.
What We Get
Beyond the battle for ride and comfort, we came away from the new model launches and showcase event impressed. As we said, we are spoiled and would like more 'new' now. We did get new and it's pretty darn good.
Arctic Cat will come with the Sno Pro 500, a snocross-based sled that is light and nimble. It will be in limited volume and won't appeal to all riders. At 85-hp it will seem underpowered to many hardcore trail performance riders, but with its handling attributes, it will be a very pleasant sled for tight trails. Yeah, it could be boring on long, straight corridor trails, but on the tight, narrow local trails, it will be a blast.
Arctic Cat impressed us with the EXT. The longer track suits the brute horsepower of the turbo-charged 4-stroke triple. And, we were amazed at how rider-friendly the 800cc do-over is. The guts of that motor were redone to make Arctic Cat's 800 twin one of the most manageable big bore twins ever to hit the snow. And, it's powerful.
Polaris, of course, leads the industry with its outside-the-skidframe monoshock rear suspension. At the recent multi-manufacturer showcase, it seemed a bit silly that every time a test rider took a Rush for a ride, Polaris honchos insisted on sending a technician along to help set up the Pro-Ride suspension. That might give you the impression that the new Pro-Ride is too finicky for the average rider. We totally disagree. In fact, we honestly believe that the Pro-Ride is actually very easy to dial in and once the Rush rider sets the suspension for his own ride characteristics there will be little to no need to make a future suspension change. What made Polaris send along a tech with each test rider was understandable as only a handful of the media test riders had been to the sneak preview and since 'ride' is the crux of the Rush persona, why leave any impressions to chance? We understood, but we still felt as though we were capable of dialing in the suspension without help.
More Amenities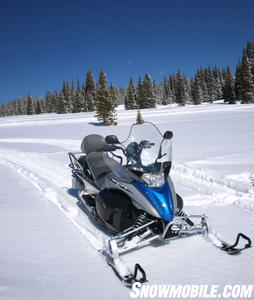 As for terrain domination, the Rush is Polaris' leader, but we were quite impressed with the upscale 600 LX model, complete with many bells and whistles, and a superb ride and trail manner that left us smiling during and after every test ride. This is a sled that may slip under the radar due to the hype of the Rush.
Ski-Doo's nifty GSX luxury-oriented models with the 600cc E-TEC proved a pleasant surprise as it handled MXZ-like on the trails while offering real wind protection and the requisite luxury appointments. Now in its second season, Ski-Doo's 4-TEC engine has truly come into its own for car-like performance. All of the 4-stroke Rotax triples provided ample and very smooth performance. For model year 2010 you'll find less intrusive engine braking. We liked the new feel of the Rotax 4-stroke power delivery.
For 2010 Yamaha comes hard after the mountain rider with a new series of tapered tunnel Nytro mountain specific models. Our powder evaluators were positive in their praise as Yamaha opts for the torque and lighter weight of their triple versus the four-cylinders and higher power output of the Apex-based quad engine. New suspensions and track options give the Nytro powder models added credibility in the steep and deep areas.
But, like the Polaris LX, the Yamaha Venture Lite will surprise as it brings stretch track stability to the base Phazer line and adds some serious two-up comfort for enjoyable touring. With 80-hp on tap the Venture Lite should get sterling mileage from its 500cc 4-stroke twin.
Overall, we saw much that we liked for model year 2010. Sleds with bold new graphics have gotten another season better as the few truly new models whet our appetites for the sleds of 2011 and beyond. For now, even with historic snowfalls in some areas of the snow belt, today's sled makers are being understandably cautious in the short term as they continue working on some wickedly fun sleds yet to come. We expect to see sleds with increased power-to-weight advantages, unique suspension choices and more trail benefits. Enjoy model year 2010 as we work our way to the future and calmer economic times.
Related Reading
2010 Arctic Cat Lineup Preview
2010 Ski-Doo Lineup Preview
2010 Polaris Lineup Preview
2010 Yamaha Lineup Preview