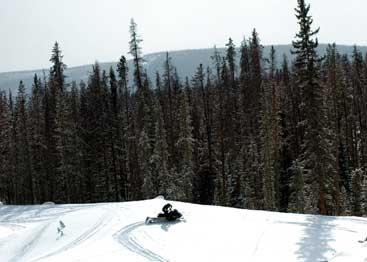 Reflections on four days in Colorado with the industry's OEMs
Yes, I qualify as the older demographic in snowmobiling. No, I have yet to lose my enthusiasm for the sport and its vehicles. That's why I take a bit of pride in believing that I have test ridden more new snowmobiles than any other snowmobile editor on the trails. My first memorable ride was of the very raw 1974 Alouette Super Brute 440. My most recent most memorable ride came on the 2009 Arctic Cat Z1 Turbo, which I have now ridden at sea level in northern Minnesota and at nearly 12,000 feet in Colorado's mountainous Grand Lake area. Snowmobiling has come a very long way in reliability, durability, quality and engineering expertise in that time. And in producing powerful, yet competent handling snowmobiles.
The Z1 Turbo has power —177 horses worth. But what is most amazing about this snowmobile isn't its power, but its pure ride-ability. As Snowmobile.com test rider Doug Erickson noted: "The Turbo Cat doesn't feel heavy, even though you know it can't be a lightweight. It handles and rides extremely well. It's an impressive sled."
You would think that 177 horsepower would make the Turbo Cat intimidating. It isn't at all. That rough, old Alouette from 1974 was far more scary.
Sure, you can flip the Z1's throttle to the handlebar and scratch up a lot of snow. Heck, you can slam the throttle to the bar at nearly any speed and spin the Turbo Cat's track for that matter. But, when you do, you always feel in control. This powerful machine can idle along mountain trails as smoothly as it screams through a quarter-mile speed course.
This Cat is quite remarkable. If you recall the original two-stroke Thunder Cat with its brutish power, you have to recall its equally loutish ride and handling. You loved it for the lake, but hated it for the tight trails. The Turbo Cat for 2009 carries amazing power and combines it with equally impressive handling.
In fact, one thing we came away with from our recent late season test rides of all the new models for 2009 in Grand Lake, Colo., was just how well the 2009 Arctic Cat snowmobiles ride and handle. Yeah, yeah, we know. The 2009 Cats don't look that much different than the previous year's models—but they sure grip the corners better than any Cats we've ridden before.
In some off-the-record chats with Arctic Cat engineering types at Grand Lake and in Thief River Falls, we were told how the staff was pretty ticked off at some snow writers for comments about the F-series Cat's handling deficiencies. Well, we think Cat engineers should get ticked off more often.
In our final two days at Grand Lake, we were able to test ride the top three two-stroke '600' class sleds head-to-head—Polaris 600 Dragon SP, Ski-Doo MXZ 600 E-Tec and the Arctic Cat F6 Sno Pro. Yeah, it may sound like a cop-out, but we truly believe that there isn't a 'best overall' of the bunch. Two of the sleds—the Cat and the Polaris—'feel' familiar in their ride and handling. The Ski-Doo due its lightness 'feels' different and might require a titch getting used to, even for a rider coming off the older REV body style. You seem to be able to pitch the Ski-Doo into the corners and take advantage of its lighter feel. The other two react more like what you would expect from previous sport models you might have ridden. The Polaris Dragon SP has a sureness that reflects an Indy heritage and approach to fast cornering. That's a very good thing, by the way. The Cat F6 is a very drivable sled, too.

What we found in our all too brief affair with the F6 was that it doesn't handle the turns; it claws at them and grips them hard, refusing to wash out. Yeah, those Cat engineers got pretty tired of reading how the F-series would 'push' through the corners and how their handling was unsettled. Those engineers won't be reading that here. The 2009 F-series puts a stranglehold on the corners. It was something that we noticed with the Z1 Turbo and thought maybe that was the only Cat sled to handle like that because, with all its power, it had to. That's not the case. All of the 'tipped' Twin-Spar chassis performance models come with the vastly improved handling capabilities built in. Truly, you have to ride the new F-series to appreciate the change from 2008 to 2009.
Our SNOWMOBILE.COM test riders came away giggling at how much fun the F-6 Sno Pro was to push in and around the sweepers. It didn't seem to make much difference if the corners were freshly groomed and we were the first sleds through, or it was later in the day and we were the 200th sleds through. We found ourselves setting up in anticipation of sliding out, but having to reset ourselves as the skis bit and held all around the corner. Think of the new Cats as cornering like a quick sports car on really fat tires.
The Cats impressed us with their handling, but on our 9,000- to 11,000-foot elevation test trails, it was the Polaris 600 Dragon SP that seemed to have the edge in power. That's not based on any dyno testing, but on purely subjective seat of the pants feel. The Cleanfire-equipped Polaris two-strokes ran flawlessly with crisp throttle response. It seemed that the 'SP' is designed for the rough, aggressive rider. The more aggressive the better as the premium Walker-Evans shock package can be set to any level of rough trail abuse.
We enjoyed the MXZ 600 Adrenaline, which will be the base in-season Ski-Doo sport sled. But if you are serious about either a Ski-Doo or the Polaris SP, we'd suggest getting your order in now. The 'spring only' MXZ X package has more features like hooked handlebars and premium shocks. And the 'SP' is available only through early ordering at your Polaris dealership. It is worth the extra bucks and the extra effort to get it now versus the standard IQ 600.
In other impressions, we found the 'adventure/touring' models, such as the all-new Arctic Cat Bearcat XT and Polaris WideTrack, to be totally different than what we had expected. These models used to be more utility and less sport, but with the advent of an expanding market in Scandinavia and especially Russia (and other former USSR Siberia-belt countries), there is a growing demand for these rugged carry-all models.
What really struck us wasn't the utility of these machines, but their newly refined ride and handling characteristics. The Bearcat XT utilizes the base Suzuki one-liter 4stroke twin found in the Jaguar. The Polaris equivalent relies on the 750cc Weber-built 4stroke twin. Both are nearly bulletproof and geared so they could tow an Airstream travel trailer if they came equipped with skis.
In our test ride of the two sport-utility wide track models, we came upon a group of rental sled riders. They were equipped with 600cc sport sleds and were motoring along in line, making good time, but unaware of us coming up from behind. We can only imagine the looks behind their face shields as the two of us zipped by on chunky looking wide tracks with large wind-protecting, but speed-robbing windscreens.
Geared for pulling and not speed, the Bearcat and WideTrack topped out around 60 miles per hour in the Colorado Rockies. But, they were surprisingly agile and incredibly comfortable. We could see many snowmobile clubs opting for one of these to haul a small groomer and for making rescue runs on their trails. Any of these sleds would be ideal for an ice fisherman.
Choice 4Strokes
For the 4stroke fan, Ski-Doo showcased the new 1200 4TEC in a variety of models. The MXZ and GSX solo rider models will give snowmobilers a choice between the Ski-Doo and Yamaha equivalent models. There are no simple apples-to-apples comparisons here as the Yamaha Vector and Nytro models follow different philosophies. Yes, both are similarly powered and both feature three-cylinder engines. The Yamaha Vector is carbureted. The Ski-Doo 4TEC uses a throttle body injection. The Yamaha sits lower than the new REV-XR chassised MXZ or GSX models. But both satisfy the wants of a 4stroke buyer very well. We know about the Vector, the MXZ 1200 has to prove itself, but it looks very promising for 4stroke enthusiasts looking for more buying options.
We had ridden the all-new Yamaha Nytro XTX at the company's early introduction in Wisconsin back in January. It was a vast improvement over the 2008 Nytro in handling. The XTX we rode in Grand Lake had just arrived from Yamaha in Japan and had come off the factory's pre-production assembly line. We were told that barring any last second tweaks, this XTX was about as close as you would get to what real-world buyers would be getting in the fall. Our verdict: go ahead and order one. The pre-production XTX handles and corners well. Where it shines is in the straight-ahead bumps—of any size. But, of course, that's what this race-bred rough trail sled was designed to do.
When you check out the XTX at a Yamaha dealer, look closely: we have a very strong sense that the XTX will be sharing its chassis and suspensions with other future (2010?) Yamahas. There is too much money spent on this sled for it to be a stand-alone model beyond 2009. It is typical Yamaha thinking to put out a 'test bed' sled like the XTX and follow it up with a complete line of similarly constructed sleds in the future.
Those are a few of our post-Grand Lake ride evaluation thoughts and impressions. Overall, we were pleasantly surprised with just how well all the manufacturers' sleds performed. Like the National Football League, the snowmobile industry seems to have achieved parity. Where we could never say that were no bad sleds 35 test seasons ago, we can state unequivocally today there are no bad sleds. Just as with the 1974 snowmobile model year, there are 2009 sleds you might prefer over others, but all are worthy considerations.
For 2009, we think there are a lot of good choices available. In the '600' sports class, you've got three very worthy choices in two-stroke performance sleds. You like 4strokes? Ski-Doo brings serious competition to Yamaha. And at the top of the performance food chain, there are serious choices, too. You can opt for the 150-hp of Polaris or Ski-Doo two-strokes. If you like 4strokes, Yamaha has 150 horses in its 4-cylinder Apex series. And if you've got about US$14,000, you can lead the charge with the 177-hp Arctic Cat Z1 Turbo.
Well, that's it for our first-hand impressions of the 2009 models from A-to-Z1.
Related Reading:
2009 Yamaha preview
2009 Polaris preview
2009 Ski-Doo preview
2009 Arctic Cat preview