1987 Ski-Doo Stratos Vintage Review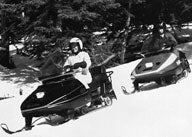 Short-lived strut sleds make interesting collector units
Even in the late 1980s when the Ski-Doo Stratos hit the snow, we couldn't stir up much true enthusiasm for Ski-Doo's series of strut-suspended snowmobiles. Oh, yeah, back then we were starting up an "alternative voice" snowmobile publication, so being a sycophantic type looking to score advertising dollars from Ski-Doo's mother planet, Bombardier, the Quebec-based snowmobile pioneer, we said all the right things.
In truth the 1987 Ski-Doo Stratos was interesting and emblematic of its day. At that time all the manufacturers sought to come up with a cost-effective, efficient to manufacture long travel, independent front suspension around which they could build a series of budget sleds. Ironically, Polaris which would score a decade long stint as the #1 snowmobile brand based on its iconic Indy models, took over the future rights to John Deere's defunct snowmobile engineering concepts, which included a telescopic strut front end that would have been introduced in the next generation of John Deere sleds. Had the brand survived! Polaris wisely passed on bringing that Deere idea to the snow.
Corporately known as Arctco at the time, Arctic Cat decided to live or die with its Arctic Wishbone Suspension (AWS) in all of its future products. And Yamaha developed its Telescopic Strut for its popular models, although you'd find leaf springs on the cheaper sleds. That left Ski-Doo to figure out what it wanted to be when it grew up.
Dysfunction & Design
During this period, Ski-Doo nearly mismanaged itself into oblivion. It's not that the company wasn't fun to be around, because lord knows, they were the most entertaining snowmobile manufacturer of the day. They could flat out spoil a snowmobile writer with good meals, interesting trips and the most charming French-Canadian smooze you'd ever want to encounter. The sleds reflected this hodge-podge.
It almost seemed that Ski-Doo sleds of the era were different just because they could be. If there were another more complicated way to devise a reverse gear system or a front suspension than what was generally accepted, Ski-Doo would engineer it. Whatever the reason, the Stratos and its two-up companion design, the Escapade, were among the last of the truly dysfunctional designs to come out of Valcourt, Quebec before the "Tony Kalhok era."
When outsider Kalhok took over Bombardier's recreational products group, streamlining and mainstreaming shot through the company with a ferocity never seen before. His leadership gave rise to the Mach Z and trailing arm suspension design MX models and the last of the "Red Hot Deals," which blew out the old, slow selling sleds to make room for the new Ski-Doos. This was the era that immediately preceded Ski-Doo's successes with the REV chassis and its climb to #1 in sales, finally overtaking Polaris after a decade-plus as the sales leader.
But, the Kalhok-era had yet to come when the Stratos appeared. It was an interesting sled in many regards. It mimicked the US auto industry in some ways. It was bulky, softly sprung and designed more for the groomed super trails of Quebec and Ontario than for the narrower, less frequently cared for trails of the US Midwest and New England. Both the solo rider Stratos and the touring for two Escapade shared the new Positive Steering Suspension (PSS) and a rounded, boat-like styling.
PSS Design
The new PSS suspension design featured booted legs that connected to the front skis. It looked a bit like Yamaha's Telescopic Strut design. Yamaha's TSS front end borrowed from motorcycling's all enclosed, single-shock setup and Ski-Doo's design featured a coil-spring assisted shock absorber mounted on an inboard tower. The steering arm mated to the so-called "isolation" tower.
In reality Ski-Doo's PSS functioned much like Yamaha's TSS and included a front sway bar to control side-to-side motion. The PSS was actually a bit less complicated than Ski-Doo's Positive Reaction (PRS) trailing arm design saved for its high performance Formula models. The PSS design claimed to eliminate bump steer, but we were never sure if anyone outside of Ski-Doo's engineering shop actually knew what "bump steer" felt like.
Fitting the uniquely Ski-Doo front suspension under the hood required an expansive cowl. The added room allowed plentiful space for the Rotax fan-cooled 496cc twin and its single exhaust.
Rotax Fan
Not one of our favorite engines, the 496cc twin actually served as the precursor to what is one of our faves, the 550cc fan-cooled used in today's MXZ and GSX models. The Stratos engine worked well enough. We just never cared for how it seemed to reach its rev peak quickly and then simply flattened out. Its low end and midrange performance were strong, making it a particularly good choice for the two-up touring edition. We just wanted more top end, which that Rotax engine never wanted to give.
To some extent, that remains true with the current 550 twin, but its all around performance characteristics are better from idle to wide open throttle.
Back in 1987 the Stratos retailed for US$3,499.00, while the two-up Escapade carried a price tag of US$4,349.00. Keep in mind that the solo Stratos competed with its own stablemate, the Formula MX, as well as Polaris' very popular Indy Trail with its 488cc air-cooled twin. Weighing in at a claimed 435-pounds, the Stratos was about average with its competition.
The Stratos enjoyed very good wind protection and a good assortment of standard features, including handwarmers. A Stratos or Escapade rider could count on five inches of front suspension travel, which was below average when comparing it to Arctic Cat or Polaris. The Ski-Doo's long travel rear suspension provided seven-inches maximum rear travel and was above average among its peers.
Overall, the Stratos and Escapade models would prove to be reliable and durable. Perhaps they were a bit dull by today's standards, but they did more than they were supposed to. They also provide a unique look at Ski-Doo engineering pre-Kalhok era, when engineering was streamlined and being different for the sake of being different was no longer accepted. However, that would not keep Ski-Doo snowmobile engineering from creating unique concepts — like electronic reverse and the REV ride-forward chassis.
If you are looking for a Ski-Doo collector snowmobile that exudes "character" and a certain "je ne sais quoi!" then the Stratos or Escapade of the 1980s is your collector sled.
| | | |
| --- | --- | --- |
| | 1987 Ski-Doo Stratos | 1987 Ski-Doo Escapade |
| Engine | Ski-Doo/Rotax 496.7cc fan-cooled twin; dual Mikuni VM34 Carbs; single exhaust | Ski-Doo/Rotax 496.7cc fan-cooled twin; dual Mikuni VM34 Carbs; single exhaust |
| Horsepower | N/A | N/A |
| Drive | Bombardier TRAC adjustable drive | Bombardier TRAC adjustable drive |
| Front Suspension | Ski-Doo Positive Steering Suspension strut; tower-mounted coil-over-shock; 5.0-inch of travel | Ski-Doo Positive Steering Suspension strut; tower-mounted coil-over-shock; 5.0-inch of travel |
| Rear Suspension | Ski-Doo long travel slide; 7-inches travel | Ski-Doo long travel slide; 7-inches travel |
| Length | 105.5 in | 105.5 in |
| Height | 49.2 in | 49.2 in |
| Width | 41.7 in | 41.7 in |
| Ski Stance | 36.25 in | 36.25 in |
| Track | 16.5 x 114 molded rubber | 16.5 x 124 molded rubber |
| Weight | 435 | 475 |
| Fuel Capacity | 8.4 US Gal | 8.4 US Gal |
| MSRP | $3,499 | $4,349 |
Related Reading
1974 Ski-Doo T'NT 440 Everest
All Things Ski-Doo on Snowmobile.com