Meet Arctic Cat's Hillclimbing Duo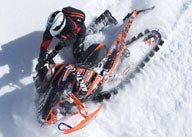 Rob Kincaid and Dave McClure race to develop Arctic Cat's next generation mountain sleds
They should have their own live call-in radio talk show or reality television program. They are funny, they are serious and at any request they'll scribble their autograph on a poster, hat, baldhead or snowmobile hood. When watching these two, could they be Johnny Carson and Ed McMahon reincarnate?
The pair we're discussing? Rob Kincaid and Dave McClure.
When Arctic Cat folded its M series (Mountain) into its mountain snowmobile marketing and branding, it looked to Rob Kincaid and Dave McClure to promote its M6000, M8000 and M9000 in funny and serious ways. This duo's persona hustles out the freakishly insane tech rider and tree runner who are "extreme."
McClure and Kincaid pull double duty as M "marketeers" as well as racers. They compete aboard stock and modified Arctic Cat Ms on the Rocky Mountain Snowmobile Hillclimb Association (RMSHA) circuit for Team Arctic and its Captain, Al Shimpa. The team enlists Todd Tupper to help with this program as a master R&D technician, racer and additional Cat spokesperson.
In between their busy schedule of racing, product development and R&D riding, we managed to gain a bit of perspective on the Arctic Cat future for mountain sleds through our recent interview with Kincaid and McClure. We learned about their background, history and snowmobiles. Here is what they told us:
Snowmobile.com: How long snowmobiling?
Kincaid: 18 years.
McClure: Since I was 10 years old or so, I started out on a 300 Yamaha Enticer.
Snowmobile.com: How many snowmobiles owned?
Kincaid: I've owned 60 sleds in 18 years; currently I own four 2014s.
McClure: I've owned 24 different snowmobiles so far.
Snowmobile.com: Which was your favorite – most memorable – snowmobile?
Kincaid: Race sled, 2005 M7 153 with Speedwerx race engine and twin pipes. Also my backcountry sled is a 2013 M8000 Pro Climb with single tuned pipe, Y-pipe and lightweight can.
McClure: The first sled I won a World Championship (Jackson Hole World Championship Hillclimb) on, my 2008 M6 Improved Stocker. That sled didn't owe me anything when I sold it.
Snowmobile.com: How many years on the RMSHA circuit?
Kincaid: 17 Years.
McClure: This is my ninth.
Snowmobile.com: What is your current occupation?
Kincaid: I have a self-owned business, Teton Custom Homes, which is a construction-drywall company.
McClure: I own Cedera Landscapes, LLC where we complete custom landscape installations and maintenance.
Snowmobile.com: Tell us about your marketing commitment to Arctic Cat – what are your responsibilities?
Kincaid: To promote Arctic Cat snowmobile sales and to promote how easy the M-series is to ride and in general, discuss Arctic Cat's mountain sleds. I also attend snowmobile shows and promote the M-series through magazines, Facebook and Instagram.
McClure: I'm a sponsored backcountry freerider and racer for Arctic Cat; I have a good relationship with the Mountain Team and help with R&D on the new sleds.
Snowmobile.com: Tell us about your hillclimbing commitment to Arctic Cat – what are your goals?
Kincaid: Attend each RMSHA event and win a points championship. The ultimate goal is to win at The World Championship in Jackson Hole, WY. I'm now 40-years old and can enter in the Pro Master's classes. I want to win a top three championship in the stock class on my 800 and M8000 Sno Pro.
McClure: Hillclimb racing is where I started and I love the competition, backcountry riding is hard to gauge how good you are compared to the other guy, but racing is cut and dry. My goal this year is to get as many wins as I can.
Snowmobile.com: Tell us about your commitment to MotorFist?
Kincaid: Motorfist is a great company. I'm a sponsored athlete and I'm also involved with product testing and product marketing through videos and pictures for magazines. I also heavily promote through Facebook.
McClure: Motorfist is a new sponsor for me this year and I have been extremely impressed with this company. I really like the gear and being involved in the testing and design of the new products. They figure why not have guys that ride every day and live in the gear test and develop it. It just makes sense.
Snowmobile.com: What RMSHA classes will you run for the 2013-2014?
Kincaid: 800 Stock, Pro Masters Stock, 600 Stock; and 600 and 700 Improved Stock.
McClure: I will be running new M6000 in Pro- Stock 600, Improved Stock 600, Stock 700, and Improved Stock 700
Snowmobile.com: Tell us about your Pro Mod M8000.
Kincaid: It has a Speedwerx supercharger, which is relatively new to competitive hillclimbing. A supercharger has no lag; I have boost at Idle. I like the concept of the piston not going through the blower if the motor burns down. The Speedwerx supercharger has so much torque and throttle response it feels like a triple-piped race mod engine; it will pull right out of your hands all day!
Horsepower for the supercharged motor, at peak rpm is 225 on pump gas. Boost level is between eight- to nine-pounds per square inch. The motor spits out its spent fuel through a Speedwerx coated supercharger pipe. The air intake and filter is mounted to the nose cone under the hood. A Power Commander EFI fuel programmer sets the fuel and oxygen rates for the blown motor. As mentioned, it has boost at idle and when pinned, you better be ready, as it is all there. This motor really likes to run on a hot pipe.
McClure: My Backcountry Mod sled this year is unreal! It rips! Not very often do I have a mod sled that works right off the bat, I didn't have to adjust anything, that's the way I like it.
The Speedwerx Supercharger pumps the horsepower up to 220 HP on pump fuel and makes boost at idle (be careful loading it in the trailer). My arms get sore from hanging on to this bad boy, I thought I was going to need more boost, but I think I better get used to this much instant power first.
The whole concept for a supercharger over a turbocharger is zero lag. I admit, I like how my supercharged M sounds – AMAZING. If a piston breaks on a supercharged motor, it doesn't go through the exhaust and take out the turbo, which costs much to repair; most of all, people told us it was impossible to supercharge a two-stroke. We proved them wrong.
Clutching is taken care of by Speedwerx. The pipe is a ceramic-coated Speedwerx pipe with stainless steel silencer that exits into the tunnel. The supercharger has an air intake that feeds the motor cold air for optimum performance.
Dynojet's Power Commander handles all the fuel mapping; there are no buttons to push or changes that need to be done. I ride this like a stock sled except it has 220 HP! But, I have to remember, I'm on a supercharger and even when my thumb is barely on the throttle it's making boost and this can catch me or anyone off guard.
Snowmobile.com: What are the lightweight components?
Kincaid: Patrick Custom Fiber hood, tunnel and clutch cover, which were fabricated by Patrick Custom Fiber (Danica Patrick's father).
McClure: Patrick Custom Carbon hooked us up with a Carbon fiber hood, headlight delete kit, side panels, rear-tunnel half, and drive clutch cover. I shaved 25 pounds off the sled with the carbon parts, they are trick looking and fit like stock. Owner TJ Patrick is the man building the carbon fiber parts by hand and he has an intense attention to detail.
Snowmobile.com: Are the M8000's A-arms and front shocks stock?
Kincaid: Stock A-arms, but I did an upgrade on the front shocks, which are Fox Kashima Float 3 shocks.
McClure: The A-arms are stock, but the shocks are Fox Factory Series Float 3 Kashima Coated, and they perform amazing and are lightweight.
Snowmobile.com: What changes did you make to the rear suspension?
Kincaid: The rear suspension is stock, but like the front suspension shocks, I installed Fox Kashima Float 3s.
McClure: The rear skid is stock and performs great with the Fox Float 3 Shocks and a rear axle relocation kit from Avid Products so I can run a 156 in track on 153 in rails.
Snowmobile.com: What skis do you use on the mod M8000?
Kincaid: I prefer Starting Line Products' (SLP) Powder Pro skis as these are aggressive, but still float on snow. I've used a lot of skis and these are my favorite. I am now trying SLP's new Mohawk ski, which I am excited to put to the test.
McClure: Starting Line Products Powder Pro Skis, the only mountain ski worth putting on in my opinion.
Snowmobile.com: What track do you prefer for boondocking on your Pro Mod blown M8000?
Kincaid: My M8000 is a 156-incher with a Camoplast track that kills the hills with three-inch paddles. I've also installed Avid Products' seven-tooth drivers. Additionally, outback, I've installed a rear track tension kit and rear idler kit.
McClure: I'm using a Camoplast 156 with three-inch paddles; it's the track to have. This track moves so much snow underneath the sled it creates lift and makes the sled go like no other.
Snowmobile.com: What changes to the handlebars did you make to match your aggressive tree running?
Kincaid: I've installed a Rox Riser [for the handlebar] which moves my rider positioning three inches.
McClure: I've installed a Rox Riser bracket [on the handlebar]. I've rotated forward and moved the bars forward two inches to give me more room to turn the bars and not hit my legs. It allows me to be forward on the sled for better sidehilling, and lastly, it gives more ski pressure in the corners.
Snowmobile.com: Seat swap out?
Kincaid: Stock Seat with a custom cover to match my wrap.
McClure: Arctic Cat's graphics designer Corey Friesen designed our wraps and seat covers and had custom Arctic Cat seat covers made for us for our sleds.
Snowmobile.com: Runningboards?
Kincaid: Racewerx front and rear bumper.
McClure: Racewerx makes some of the trickest looking aftermarket products in the industry and I'm running their front bumper, skid plate, running boards, and rear bumper. The running boards are state of the art and you can change the ride height of your feet within a couple minutes with these boards. Replace each individual part if you were to hit something, and customize how aggressive or not you want them.
Snowmobile.com: Snowmobile Weight?
Kincaid: 493 lbs. Ready to ride with 2.5 gallons of gas.
McClure: My sled filled with all fluids with three gallons of gas is 485 pounds. I want a sled that I can run over a three-inch diameter tree with, jump it 30 feet up in the air and pound down the trails – wide open throttle – without things bending.
It's a Wrap
After watching these two at various snowmobile shows, we conclude Arctic Cat did well in securing these two powder superhero types to hustle its M series. Furthermore, their blown M8000s are masterpieces in motor art. Follow both Rob Kincaid and Dave McClure on Facebook.