2008 Ski-Doo REV-XP MXZ Adrenaline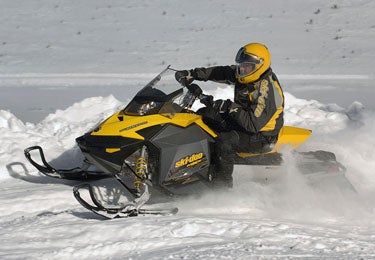 Returning to its 'light-footed' heritage.
Ski-Doo pulled off a coup that eluded Polaris. With its Indy leading the sales charts for years, Polaris figured it could issue the same basic sled, but in various iterations to keep its consumer base happy.
Fast Facts
Engine Type:Horizontal In-line
Cylinders:2
Engine Stroke:2-Stroke
Valve Configuration:Reed Valve
Displacement:594.4 / 36.3
Starter:Pull
Turbocharged:No
View Full Spec
Unfortunately, a time came when the 'old' Indy, as good as it was, just couldn't tickle a buyer response. Once Ski-Doo brought its rider-forward REV chassis models on line, the Polaris Indy was virtually dead. But, what would happen when consumers tired of the REV and Ski-Doo's competition countered with new models of their own? Would Ski-Doo do a 'Polaris' and offer newer versions of the same thing?
Obviously not! The newest Ski-Doo chassis models may retain some nomenclature from the previous REV line, but this REV-XP-based lineup is designed to give Ski-Doo customers a nifty step forward in snowmobiling. When you think about what Ski-Doo has done with the REV-XP, it seems that the Quebec-based builder listens more closely to its consumers than any other snowmobile brand.
What Snowmobilers Want
If you survey a snowmobiler and ask them what they want in their future sleds, chances are the answer will revolve around more power, better handling, lighter weight and, of course, lower pricing. In reality, if you give a modern snowmobiler more power and better handling in a lighter weight platform, it is likely price won't be a deal breaker.
Does the 2008 Ski-Doo MXZ 600 fill the bill? We'd say it does.
Ski-Doo engineering and marketing teams did Polaris one better. When Polaris finally replaced the Indy, the Minnesota-based company did it with such a radical new sled that, while it caused news, it ended up nearly losing more customers than it was supposed to gain. The Fusion 900 was a grand failure. The REV-XP appears to be a grand success. It has captured consumer interest from current Ski-Doo riders and from riders of other brands.
New Yet Familiar
When you look at the 2008 Ski-Doo MXZ 600 Adrenaline, it doesn't seem all that different from the previous year's model. A famed 594cc Rotax twin is under the hood and the suspensions are similar with the double A-arm front-end combined with BRP/Ski-Doo's SC skid frame in back. The rider-forward seating position is also different.
While the sled shape looks familiar, you really won't need to place last year's model alongside the '08 version to know the difference. Styling-wise Ski-Doo designers kept a familiarity in form while totally sculpting a new aggressive attitude for the REV-XP.
Wisely, Ski-Doo brought the old REV forward. Polaris disenfranchised the Indy owner with a replacement sled that made a stark break from its predecessor. Ski-Doo advances the REV concept by inviting its loyal fans to move forward while still maintaining a familiar Ski-Doo legacy with tried and true engine packages, upgrades of suspensions and offering good reasons for REV owners to move up. Ski-Doo deleted weight, which immediately raised the power-to-weight ratio—meaning performance! Being lighter also means the new REV-XP sports models are better handling, less tiring to ride, and even more enjoyable than previous REVs.
We wondered how Ski-Doo would follow up the REV's success. If it had done a 'Polaris,' Ski-Doo's days as the number one selling brand would be numbered, just as Polaris saw its decade-plus run end. Unlike Polaris, Ski-Doo revved up its consumers.
Look at the 2008 MXZ 600 and you'll see a serious piece of snowmobiling history revisited. Once upon a time, back in the late 1960s, Ski-Doo laid claim to being 'the light-footed' snowmobile. It appears that the brand is heading back to its roots. Advertised weight for the '08 MXZ 600 Adrenaline is 428-pounds (sans fuel and other liquids). In fact, it may be that its fleet of 2008 REV-XP chassis snocross racing sleds may actually have to add weight to meet race weight limits! Wouldn't the four-stroke Yamaha riders like to have that problem!
How would you like to be a Yamaha engineer? Those engineers did an absolutely astounding job of creating a wonderfully light new Nytro. Compared to the previous Nytro, Yamaha engineering dropped nearly 50 pounds to make the new big bump Yamaha competitive with the REV platform as its target. Problem is, the target moved.
Ski-Doo comes at you with a very successful package under the hood. The Rotax Type 593 SDI twin measures 594cc and uses a combination of electronic ignition, reed controlled semi-direct injection and a Rotax-designed exhaust valve to get somewhere around 120-horsepower. That makes it competitive with the new Polaris Dragon 600 that weighs a bit more. Compared to the more powerful three-cylinder Yamaha Nytro four-stroke, the Ski-Doo might seem underpowered by as much as 20 ponies.
Power-To-Weight
When you look at power-to-weight ratios (PTW), it's a different story. The new Yamaha Nytro RTX, with its all-new, one-liter triple rated at 138-horsepower, carries 3.78 pounds per horsepower. Since that figure was based on a pre-production motor, we figure Yamaha will be a bit more conservative and aim for a solid 130 horses come production time. That brings the PTW up to just over four pounds per pony. While Polaris' new Dragon 600 will be a showroom and on-trail competitor to the new MXZ 600, it will make its 120-horsepower two-stroke twin carry 476 pounds (dry) for a PTW of 3.97 lbs per horsepower. Lighter and, perhaps, more modestly powered, the MXZ 600 Adrenaline comes in with a PTW of 3.54 pounds per horsepower. If you really want to kick snow in the competition's face, pop for the MXZ 800R with the 151 hp Rotax Power TEK twin. That power-to-weight combination gets you all the way down to 2.88 lbs per hp.
What we're trying to say in a longish way is that the new lightweight Ski-Doo will be very competitive against all-comers in its category.
Remove Excess
Staying with a proven drivetrain, Ski-Doo's engineers borrowed a page from Yamaha's book in cutting weight. By incorporating one-piece to handle multiple functions, engineers could make significant weight savings all over the new machine. The BRP/Ski-Doo process differs in that it creates a multi-function piece by unifying other pieces whereas Yamaha utilizes a proprietary process to cast multiple functions into a single piece.
To reduce weight, BRP/Ski-Doo engineers looked to shave ounces, not just pounds. They explored how much tubing thickness was necessary to maintain strength for durability and reliability and they combined functions to reduce total parts. As they looked at the old REV, they discovered they could remove 13 pounds from the chassis, delete seven more by revising the front suspension, and redesigning the rear suspension eliminated eight more.
Remove Rider Objections
While redoing the REV, engineers and marketers arrived at a way to eliminate consumer objections in the seating position. If the REV was vulnerable to criticism, much came from the cramped legroom. The answer seemed simple enough. Raise the seat to add more room.
Easily stated. Not so simple to do. It required rethinking the drivetrain and the location of components. The engine needed to be low in the chassis and centralized under the pyramidal framework. But, thought Ski-Doo engineers, why not raise the secondary drive over the primary? Simply relocating the secondary clutch from alongside the tunnel to above the tunnel immediately accounted for eight extra inches of legroom.
With more rider-friendly seating, marketers figured the new REV-XP models would fit more riders. More potential riders equal more potential sales.
While snowmobilers may pay attention to the details of 'how' a sled was built, what they really demand is on-trail performance. In addition to giving riders more seating room to maneuver, Ski-Doo created suspensions expressly suited to the new REV-XP. The revised front suspension uses forged aluminum ski legs and a simplified steering assembly to reduce weight. The SC-4 rear suspension evolved into the SC-5, a more refined version featuring better weight transfer and absorption of bumps. Revising the center shock linkage adds more efficient stroke action.
A Direct Shot
All in all, Ski-Doo created a marketing model of its own. Faced with a need to refresh its sales leading REV platform, the company proves that a good idea is worth keeping. The BRP/Ski-Doo team rethought how its customers used the product. They knew that the basic idea was a good one, but they needed to make it fresh while keeping the concepts of driver-forward position, centralized mass, a pyramidal frame design and A-arm front suspension.
By keeping what worked, removing potential buyer objections in the seating area, and returning to its 'light-footed' heritage, Ski-Doo created a wonderfully appealing line of new models, highlighted by the 2008 MXZ 600 Adrenaline, a direct shot into the heart of the snowmobile market.