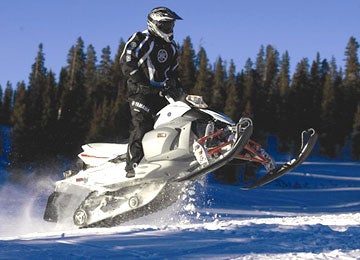 Much Promise, Some Concern
If any of you have ridden older vintage sleds such as the 1960 to 1970 Ski-Doos, the first John Deere models, or even Yamaha SL models with the engines mounted up on the front of the tunnel, then you know how little weight there is over the skis and how it impacts cornering and handling.
Fast Facts
Engine Type:Parallel Twin
Cylinders:2
Engine Stroke:4-Stroke
Valve Configuration:OHV
Displacement:499 / 30.4
Starter:Electric
Turbocharged:No
View Full Spec
The front-end bite on those early sleds is marginal at best. Even moving your body as far forward as possible can't get you secure bite on those leaf spring-supported skis.
Now, fast forward three or four decades. Test ride Yamaha's all-new Phazer lightweight. Nice front suspension. Well-designed stabilizer bar to maximize side-to-side weight transfer from ski to ski. Modern ski and runner design. Everything that should guarantee great handling. Easy steering is assured. Ski bite is not.
As much as we absolutely love the Yamaha Phazer as a concept, we can't come to grips with the Phazer on the trail. Frankly, because we were excited about Yamaha's new concept, we have made a point of test riding as many production models as possible. Our favorite of all Yamaha Phazer iterations is the GT model, which corners flattest of all and seems to have the most ski bite when riding hard. Still, it is not enough.
Upon reflection as to why the Phazer leaves us wanting, we have concluded that Yamaha engineering went a titch too far when centering the unit's mass. Yes, we fully recognize that we are absolutely not the Phazer's target market. But we have been able to professionally ride, evaluate and judge snowmobile performance fairly and objectively from our first ever test session in the days of tunnel-mounted sleds to today.
Back to our point. Yamaha takes this whole centralized mass thing seriously. Overall, they have done a wonderful job with making the Apex handle and ride like a much lighter sled than it is. And we compliment them for their success in snocross and proving that 4stroke performance can win against 2strokes. Still, in the case of the Phazer, we feel that the sled's handling, which we can only rate as 'unsure,' is a direct result of moving the engine and its components too far to the center, too far off the ski centerline. We also think that Yamaha engineers went a bit overboard with their concept of rough trail handling and designed a front suspension that is too active and not backed up by a similarly active rear suspension.
When we test rode the prototype Phazers a year ago, we commented to key Yamaha product people that we felt the front end action was too 'tippy' and uncertain in its handling characteristics. We suggested that Yamaha consider a thicker sway bar to better control side-to-side motion. Of course, we are just snowmobile enthusiasts and not trained engineers. What do we know? We were told that the way the prototype Phazers were was what consumers would want in this sled. Okay, fine. But interestingly enough, when we saw all of the final production Phazer models at Hay Days last autumn, virtually all of them were fitted with upgraded sway bars. Huh?
Let's give Yamaha credit for creating a very viable—wonderfully fun—sled for all snowmobilers. With a real top speed in the upper 70s on hardpack, the Phazer will compete with sport performance fan-cooled models such as Ski-Doo's REV MXZ 550F and even Cat's base liquid-cooled 500cc twin models, but it will not handle with a well-ridden REV which has better bite from its racing inspired front end and twin-bladed skis.
We suggest that the Phazer could benefit from better skis, perhaps even a very aggressive dual runner design that could grip the snow with more authority. But overall, the flaw in the Phazer design may be two-fold. First, as mentioned, too much weight has been moved aft of the skis, effectively unweighting the ski runners too much for the kind of handling and cornering ski bite a lightweight and nimble sled like this should possess. Second, while Yamaha engineering spent much effort in lowering the sled's actual center of gravity (very commendable, by the way), the Phazer design moved the rider too high in the saddle, effectively offsetting the 'CG' gain from the lowered and central power train positioning. Even moving way up on the saddle, almost onto the gas cap, is not enough to get the skis to bite like we think they should. When you do this, you totally unbalance the rear end, making it want to skip around on you in really tight trails. What you get for your money may prove to be legendary. It is a 4stroke with a high-revving twin that requires a secondary drive to get engine revs within 'clutchable' parameters. Think Apex quad engine instead of Vector triple. As a high revver, the Phazer seems a bit weak at low revs, but coming on well enough at midrange and top speed.
Despite what the digital display will show, the Phazer enjoys a relatively new Yamaha tradition of showing off extremely optimistic speeds. At an indicated top speed of 85 to 88 miles per hour, the actual ground speed will be nearly 10 mph lower as we discovered when riding with riders aboard higher horsepowered sleds. My Phazer indicated a speed of 87 mph. The other riders who said their sleds' speedometers indicated that they were doing 80-85 mph left me in their wake. This isn't really a surprise with the Yamaha speedometers, which have been prone to optimism since the introduction of the RX-1 and its 120 mph read-outs! Because there are only 80 high-strung ponies to work with, you can't really throttle your way out of a crossed up corner.
To us, the Phazer is a wonderful sled to begin with. Light enough (about the same as a fan-cooled REV or Indy), and ergonomically suited for younger or more diminutive riders. It is more than adequate for spirited riding, but not for snocross action. It is incredibly well finished in overall quality. And it is seductively priced.
But the truth is, its looks as a lightweight sport machine are deceiving. Based on price and features alone, it is a fascinating value. While it is a good bump sled, it is not a great one.
While the target market of youthful and nimble ridership will find the seating okay; an older, broader-beamed ridership may not find the narrow-top saddle very comfortable.
Light and relatively nimble, the Phazer is uniquely styled. It comes with gotta-love-it electric start—and reverse on all but the cheapest version. It is light in weight, making it very easy to load and unload on to your trailer or into the back of your pickup.
Overall, we love the concept, and while we accept the sled's limits, we feel a bit put off at what we feel should have been one of the sport's all-time, trendsetting all-stars. Maybe future Phazers will get it all right!