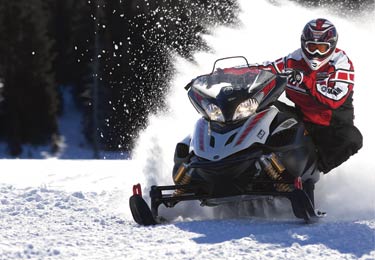 The ultimate groomed trail mileage maker
If your specialty is making lots of miles in a day on groomed trails, the Yamaha Apex GT is perfect. A fully featured sled, the 150-horsepower machine is powerful, quick and agile as a sports car.
Fast Facts
Engine Type:Horizontal In-line
Cylinders:4
Engine Stroke:4-Stroke
Valve Configuration:DOHC
Displacement:998 / 60.9
Starter:Electric
Turbocharged:No
View Full Spec
Redesigned last season with rider-forward saddle and handlebar set, the Apex GT comes with a premium Ohlins shock package to minimize stutter bumps and enhance its smooth trail ride. We really like the taller seat height on the Apex. It is not merely plusher and more comfortable, but it positions you to have a commanding view of the trail ahead. Once you've gotten comfortable in the saddle, you can fully appreciate the hooked handlebar ends and steering leverage the wide bar provides. When clipping along at trail speeds the Apex has you perfectly tuned into the ride.
Well Behaved Power
It helps to have 150 well behaved horses chafing at your throttle thumb. When Yamaha added electronic fuel injection to its newest four-cylinder engine, it created a precision instrument. Carburetors united via a motorcycle-style throttle rack were light on the throttle thumb, but with EFI the sled's response is crisp, clean and immediate. The injection system features four butterfly 39mm throttle bodies with one injector per cylinder. Electronically programmed, the engine reacts quicker than you can say barometric settings, ambient temperature, throttle opening and a multitude of other potential performance-robbing things. You concentrate on the ride. Yamaha electronics handle the power.
The Genesis 150 may be similar to the original RX-1 four cylinder, but in reality it is a different motor all together. Debuted in 2006, the Genesis 150FI is both smoother and more powerful. But, like its predecessor it demands little more than a seasonal oil change to provide long term service.
Lighter than the RX-1 motor, the Genesis 150FI quad gathers power via overhead cams and five valves per cylinder. Its cross flow design further helps performance by taking the air/fuel mix from the front of the engine and pushing exhaust out the backside. The throttle bodies set forward to take in cold air. The quad's four-into-two exhaust exits under the seat and out the back, helping to keep underhood temperatures cooler.
Even with air intakes on the forward side of the engine bay, these high-performance 4strokes require a small radiator and heat exchanger system which must be centralized to maintain the sled's handling requirements. A small electric fan assembly in the engine area provides additional cooling for low speed running or when the engine is at idle.
Trail Quick
On the trail the Apex GT is deceptively powerful and quick. Because this sled is so smooth, you must frequently check your speedometer so that you don't enter turns too fast. Of course, Yamaha likes to calibrate its speedometer on the high side, maybe this is why. It's a way of getting you to back off in the sweepers.
We really enjoy how responsive the engine is to even a little throttle variation. On those long sweepers you can ease in more throttle as you go around and feel the engine ramp up smoothly as you exit and power off the turn. There's no jerky or peaky feel in this drive line. It's steady and controlled.
Deltabox II Design
You'll find that you can enjoy the power more thanks to the second generation Deltabox chassis. This Deltabox II platform is Yamaha's ride-forward package. The key is the Deltabox II framework, which locates the handlebar set forward and moves the seating position more upright. Yamaha made structural rigidity a crucial design component of its 4stroke models right from the beginning. The Deltabox II continues this philosophy by adding rigidity to the bulkhead area and using its proprietary diecast process to create multi-functional components to reduce weight and the number of parts. In the current frame, the 4stroke engines sit even lower than before to achieve an improved center of gravity and better on-trail ride control. The aluminum tunnel blends into the Deltabox II chassis with wider running boards and enhanced footrests.
Wishbone Suspension
In order to maximize the drivetrain's power, Yamaha created a second generation double wishbone front suspension that features short ski spindles and long A-arms. The idea was to maximize the Apex GT's cornering power. Since this is not a big bump sled but a speedy groomed trail cruiser, the GT must be able to carve precise turns and corner flat. This lowered suspension still provides nine inches of vertical travel. On the GT version, that travel is handled by premium Ohlins shocks. Dual-clicker style shocks, these Ohlins allow you to adjust both compression and rebound settings to maximize your ride. They come with a remote reservoir to keep the shock oil cooler to reduce shock fade. Ohlins shocks are a Yamaha signature item used on its premium handling sleds.
Ohlins EC
You'll find an electronically controlled Ohlins shock in the Apex GT rear suspension. The Ohlins Mono Shock EC setup, unique to this model, features a push-button on the handlebar to activate the shock action. You access the tuning function and readout by pressing the 'Mode' button. Once in the suspension mode phase on the multi-functional digital gauge, you can toggle the grip warmer button on the left grip. As long as you are in the suspension mode, the gauge displays the suspension adjustment setting. We think this seems a bit convoluted, but Yamaha assures us that if you ride the sled all the time, you'll get used to it in no time. We rode the sled for short stretches and never really got settled in with this feature. We felt that the push-button setup on Polaris' electronically controlled M-10 suspension was more rider-friendly and easier to learn.
Yamaha's Ohlins Mono Shock EC unit delivers 11.5-inches of vertical travel while providing compression adjustability of the suspension shock from the handlebar. This system first appeared in the '06 Apex GT. It's there to be used. And, there's no arguing the quality of Ohlins shocks. They are top notch!
Collaborative Effort
Top notch describes the Camoplast Rip Saw track. While many other manufacturers now use the Camoplast track, it actually came about as a collaborative effort between Yamaha and Camoplast. Yamaha wanted a 'gripper' track to highlight the performance of its 2004 RX-1. As far as we are concerned the RX-1 was the first performance 4stroke snowmobile and the Rip Saw track helped create that impression with many other snowmobile test riders. The track design can be seen on all kinds of performance sleds these days. It is one of the best all around designs for combining cornering bite with strong grip for straight ahead acceleration.
All-Day Speed Cruiser
As with other Yamaha 4strokes, the Apex GT features electric start and reverse as standard fare. You also get outstanding performance and ride standard. With its remarkable smooth trail handling, the Apex GT is one of the best all-day speed cruisers you can buy.
Yes, it's a bit heavy if you were to bench press it, but who's going to? This sled is very nimble and exceedingly smooth from idle to 'oh-my-gosh-am-I-going-that-fast' speeds. The Apex GT is a solid performance sled with a uniquely Yamaha 4stroke heart beat. Enjoy it.